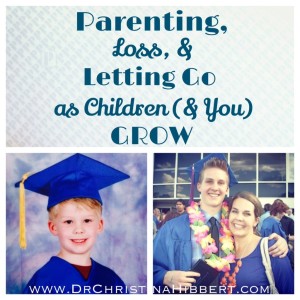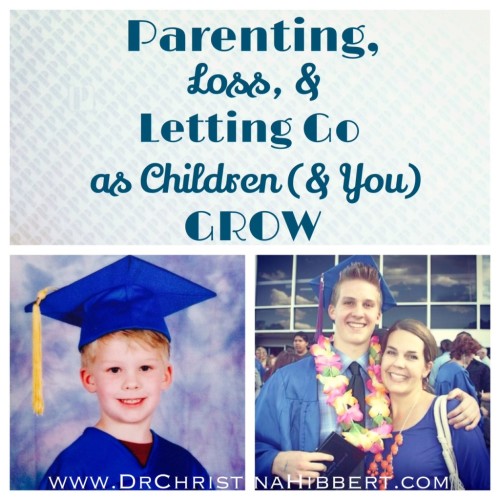 My oldest child is now officially away at college. After weeks of buying supplies, packing, and trying to teach him all the last minute lessons I could think of, we unpacked his dorm room, I squeezed him tightly, and then I got in the car and drove four hours back home, bawling the whole way.
I'd heard of moms who cried when dropping their "babies" at college, but honestly, I never thought that would be me. I'd mentally prepared for months, after all—envisioning what it would be like, and reminding myself often that time is short and to soak it all up when I had the chance. And I was mentally prepared. Though more exhausting than I could have realized, it was smooth sailing getting everything ready for him to go—until I drove away and the emotions took over. Yes, though mentally prepared, I was definitely not emotionally prepared.
And how can we be, really? How can we be emotionally prepared for the many times we're called upon as parents to let them go? We can't really even know what to be prepared for until we're there, in the moment, feeling it, like I was last weekend.
Parenting, Loss, & Letting Go
Now, as I write this, it's been 5 days, and though I've finally stopped crying, it's taken some time to figure out what I was actually feeling about my son leaving home. I've discovered a few important things, and I believe they apply to all the times of parenting loss—letting go when they wean from breastfeeding, when they start preschool or Kindergarten, when they move on to high school and start distancing themselves as teens, when they leave home, get married, and yes, when they have babies of their own. These are all exciting transitions. AND they're loss. And loss is hard.
10 Lessons on Letting Go as Children (& We) Grow
I don't have it all figured out yet. Heck, I'm still not even through this letting go experience. But I have learned some valuable lessons I hope will help you through your times of parenting loss and letting go, too:
Lesson 1: Seek support, because truly, you're not alone.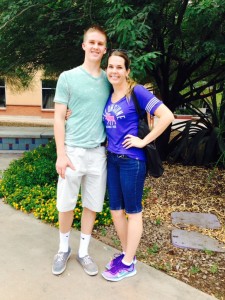 I posted this picture (right) on Facebook two hours into my drive home—because I felt like a crazy woman, literally sobbing while listening to heart-wrenching songs like Jason Mraz's version of "It's so Hard to Say Goodbye to Yesterday," and the killer, Taylor Swift's "Never Grow Up." It felt like it used to after a tough breakup, but this was just my son moving on, doing what he should be doing, and I felt happy and excited for him. So, why all the tears? Really, I was posting this photo because I wanted support. I wanted to know I wasn't the only one who cried like a baby all the way home (and yes, pretty much all weekend, too.)
Lesson 2: Give yourself time and space to figure out what this life transition or loss means to you.
By the morning after the drop-off, however, I no longer wanted to hear any of the very sweet and considerate comments on my Facebook post. It was starting to feel like everyone was telling me how I should feel, but I still had no idea what I was really even feeling yet. The most common comment, "I know exactly how you feel," while comforting at first, started making me think, "Really? Well, if you know how I feel, then maybe you can tell me what I'm feeling, because I have no clue!" Other comments just missed the mark for me: "This is good for him, so don't be sad," for instance. I wasn't sad, exactly, and I didn't even feel like I missed him yet. I thought, "Yes. I know! I'm actually happy for him, but I'm still crying!" And some very sweet friends encouraged, "Now you'll have more time for your work that you love!" "Uh…" I wanted to remind everyone, "I still have five kids at home!" I couldn't go with what this meant for anyone else. I had to figure it out for myself.
Lesson 3: FEEL what you feel.
This was one of my strangest experiences, because I had no thoughts about what I was feeling. Just pure emotion. When I tried to think about and figure out what I was feeling, my mind was a complete blank! I wasn't thinking, "I miss my son," or even "I'm so worried," or really anything. I can't recall a time in my life when I felt such an outpouring of emotion with no thoughts attached. That led me to realize I just need to FEEL, which, in my book, means Freely Experience Emotion with Love. That's exactly what I've been trying to do. (More on how to FEEL here.)
Lesson 4: You're experiencing loss, and that means you need to grieve.
I eventually identified what I was feeling as "loss." I've had a lot of experience with loss and grief, and this felt very similar. A friend asked, "Does it feel like heartache?" (which, I must say was a very helpful question since she wasn't telling me what to feel but rather trying to understand what I was feeling). Yes, it has felt like heartache and loss and grief and some sadness, but again, none of these feelings were related to any thoughts. It was like my body had just reached a marathon finish line and it was exhausted and pouring out emotion. It has mostly felt like loss, and I know that all loss must be grieved. (More on "How to Grieve," here.)
Lesson 5: Letting go as kids grow is all about change, and change is hard, even when it's positive change.
I've come to realize, for me, this is all about change. It's a major life transition—not only for my son, but for me and for our family. Things are changing, and they'll never be the same again. Yes, he'll come home, but not like before. Even having "only 5 kids" feels strange, and they are feeling it, too, praying for their brother and missing him already. My next son is a senior, so he's leaving in a year, and it's just going to keep coming. Though I welcome the future and I really do love and encourage personal growth (which this is) for my kids and for me—growing and changing is hard, and yes, can even be painful. Change is hard, even when it's good change.
Lesson 6: Actively choose to let go.
Right after I left my son, I said a prayer as I was driving. I told my Heavenly Father, "He's all yours now. Love him and be there for him when I cannot. I know You will. I know You love him even more than I do." I could physically feel myself letting go, and that's when the sobbing began. Like losing a piece of my heart, I could feel it stretching and growing me.
Lesson 7: It's good to "Live in the Paradox"—to feel the positive emotions while also feeling the hard stuff.
As I wrote in This Is How We Grow, "Human brains don't do so well with paradoxes…When faced with two contradicting…feelings…the brain tends to feel stressed…We feel elevated joy and deepest sorrow all at the same time. This is just the way mortality is, and I have come to understand that it is okay to live in the absurd contradiction of paradox." (p.59) These past days, I've been experiencing all these wonderful positive emotions—joy, excitement, and especially deep love and gratitude—all while experiencing the loss. I've tried to remember and feel the good stuff even while feeling the hard stuff.
Lesson 8: The hardest parts of life can help us appreciate the "normal-" and "good-hard" parts—like letting kids go as they grow.
My family has definitely known the "bad-hard" stuff—like death and suicide, traumatic loss and pain. I know better than to take for granted the "normal- hard" stuff, like teenaged pushing back or parenting troubles, and the "good- hard" stuff, like kids growing up and moving on. In fact, that has been my prayer this summer, that we would have a break from the hardest stuff and get to experience the "normal-" and "good-" hard stuff instead for a while. This is an answer to my prayers, and I do not forget that, even through my tears. I've also been very mindful of all the moms who will never see their babies again. Those who have had to do the ultimate letting go. It's not lost on me that what I'm experiencing as my son goes to college is a blessing and a gift. I must never take these experiences for granted.
Lesson 9: Just because it's not "bad-hard," doesn't mean it's not real; it doesn't mean it's easy or in any way less meaningful than other's losses or life transitions.
Don't compare to what others have had to endure. Your loss is your loss, and as I said before, all loss is hard, even the "good-hard" stuff. At first, I told myself I was "ridiculous," because this wasn't as hard as other things I've been through. But that is ridiculous. Just because it's not as hard as other experiences doesn't mean it's not valid. Life is hard, and we can do hard things. Honor your own experience. Feel and take it in. Some day, these memories will be a comfort to you.
Lesson 10: When we let go as they grow, it forces us to grow, too.
That's the ultimate lesson for me at this time of my life. It's hard to grow, but I'm doing it. Learning to let go is hard, whenever we must do it, but we work at it because we know it forces us to grow right along with our children. A later curfew here, a driver's license there, more freedom in their own choices—we let go, and they, and we, grow. That's what parenting, and love, and family, are all about. (Read Parenting Success: It's More about the Parent than the Child)
Have you had to "let go" with your child(ren) lately? What did it feel like for you? What lessons have you learned about parenting, loss, and letting go as they (and you) grow? Please leave a comment, below!

Be sure to check out Dr. Hibbert's Award-Winning memoir, This is How We Grow!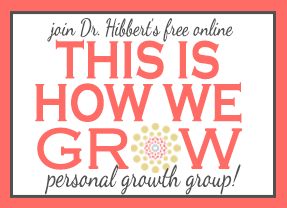 FREE. Online. Growth. What more could you ask for?

You may manage your subscription options from your profile.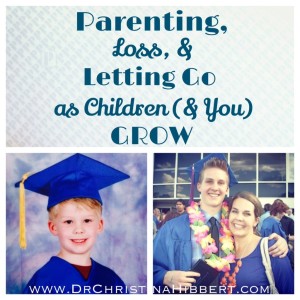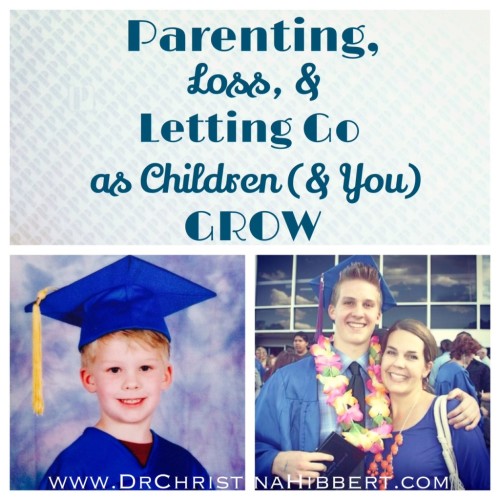 Let's Connect…
"Like" my Facebook pages (Dr. Christina Hibbert; This Is How We Grow) and follow me on Twitter,Pinterest, & Instagram!
Related Articles/Posts:
Parenting Success: It's More about the Parent Than the Child
"How do I Grieve?" Grief Work & TEARS
Parenting Teens: Am I Doing a Good Enough Job?
"My Kids Are Driving Me Crazy!" Why Parenting is so Darn Tough
Parenting Skills & Back to School: 7 Strategies for School-Year Sanity
Parenting Practice: Getting Good at the "Let-Go's"
5 Skills of Overcoming…Depression, Grief, Parenting Challenges,…
16 Things I'd Like My Postpartum Self to Know, 16 Years & 6 Kids Later (PSI Blog Hop)
Mom Mental Health (& Happiness): The Importance of Alone Time
Mom Mental Health (part 2): How to Get Alone Time (25+ Strategies!)
In Praise of Fathers: 10 Research-Based Ways Dads Impact Kids for the Better
5 Reasons Self-Esteem is a Myth
How to Feel Self-Worth: "The Pyramid of Self-Worth"
Thought Management, Part 1: The Relationship between Thoughts, Feelings, the Body, & Behavior
Womens' Emotions & Hormones– Series
Achieving Balance–Why You've Got it Wrong, & How to Get it Right
Pregnancy & Postpartum Loss, Grief, & Family Healing (Part 1)
How to Cope with and Treat Perinatal Loss & Grief (Part 2)
PPD & Motherhood Mental Health: Self-Care & Letting Help In–The 2 Most Important Things
Postpartum Depression Treatment
Beyond Depression: Understanding Pregnancy/Postpartum OCD (Part 1)