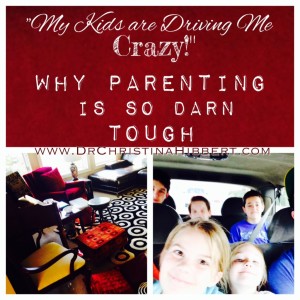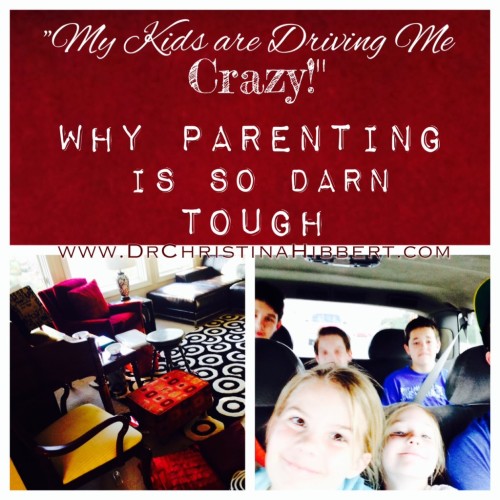 I don't usually post this often–3 times in one week–and I don't usually hit the keyboard furiously the second I finally get all my kids out the door. But today, I can't help it. My heart is racing, my head is pounding, and I feel like, if I don't write, I may just hop in the car and head to an undisclosed location for an undisclosed amount of time.
Why is parenting so darn tough?
Today, I lay the "psychologist" aside and speak as "the mom," and really, just as "me." Why is parenting so tough?? It shouldn't always have to be tough, right? We should feel like it's tough only sometimes?
To me, it feels like it's always something. Maybe it's because I have six kids. Maybe it's because with so many, the needs just keep flowing like a never-ending river. Maybe it's because my four oldest are all teenagers now, and that means they live in a universe in which they are the center and everyone else must fall into orbit according to their daily gravitational pull (or mood). Maybe it's because my husband's been out of town most days the past weeks, with another trip coming up, and I've been going solo for too long. Maybe it's because, try as I may, I never seem to get a full night's sleep (except a week ago Saturday when my husband "took charge" for a day and I actually slept for 11 hours!) The more tired I am, the more "crazy" I feel (and act). Maybe my hormones are starting to kick in again (let me check the calendar—a little over a week away? Maybe. Maybe not.)
My kids are driving me crazy—again!
Yes, my kids are driving me crazy–again–and it's a cycle that seems to repeat about every six weeks or so. They get incredibly lax on things like, oh, chores, getting to bed, getting up on time, remembering to do homework or take it to school, personal hygiene, etc, etc, and I get pushed and pushed by the piling of these "little things" until I go on a rant of some sort, which makes them listen and makes me feel guilty (I really do not like getting so frustrated with my kids!). This motivates us all to regain some order in the home, to make apologies, to work a little harder. And this brings peace once again…ahhh…until we start to get too tired and too busy and too lax again, and voila! The cycle repeats. (Read "My Kids are Driving Me Crazy! 10 Ideas to Drive Us Back to Sane)
It just makes me feel better to let it out…
I know I may be facing social media mockery and isolation by writing my true feelings—or rather how I truly feel today
—about my kids and parenting. All I ever seem to see on Facebook are posts about how great other people's kids are. Yes, I have posted my fair share of "success moments" with my kids, too, so yes, I get it. But most days I really want to post, "I'm so proud of my six little kiddos! They stopped fighting in time to actually listen to me (the fourth time they were asked) and do their chores! How did I get so lucky? What a proud mama I am!"
I know, that's sarcastic, and so far I've refrained, because I don't believe in shaming my kids. Instead, I believe in encouraging them to do better, and today, I did just that. Instead of going on a rant, yelling about all the things they're not doing right now, (and by yelling and rant, I mean a very long, intense talking to in which they sit perfectly still because they can see if they push even one bit my head might just explode). Instead of this, today, I tried a new approach. Ok, yes, I did "rant" a little after they left by taking pics of all the things I'd asked them to do a million times–for proof, later, if I need it. But, overall I was very impressed with my non-ranting solution.
"Kids!–Do This!"
Like my "Lame-o-list"—which I made when I reached a similar point of frustration with my husband and myself (yes, I
expect all of us to do what we're supposed to do—even, and especially, me). Similarly, I grabbed a colored pencil (because of course all my pens are lost—again), and in my building anxiety, began to scribble all the things my kids need to remember to do each day and each week, and all the time.
I wrote at the top, "Kids! Do this!" and underlined it twice. Yes, instead of ranting about all my kids have not done, like I would usually do, today I focused on what my kids should do. This is a great psychological and parenting principle I learned long ago: teach kids what to do instead of telling them what not to do.
So, I did just that. I wrote a list of all they need to do, because, maybe they just can't remember on their own. Maybe they just need to be reminded. A million times. Yeah, right.
Well, now, they are officially reminded, as you can see, to the right. They are reminded to change their underwear and put away the milk and do their homework before before school the next day. They are reminded to take the lunches I wake up very early each morning to make for them (because I'm nice like that), and to thank me for making them. They are reminded to turn out the lights and pick up the toys and shoes off the floor so the dog won't chew them to bits while they're at school (like she did to every one of her leashes and the items pictured below!). They are reminded to remember everything they need for school before they leave or they just won't have it, and to actually
listen when their dad and I are trying to help them or give them important advice. (Seriously, why don't kids just listen to us? It would make life—theirs and ours—so much easier, wouldn't it?)
You get the picture.
Writing this list calmed me, and I even saw a few of my kids read the list, and behave extra respectfully to me after they did. Apparently, they can get the picture without me having to say one single ranting word. They can, instead, read my suggestions and do them—or not, but we all know what the end result of that choice will be.
Parenting is tough, by nature, but it makes us grow.
The hard truth is that parenting is tough, and sometimes, it's really tough. It pushes us in ways we never expected and
can make us feel things, and act in ways, we never wanted.
Writing this, I feel like both a terrible parent and a great one all at once. Terrible, because I wish I could just handle the stress that is a natural part of parenting (and especially parenting six kids) without getting pushed to the edge of sanity. Great, because I am learning to handle these frustrations in more and more creative and healthy ways. Yes, parenting is tough because it forces us to grow.
In fact, I am now recalling I posted something similar to this not too long ago. Let me check… Yes, the last time I wrote about this was in my "Parenting Teens" article, 9 ½ weeks ago. So, maybe I am actually improving. If I can last almost 10 weeks in between my parenting meltdowns, I must be. Yippee!
One more time: Parenting is tough because it forces us to grow.
In my first Skype-in This is How We Grow book club, the other night, the group asked eagerly, "How are all the kids
doing now?" It's the most common question I get after people read my memoir. I told them the truth—that they are great kids, trying to do the right thing and be their best, working hard to excel in life. And, they struggle. They're going through the regular ups and downs of teen and tween years; they make mistakes, grief still hits at times, and they argue just like normal siblings. "It can be hard for us, as parents, to know how to parent each of them in the individual ways they need and not just treat them as a group whole," I said. "But, I try to see them as individuals and give them individual attention, even while holding them accountable to the same rules and expectations. It's tough," I admitted.
"So, it's just parenting. Still," one woman wisely said.
"Yep," I replied. "It's just parenting. Still. Forever." And parenting is just hard sometimes–because it forces us to grow.
There are so many moments of beauty and joy and delight as a parent, and there are all these other moments just trying to keep up and get it as right as possible. Parenting is a tough job, but when we dig in and plant ourselves, it's the best ground to make us grow.
Here's to growing as parents! And, may the force be with you; if you're anything like me, you're gonna need it!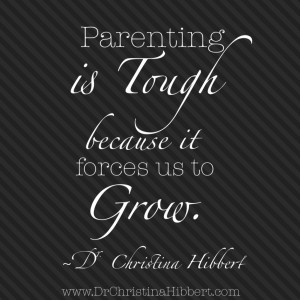 Check out Parenting Skills: "My Kids are Driving Me Crazy!" 10 Ideas to Drive Us Back to Sane!
Ok, let me have it. Do your kids ever drive you as crazy as mine seem to? How do you handle yourself when they do? What are your thoughts on the tough job of parenting and how it's designed to make us grow? Leave a comment, below!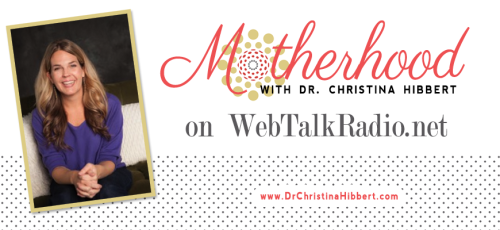 Don't miss my FREE Webinar, "Introduction to Women's Emotions: What you were Never Taught about Hormones, the Brain, & Your Mental Health."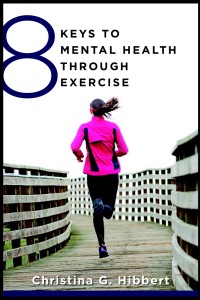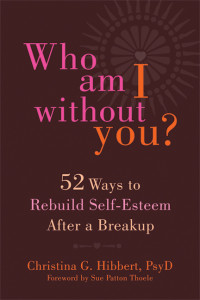 My latest book, "Who Am I Without You," is available now at
Related Posts/Articles:
Parenting Skills: "My Kids are Driving Me Crazy!" 10 Ideas to Drive Us Back to Sane
Creativity & Motherhood: 10 Ways to Uplift & Inspire Your Kids (& YOU!) 
Motherhood 101: 12 Realities & 12 Lessons from a Seasons Psychologist & Mom of 6!
Join my "This is How We Grow" Personal Growth Group!
"This is How We Grow" Blog Hop: 10 Ways I Choose to Grow Each Day
Why I Feel Like a Loser Mom, & How I Know I'm Really Not
Parenting Success: It's More About the Parent Than the Child
Parenting Success Skills: Top 10, #1 Do Your Own Work First
Parenting Teens: Am I Doing a Good Enough Job?
Mom Mental Health (& Happiness): The Importance of Alone Time (part 1) (+video)
Mom Mental Health (part 2): HOW to Get Alone Time (25+Strategies!) (+video)
Let's Get Real: 10 Confessions from "The Psychologist, The Mom, & Me"
"Mommy Fails" & Mother's Day: 3 Messages Every Mom Needs to Hear
Understanding the Seasons of Personal Growth
16 Things I'd Like My Postpartum Self to Know, 16 Years & 6 Kids Later (PSI Blog Hop)
In Praise of Fathers: 10 Research-Based Ways Dads Impact Kids for the Better
"Perfect?" or "Fake?": 8 Myths about Perfectionism, & 8 Truths to Cure It
10 Major Mistakes I've Made this Month, & Why It's OK
The 3 Layers of Self-Care: Build a Healthier, Happier YOU!
How to Feel Self-Worth: "The Pyramid of Self-Worth"
10 Benefits of Practicing Gratitude
Pregnancy & Postpartum Emotional Health
Beyond Depression: Understanding Pregnancy/Postpartum OCD (Part 1)
Postpartum Depression Treatment
5 Reasons Self-Esteem is a Myth
Thought Management, Part 1: The Relationship between Thoughts, Feelings, the Body, & Behavior
Womens' Emotions & Hormones– Series
Achieving Balance–Why You've Got it Wrong, & How to Get it Right