A little too often, I get to this point where I feel like I'm in the back of a beat-up pick-up truck, hanging on for dear life as it drives perilously along winding cliff's edges, the sounds of laughter and snickering mocking me from inside the cab. And who is inside that cab, driving the truck? My kids! (And sometimes my husband too). I know, this may sound a little extreme, but it's how I feel a lot of the time—like my kids are driving me crazy! (Some weeks, in fact, I could swear they've taken a secret oath to push me all the way off the cliff, or make me so insane that I choose to just jump myself!)
So, may I just "vent" for a moment?
Besides the usual "sibling arguments," "lack of doing zones (chores)," "ignorance of bedtimes," and "morning grumpiness," here are 5 categories (even when venting I prefer to be organized!) of things my kids have done lately that have been pushing me closer to the edge of crazy!:
1)  "I just forgot…":
"…that I had a major science project due today."
"…that I was supposed to pick up my little sister and drive her home from school."
"…that I was supposed to call you when I got to my friend's house."
"…to come home after school, to do my homework, to bring my homework to school, to bring my lunch to school, to wake up for school!" You get the drift.
2)   "Whoops!…":
"…I dumped a bottle of glitter on the floor and 'just forgot' to clean it up!"
"…I wrote with red marker on the newly-painted front of the house, oh, and on our friend's car too!"
"…I just gave my brother a swirly!"
"…I spilled 'Yoo-Hoo' on the carpet (and 'I just forgot' about the rule of no food out of the kitchen!)"
"…the computer just magically stopped working while I happened to be downloading YouTube videos!"
3)   "By the way,…":
"…I have a field trip today and need to be there early—in ten minutes, in fact."
"…(said at 8 pm) tomorrow I have a soccer game at 8 am at the Grand Canyon (1 ½ hours away), because, (by the way) I signed up for the soccer team at school!"
"…I have a golf tournament on Friday…and on Saturday…and Tuesday (this is my husband, and this is constant)."
"…I promised I'd bring a homemade dessert to the church activity tonight (one hour before), so what are you making?"
"…I'm over you!" (Sent by my 9 year-old daughter via note when I told her we really might not be getting a dog–See the actual note in the image, above, left).
4)   "Sorry, Mom…":
"…We didn't mean to; we  just thought it would be fun!" (To dismantle the new pink chandelier I installed above her bed, into literally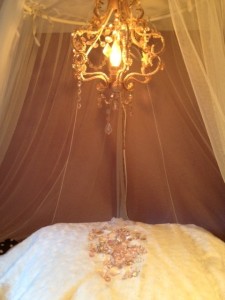 dozens of tiny pink pieces with her friend–proof is in the image, right).
"…We just wanted to look pretty!" (So we smashed your makeup and dumped it all over the floor to do so).
"…I just thought it would be cool to have my name in tape on the wall!" (and color it with a permanent black marker, thus smearing marker all over the walls).
"…but I just went to the neighbor's house to see if I could pet their dogs!" (Said the 4 year-old, when her older brothers were supposed to have been babysitting, about the scary neighbors we don't even know).
"…I told [brother x] to watch her!" (to which [Brother x] replies:) "I told her not to go, so I didn't think she would!" (Unsaid: "…While we both played video games downstairs!").
5)   And, of course, there are the plethora of  ways in which my kids interfere with precious sleep:
"I just wanted to finish the movie, mom (so I was 1 hour late for curfew, thus making you wait up, wondering where I was)."
"My covers are all out of order, Mom (whispered the 4 year-old at 3:30 am, three times this week so far)."
"'Whoops!' 'Sorry, mom!' We forgot you were trying to sleep!" (Said the boys playing nerf basketball just below my room at 11 pm).
"Oh, 'sorry, mom.' I wasn't that close to your room, so I didn't know it would bother you." (Said the boy playing the drums when I'd just begged everyone to please help me get a nap!)
Whew!…I feel better now.
I don't care what anybody says–"More kids=More trouble." And, with 6, I am hopelessly outnumbered. So, thank you for letting me have my little "vent"–it really does help to get it off my chest. It helps me feel like, perhaps, I'm not the only parent in the world whose children can push them sometimes. Also, when I vent it all out, especially in writing, like I just did, I can once again see the truth:
1) That these are all little issues–certainly nothing to jump off a cliff about! And…
2) That no one can really "drive me crazy".
Sure, life is hectic and frantic, and too-often, chaotic. But, that's just the name of the game when we parents are trying to raise kids who care, when we want the best for them and are trying to teach them to be the best they can be. Yes, it is our choice to let them get to us! And when I vent all my complaints out, I start to see just how much I let these "little" things get to me. I let the "craziness" of parenting drive me crazy far too often. Instead, I need to remember that I am in the driver's seat of my mental well-being. I choose to let the crazy in or not.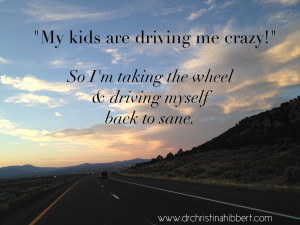 Driving Back to Sane
So, today I'm choosing to take back the wheel and implement the following 10 ideas to drive me back to sane. (If you're feeling near the "crazy cliff" with your kids too, give these a try, and add to or alter them as needed!):
1) Breathe more deeply and more often.
2) Laugh more.
3) Nap more.
4) Let things go more.
5) Make Mr. Golf (my husband) take over so I can get a break.
6) Take more baths with the jets going (so I can't even hear what's going on outside).
7) Call a friend and "vent" or write out my frustrations, just like I did here (thanks for listening–it really does help).
8) Remember that they are children—it's their job to mess up and it's my job to love them as they learn to clean up the messes (and believe me—I make them clean up!) (Maybe I should write this one down and put it on my bathroom mirror?).
9) Pray for strength, energy, patience, and greater love for each child. Then…
10) Love them. And love myself while I'm at it.
I love my kids, really I do. But if I'm not careful, I can let the challenges of parenting prevent me from loving myself. And self-love is something every parent needs a little more of. For, when I love myself, I have more love to give–I am more patient, understanding, and can see just how "little" the little things really  are. When I love myself, I teach my children to love themselves and others. Then I can let their love for me into my crazy little heart, and watch my heart soften. Yes, love is the key to driving away from the cliffs and right on back to a happy, loving (and sane) home.
I want to know: Am I the only one whose kids drive me crazy? It's tough to admit, but oddly, it's very freeing. Let me know about your "cliffs" and how you avoid them! How do you drive yourself back to sane? We parents need all the advice and support we can get, so leave a comment!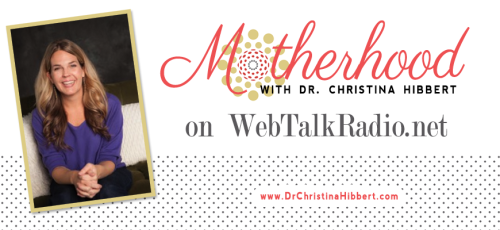 You may manage your subscription options from your profile.

Be sure to check out my bestselling, award-winning memoir, This is How We Grow!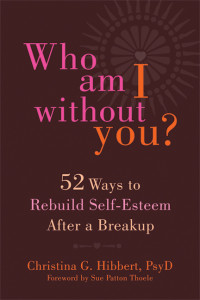 My latest book, "Who Am I Without You," is available now at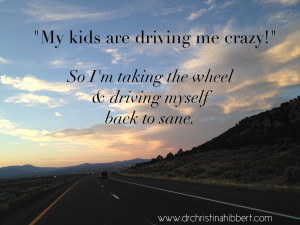 Let's Connect! 
SUBSCRIBE, above, "Like" me on Facebook Dr. Christina Hibbert; This Is How We Grow, & follow me on Twitter, Pinterest, & Instagram!
Related Articles:
"Mothering Through the Whirlwind": 3 Sanity-Saving Strategies
Depression & Motherhood: Facts, Help, & How to Overcome
10 Ways to Simplify Your Busy Life
"Sleep Better, Cope Better!" 6 Insomnia Causes & Cures
10 Major Mistakes I've Made This Month (& Why It's OK)
Parenting Practice: Getting Good at the "Let-Go's"
Laughter Really Is the Best Medicine
30SecondMom Tips from Dr. Hibbert:
Smart Discipline: Make the Consequence Benefit YOU!
Teach Kids Responsibility by Having Them Do Chores In Zones!
Practice Deep Breathing & Breathe Easier!