The 3 Layers of Self-Care:
Build a Healthier, Happier YOU!
I know some amazing women—beautiful, gifted, talented women. I know women who quilt, bake bread, teach, volunteer. I know women who are excellent mothers, who juggle jobs and church service and still bring dinner to anyone in need. I know women who will show up at your door and help you clean your house, who are always available to help with your kids, who remember the birthday of every single person in your family. I simply cannot  hide my enthusiasm for being a woman and for the women I know—women are incredible.
Selfless or Self-Less?
While we women can be great at taking care of others, however, there's one thing many of us are not particularly good at—taking care of ourselves. Too many of us confuse "self-care" with "self-ish". I hear it all the time, "I feel so selfish if I…make my kids ride the bus, hire a babysitter so I can do something I love, soak in a bath with a good book." But, as a wise friend once pointed out, "How can you be selfish if you don't even have a self?"
Good question. I have actually found self-less-ness to be much more of a problem for most women than selfishness. I'm not talking about the good kind of selflessness—the kind where you sacrifice for another person out of love and also practice self-care. I'm talking about completely forgetting you even are a self, forgetting what you like or love, forgetting who you are. It can become so pervasive that I end up seeing these women as empty nesters in therapy because, now that the kids have left, they have no idea who they are. Their relationships are in trouble and they feel completely lost. When I ask the simple question, "What do you like to do?" the reply is always the same, "I don't know—it's been so long since I've thought of doing anything for me."
Self-Care=Nurturing the Nurturer
Now, I am a believer is sacrifice, in service, even in selflessness. But the truth is, without self-care, we become self-less, or less of ourselves, and that does not benefit anyone. Imagine your list of "to do" items for a week. How effective are you when you're sick, exhausted, stressed?  We can't take very good care of everyone else if we aren't well ourselves. Thus, we must make ourselves a priority, put ourselves on our "list". I'm not talking about lying around eating bon-bons all day; I'm talking about nurturing the nurturer. Yes, I'm talking about nurturing ourselves through self-care.
The 3 Layers of Self-Care
The way I see it, there are three layers of self-care, or nurturing, that we should incorporate into our daily, weekly and yearly lives. Like building the perfect cake requires a sturdy foundation, so we build upon self-care. When stress or troubles come, we go back to strengthen layer one before we can build layers 2 or 3. So, wherever you are in your self-care, sit up, take note, and then take action. Make sure that "self" of yours is strong, healthy, and happy, by focusing on the 3 layers of self care!
Layer 1–Absolute Necessity Self-Care:
The first layer is what I call "Absolute Necessity Self-Care"—eating right, exercising, sleeping, showering–you know, the basics. This is the foundational layer of self-care, and if it's not met, you'll never get to the top layers. Do you make time for a nap when you are run down? Are you filling up on empty calories and caffeine instead of getting out to shop for energy-producing foods? Are you able to squeeze in a shower and get dressed into something other than sweat pants? Basically, are you doing what needs to be done to keep you healthy and well? Listen to your body–if you're exhausted, stressed, mentally or physically ill, or injured, you are probably lacking in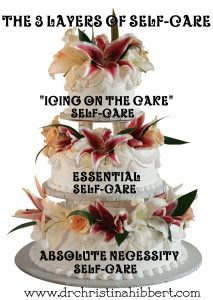 absolute necessity self-care. Stop and decide to take care of yourself. After all, if layer one isn't met then you not only won't be effective, you will eventually completely burn out.
Layer 2–Essential Self-Care:
The next layer involves making time for the things that really matter—time to process, to ponder, to learn, to grow, to focus on relationships and connection, to engage in those "extra" essentials that not only keep you physically strong but nurture you spiritually and emotionally. I call this layer "Essential Self-Care," for though we don't always believe it, it is essential to create time and space for learning and growing, for the people we love, for those things that add to us and continually remind us of who we really are. Are you making space in your life for the things that matter most to you? If not, and you're already taking care of layer one, then it's time to focus on layer two. It's essential–for, if you are reaching layer two self-care you will find greater energy, connection, light, and love in all that you do.
Layer 3–"Icing on the Cake" Self-Care:
Finally, there is the top layer—"Icing on the Cake" Self-Care. The top layer involves those things that bring the spark right out of us—the fun, relaxing, engaging parts of life. For some, this may involve hobbies or passions, for others it may involve more down time, and for some, work is part of the "icing on the cake." These are the moments that energize, restore, and light us up; and, though they might happen a little less often, or we may have to make them happen, they are just as important to our overall well-being as the other two layers. After all, don't you want to be a joyful person, excited by life? If so, then, what lights you up? One thing I love is going to concerts. I forgot that for a while. But now that I know it, I try to go a few times a year. And now that my kids are older and into music, I often take them too. It is a wonderful time together and I always leave feeling motivated to write music or practice more. This is one little example of layer three self-care, the icing on my cake.
Build a Healthier, Happier YOU!
So start today to build a healthier, happier you–examine your physical, spiritual, intellectual, social and emotional sides and take stock of how you're doing as caretaker of your self. Are you on your "list?" If not, add yourself today. Do something nice for yourself. It doesn't need to be a grand gesture or take long; it can even involve those you love, but do something today. I guarantee you'll feel stronger and healthier. And those you love will also benefit from your newfound light and strength.
[author] [author_image timthumb='on']http://www.drchristinahibbert.com/wp-content/uploads/2012/03/square-head-shot1.jpg[/author_image] [author_info]Clinical Psychologist, Mom of 6, Postpartum Couples DVD Producer, Non-Profit Founder, and expert on Parenting, Women's Emotions, Pregnancy & Postpartum, and Grief & Loss, Dr. Christina Hibbert loves songwriting, learning, and teaching what she learns. Learn and Grow with Dr. Hibbert and her community of really great people![/author_info] [/author]
Are you taking good care of yourself? What are your self-care stresses and successes? Which "layer" do you most need to work on? Leave us a comment below!
[box] Don't miss a thing! SUBSCRIBE to Dr. Hibbert's Newsletter & Updates (above, right) (Check out November's Newsletter: How to Have a Happier, Healthier YOU this Holiday!), SUBSCRIBE to our RSS Feed (top, right), or "Like" us on Facebook![/box]
Related Posts:
Learning Self-Love: 5 Tricks for Treating Yourself More Kindly
Women's Emotions: Part 1, The 3 Components of Emotional Health
Fake It 'Til You Make It: A Surefire Way to Prevent a Meltdown
10 Major Mistakes I've Made This Month (& Why It's OK)
Recharge: Lessons Learned from Solitude