#1 Amazon Besteller!
Available NOW
"Through the authenticity of her words and the grace with which she lives each day, Dr.Hibbert has created a masterpiece she simply calls her life."
~KAREN KLEIMAN, MSW, LCSW, Bestselling Postpartum Depression Author, This Isn't What I Expected
"Dr. Hibbert doesn't just tell us, she shows us how to grow in this brave and heartwarming memoir. This is How We Grow is a rare glimpse into grief & the triumph of the human spirit!"
~JULIE DE AZEVEDO HANKS, LCSW, Author, The Burnout Cure

I'm an "IPPY" Award-Winner!
I recently received the surprising news that This is How We Grow was awarded a Silver Medal in the Independent Publisher's "IPPY" Awards, for "Best Adult Non-Fiction eBook!" With over 5500 entries, it's a great honor to receive this award. I even got to fly to New York City for the ceremony! Pretty exciting for me, I'm not gonna lie. Read all about it here.
This is How We Grow 2014 Events Calendar
(If you're interested in booking Dr. Hibbert for an event, please click here. Check this calendar often for event opportunities in your area. Things change quickly!)

January 29-30 Gilbert, AZ–Private Book Club Engagements
February 20 Anthem, AZ–Anthem Relief Society, Workshop
February 21 Mesa, AZ–American Night Writer's ASsociation Conference, Book Sales & Signing
February 22 Flagstaff, AZ–Flagstaff Stake Relief Society Women's Conference, Workshop
April 30-May 2 Provo/SLC, UT–Private Engagements
May 3 Salt Lake City, UT–Relief Society Conference
May 5 Sacramento, CA–CA Maternal Mental Health Collaborative Luncheon, Keynote Speaker
May 6 Sacramento, CA—CA Maternal Wellness Summit, Workshop Presenter
May 26-28, New York City–Book reading/signing, TBA
June 18-21 Chapel Hill, North Carolina–Postpartum Support International Conference, Poster Presentation, Book Sales, & Signing
July 17 Glendale, AZ—Prevent Child Abuse Arizona Conference Presenter
(Download workshop materials, below)
PCAz 2014 Understanding & Treating Perinatal Mood & Anxiety Disorders)
August 15 Phoenix, AZ–AZ Dept of Health Services High Risk Perinatal Conference, Keynote Presenter
(Download workshop materials, below)
Self-Care for the Caregiver Handout, Hibbert 2014
October 4 Tucson, AZ– MISS Foundation Kindness Walk, Guest Speaker
October 14-17 Carlsbad/Encinitas, CA–Women's Conference, Book Clubs
Coming Soon: This is How We Grow Live Webinars!
Giveaways:
Please check back for more This is How We Grow giveaways!
For Book Clubs:
This is How We Grow Reader's Guide
This is How We Grow Interview with the Author (coming soon!)
Invite Dr. Hibbert to your book club meeting!
Check her calendar to see if she's coming to your town, for an in-person visit, or schedule a Skype-in! She may even break out her guitar! (Email your request to Dr. Hibbert. She does her very best to accommodate as many free book club events as possible.)
Support This is How We Grow
Buy the book, or borrow it from the Amazon.com library!
Share on Social Media!
Write a review of This is How We Grow on Amazon!
Or, grab our This Is How We Grow Badge code, right,
and paste it into your website/blog HTML or Text, to show your support and help promote the book!
THANK YOU!
THIS IS HOW WE GROW
A psychologist's memoir of loss, motherhood, & discovering self-worth & joy, one season at a time
What happens when a clinical psychologist and expert on women's mental health, postpartum depression, grief, and parenting finds her world turned upside down? After her sister and brother-in-law die, Dr. Christina Hibbert inherits her two nephews, delivers her 4th baby, and goes from three to six kids practically overnight. This is How We Grow invites readers into Dr. Hibbert's upside-down world as she fights to find a little right-side-up. A deeply personal true story blended with psychological insights, This is How We Grow offers an intimate glimpse into the doctor becoming the patient as Dr. Hibbert struggles to put her theories and expertise to the test in an effort to grow a new family and grow herself.
Following four years and four seasons, Dr. Hibbert's story explores such topics as death and suicide, loss and grief, motherhood, marriage, sisters, family, relationships, spirituality, self-worth, joy, and love. This Is How We Grow demonstrates how hard life can be. Yet it also illustrates how, when we choose to grow, we can and will overcome, become and eventually, flourish.
"Dr. Christina Hibbert's memoir, This is How We Grow, is a true inspiration… What a welcome relief to know that even a mental health expert can reveal her deepest fears, worries, and vulnerabilities, showing us that we are not alone. Simply a must-read book that will touch your heart and inspire your soul!"
—ELISA ALL, Founder/CEO, www.30SecondMom.com, a 30Second Mobile brand
"This beautifully, inspirational story will touch your heart and leave you with a renewed sense of gratitude and love of life."
–SUSAN CAMPBELL CROSS, Author, The FabYOUList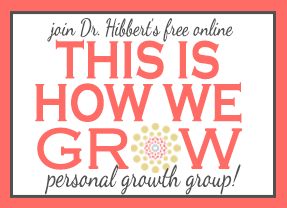 FREE. Online. Growth. What more could you ask for?

You may manage your subscription options from your profile.
Let's Connect…
"Like" my Facebook pages (Dr. Christina Hibbert; This Is How We Grow) and follow me on Twitter,Pinterest, & Instagram!