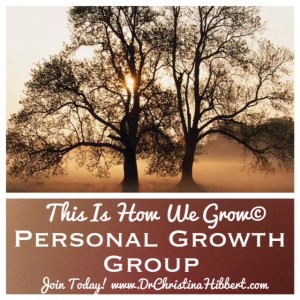 What does personal growth look like for you?
I asked this on my facebook page yesterday, and here are some of the answers I received:
"Personal growth looks like, not giving up. Sometimes I get down on myself when I feel I am just not measuring up, but if I step back and realize that I am trying my best and I not giving up…it is then I realize I am growing personally." ~Tanya G.
"Doing something that you were afraid to do." ~Mary D.
"Hard work, sometimes scary. I've learned that I'm always growing in some way. Just because I have a bad, lousy day, and never get out of bed, doesn't mean that I didn't grow that day. I think a lot of self reflection happens on those 'off days' and helps me become the person I want to be." ~Julie B.
"Embracing vulnerability." ~Natalie A.
"Pushing through life & being courageous." ~Annmarie W.
"Its a daily process of changing my thoughts and attitudes through both the good days and the down right hard days. It's when I learn and appreciate the things I once thought were out of my reach." ~Julie L.
One thing I have learned about personal growth is that it looks different for each of us, depending our circumstances, life experiences, needs, and personalities. But ultimately, it's up to each of us to choose to grow.
Choose to Grow: Join the Personal Growth Group!
What happens, though, when we want to grow but aren't sure how? I couldn't be more thrilled to introduce the answer to that question: my This is How We Grow© Personal Growth Group.
I've been thinking about doing this for a long time—taking my personal growth group online. See, I've been facilitating a personal growth group here in my hometown going on four years now. We have met, monthly, to discuss our selected topic, to share what we are working on, and to help each other grow. Each year, I've selected a theme–from "Who am I?" to "Creating the Life you Desire," to last year's theme, "An Open Heart & A Willing Mind."
The way our group has worked is this: I share a short lesson, usually 20-35 minutes. Then, I offer assignments of things to work on, related to that lesson. We  spend the rest of the hour and a half taking turns sharing how we're doing, what we've been working on–our stresses and successes–and offering support and friendship.
Over the years, the group has grown. And group members have moved or told family members in other states about our group. "I wish I lived there so I could join your group!" I kept hearing. That's where this group comes in. This is a way for me to share our lessons for growing with anyone and everyone. Then, it's up to you what you do with them.
Why Do We Need a "Growing" Group?
1)   We may think we don't need it, but we NEED SUPPORT. We cannot do this alone. Growth is a relational process. We grow the most through our interactions with others—whether as a parent or friend, sibling or co-worker, we need each other.
2)   Women, especially, need support. Many men are great at getting out with friends regularly—playing sports or watching sports or, well, you get it. We women aren't as good at it. It helps to have a group of like-minded people who "get" what we're trying to work on and who have been there too!
3)   Sharing ideas is so important to Personal Growth. Yes, we can learn on our own. But it's learning from others that really helps us grow. Groups share ideas, tips, tools; they show us new ways to do things. They remind us we're not alone.
What Is the 2013-2014 Group About?
This year's theme is, "This is How We Grow." I am taking the lessons I share in my bestselling memoir, This is How We Grow, and turning them into practical, hands-on, "how-to's" for growing. Specifically, we will start by discussing the "Seasons of Growth"–Fall, Winter, Spring, & Summer. We will figure out where we each are in these seasons. Then, we will focus on the path of growth I share in my book: Patience, Gratitude, Cheerfulness, Joy  and Love. I will post a new lesson each month, September through May, and we'll take the summer off. After all, growing includes taking a break and having fun too! (See "Season 2–2014-2015's–theme, here!)
I hope, as we work on growing together, we will feel our true strength, receive the love that's waiting for us, and become the best we can be. As I say in my tagline, I hope we will overcome, become, and flourish! That is choosing to grow!
How Does It Work?
1)   Register for the group by completing the registration form, below. This will make sure you're included in all updates, exclusives, and extras I send out for our group, and ensure you receive all the new lessons.
2)   Request to be added to our This Is How We Grow Personal Growth Group Facebook group. It isn't mandatory, but this is where we get to share and support one another. Also, be sure to visit my Facebook page and "Like" it so you won't miss any extra updates or news related to the group!
3)   Each month, when you're ready, download and watch/listen to the lesson. These will be YouTube videos and/or podcasts. Choose your method, and listen to the lesson!

4)   Start working on the monthly assignments. You will see there are many options for assignments, depending on where you are in your life and what your needs are. Go at your own pace. Choose only those that help you grow, and get working!
5)   Check in with our Facebook group, through comments on posts related to group lessons, or on my Facebook page. Let us know your stresses and successes! It will not only give you new ideas; it will help us grow too!
6)   You may also opt to start your own local "This is How We Grow" group. Here are some ideas. You could…
 Start your own "Personal Growth Group" where you live. Invite your friends or family members to meet once a month. Pick a day and time each month and pick a "group leader." Then, stick to your plans. Meet every month, watch the lesson, discuss, and work on growing together!
I'm working on setting up a way for groups to organize all over the world but stay connected. So, for now, set up your group (if you'd like) and then stay tuned for new ways to stay in touch with other groups!
I'd love to Skype in to a few groups over the year, so if you're interested in that, just email me!
That's it! No pressure. No comparisons of who is doing what. This is a PERSONAL growth group. That means it's just for YOU.
Choose to Grow! Join the This Is How We Grow Personal Growth Group,  Today!
So, what will YOUR choice be? If you're choosing to grow, you might as well join us and overcome, become, and flourish together! Register today! (Below!)
(Check out the Season 2 Personal Growth Group theme, here.)
Register Here:
**Disclaimer: The This is How We Grow Personal Growth Group is purely educational. It does not replace the need for professional mental health care, including psychotherapy.**

Be sure to check out Dr. Hibbert's Amazon Bestseller, This is How We Grow–

You may manage your subscription options from your profile.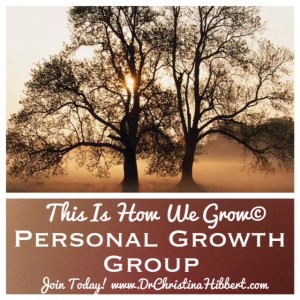 Don't miss a thing! 
SUBSCRIBE, just below, "like" my Facebook pages (Dr. Christina Hibbert; This Is How We Grow), and follow me on Twitter,Pinterest, & Instagram!
 You may manage your subscription options from your profile
Related Posts/Articles:
Meaning, Purpose, & Fulfilling Your Life's Calling: "This is How We Grow" Personal Growth Group, Season 2!
10 Ways I Choose to Grow Each Day 
Personal Growth & Self-Actualization: What Will Your Choice Be?
"These are my Strengths!" and "This is my Lame-O List!": How to Embrace Strengths & Weaknesses
Parenting Success: It's More about the Parent than the Child
Learning Self-Love: 5 Tricks for Treating Yourself More Kindly
10 Benefits of Practicing Gratitude
40 Physical & Mental Health Benefits of Exercise!
Parenting Success Skills Top 10: #1 Do Your Own Work First!
Laughter Really Is the Best Medicine
Thought Management: Part 1, The Relationship Between Thoughts, Feelings, The Body, & Behavior
Women's Mental Health: 5 Things Everyone Should Know
Postpartum Depression Treatment