As you may know, I have just finished writing my first book–a memoir about the four years after my sister and brother-in-law died, we inherited our nephews, I had a baby, and we went from 3 to 6 kids, practically overnight. It's called This is How We Grow, and it's coming in November! (So, stay tuned! In the meantime, you can preview chapters, here!)
One of the main themes of my book, and one of the best things I learned through those years of life-altering experiences, is there are seasons of life, and seasons of personal growth. Below, I share an excerpt from my book that explains a little about my take on what I call, "The Seasons of Growth." This essay used to be the opening of the first chapter of my book, but, unfortunately, I had to cut it. Such is writing! I share it here, hoping it will inspire you to wonder, "What season of growth am I in?"
I also hope you will consider joining us in my new, free, online This is How We Grow Personal Growth Group! (Details and registration, here.) I started this group to help those of us who choose to grow, to grow together. The excerpt I share, below, inspired my first lesson for the group. A link to the first video lesson of the Personal Growth Group is below, as well, in case you want to learn a little more and join us! Happy growing, everyone! 
The Seasons of Growth
"To everything there is a season and a time to every purpose under heaven" (Holy Bible, King James Version, Ecclesiastes 31:1)—it's one of my favorite verses of scripture, a message I turn to time and again to remind myself there is a reason for every season of life. In my world the calendar begins in the fall, when school resumes, routine is once again in place and things begin to change. Fall is when the warmth and comfort of the summer sun is subtly replaced by the mysterious chill, falling leaves, and crisp familiar hint that tells us our world is transforming.
There will be times in each of our lives when we will find ourselves falling. Our feet swept out from under us, we see the beautiful colors of the remaining leaves overhead on our way down—smack!—to the pile on the ground. We will then find our world shifting again. We will feel the isolation of winter—snow-packed, howling wind outside while we seek the safety of the burning fire within. We will feel the hope of spring—little green shoots pushing with all their might for even the smallest glimpse of the light. And we will experience the rapture of the summer that follows the seasons of life, the seasons of growth.
Fall is the first season of personal growth, for when change comes into our lives, as it does in the fall, we are given that sweet, miraculous opportunity—to fight to stay the same or to give in and grow. I believe in growing. It is, after all, why we are here. As a wise person once said, "Life is change. Growth is optional. Choose wisely" (Karen Kaiser Clark). What will your choice be?
~Excerpt from the memoir, This is How We Grow, by Dr. Christina Hibbert, coming Nov. 2013
Join my This is How We Grow Personal Growth Group!
Free. Online. Inspiring you to grow, luxuriantly!
Details and registration, here.
Watch our Personal Growth Group Lesson 1: "The Seasons of Change," on my YouTube Channel, below!
[pro-player]http://www.youtube.com/watch?v=TY4VACEkS7U[/pro-player]
[author] [author_image timthumb='on']http://www.drchristinahibbert.com/wp-content/uploads/2012/03/square-head-shot1.jpg[/author_image] [author_info]Clinical Psychologist, Mom of 6, Postpartum Couples DVD Producer, Non-Profit Founder, and expert on Parenting, Women's Emotions, Pregnancy & Postpartum, and Grief & Loss, Dr. Christina Hibbert loves songwriting, learning, and teaching what she learns. She's been through every season, several times, sometimes all in one week! [/author_info] [/author]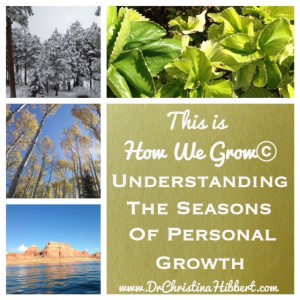 What are your thoughts on the seasons of growth? What season are you currently in? What do you need to help you in your current season of life? Leave a comment, below, and let's grow through our seasons together!
Don't miss a thing! SUBSCRIBE, below, and please "Like" my Facebook page and follow me on Twitter, Pinterest, or Instagram, for inspiration to help you grow!
Related Posts/Articles:
Join my "This is How We Grow" Personal Growth Group!
Personal Growth & Self-Actualization
Slow Down & See: How to Appreciate the Richness of Life
Spiritual Growth: The Mind-Body Connection
"These are my strengths!" & "This is my Lame-O List!": How to Embrace Strengths & Weaknesses
Parenting Success Skills Top 10: #1 Do Your Own Work First
The Positive Psychology of Flourishing! What is it? And am I doing it?