Parenting Success: It's More About the Parent than the Child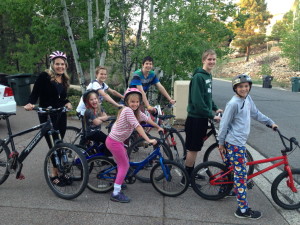 Parenting: The Hardest Job in the World
Parenting is a tough job. The toughest, in my opinion, because it's 24/7, for the rest of our lives.
I'm biased, though. I've not only studied parenting and counseled parents in my private practice for years, but, as a mom of 6, between the ages of 17 and 5, I'm in full-time, on-the-job training, and have been for quite a while.
I've experienced trying to apply the parenting skills I've learned, only to fail miserably. I've seen my good intentions fall by the wayside because I'm too tired, overwhelmed, or I've just had it! I've had to pick myself back up after making too many mistakes, and get going again. And again. And again. Yes, parenting is definitely the hardest job in the world.
The Key to Parenting Success? It's Not What We Think
Perhaps the thing that makes parenting hardest is that, though we all want our children to rise to their full potential—to become contributing members of society, to treat us and the world with respect and love—we all have times when we struggle to know just how to make that happen. We all desire parenting success, but we weren't given a parenting "how-to" manual (and, each child would need her own manual even if we were!). We're simply doing the best we can.
Many of us seek help from friends, family, and experts on how to be a parenting success. Whether we need to know how to handle behavioral issues, want discipline techniques that really work, or even want to understand how to motivate our kids to seek the best in life, there is a book, advice, or seminar for everything. It's good to seek help; we gain new ideas and have new strategies to implement. And they often work. At least, for a while.
But, the truth is, knowing all the discipline techniques or the best strategies for improving behavior is not the key to parenting success. While these things can certainly help, our children don't truly learn better behavior if we are not modeling that behavior ourselves. The "do as I say and not as I do" model of parenting simply does not work.
Parenting Success: It's More About the Parent Than the Child
The most valuable thing I have learned in all my years of practicing and teaching parenting is this: Parenting is more about the parent than the child.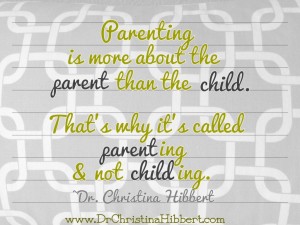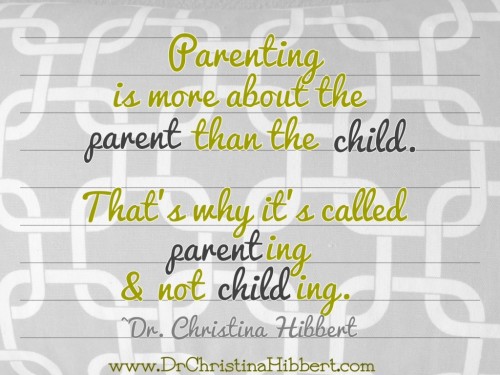 As I like to say, "That's why it's called parenting and not childing."
Children learn best by example. Think about yelling. Have you ever found yourself yelling, "Stop yelling!" to your children? Does it make any sense at all? Do you ever find yourself, in a fit of frustration, trying to teach your child about virtues, like patience, respect, or love? When we say one thing and do another, the only thing we get is a confused child.
The most important thing we can do to feel successful as parents is to acknowledge the work we need to do and do it. If we want our kids to be respectful, we need to model respect. If we want them to control their temper, we must do the same. If we want them to see their weaknesses and have a desire to improve, we must show them the way. If we are committed to self-improvement, to practicing virtue and values in our daily lives, to recognizing and improving our weaknesses and building on our strengths, then our children will want to do the same. They will learn not only from our words. They will be motivated and inspired by our example.
Are you on the path of parenting success?
The question for each parent, then, is, "Am I committed to being the best I can be? Am I willing to look at who I am as a parent, acknowledge my weaknesses, embrace my strengths, and strive to do a little bit better?" When we can answer a confident, "Yes!" to both of these questions, we are already on the path of parenting success.
I said it before and I mean it: You, and I, and all the other parents out there—we are doing the best we can. But, what if—just what if our true best is a little bit better than we believed?
Make the commitment today to be your best as a parent. Do your work. Then, let your children follow. If we do this, it's not only our parenting that will be successful. In the end, we feel personally successful too.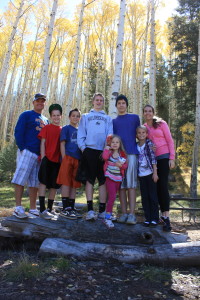 For more on parenting and the topics that interest your most, SUBSCRIBE (below), and please "like" my Facebook page, for news, great discussion, and inspiration!
Parenting Resources:
Check out some of the resources below that I hope will help YOU be the very best parent you can be!
Parenting Skills:
Parenting Skills: 4 Ways We Learn to Parent, & The Good News About Our Parenting Potential
Parenting Skills–Back-to-School Mental Health: 7 Strategies for School-Year Sanity
(More to come soon in my "Parenting Skills, Top 10" Blog series!)
It's a Tough Job, & You're Not Alone!:
Why I Feel Like a Loser Mom, & How I Know I'm Really Not
"My Kids Are Driving Me Crazy!" 10 Ideas to Drive Us Back to Sane
10 Major Mistakes I've Made This Month & Why It's OK
"This is How We Grow" Summer Book Club: Preview Chapters of my New Memoir!
For Brand New Parents:
16 Things I'd Like My Postpartum Self to Know, 6 Kids & 16 Years Later
Pregnancy & Postpartum Emotional Health
Postpartum Depression Treatment: Know Your Options
Postpartum Depression Treatment: For Couples
Women & Mothers:
Mommy Fails & Mother's Day: 3 Things Every Mom Needs to Hear
Women & Depression: Facts, Understanding, & Seeking Help
Women's Mental Health: 5 Facts Everyone Should Know
Men & Fathers:
In Praise of Fathers: 10 Research-Based Ways Dads Impact Kids for the Better
Postpartum Depression & Men: The Facts on Paternal Postnatal Depression
Postpartum Depression Treatment: For Dads & Partners
Making Parenting Easier:
How to Get Your Needs Met: 4 Tips on Asking & Receiving
"Sleep Better, Cope Better": 6 Insomnia Causes & Cures
"Fake It 'Til You Make It": A Surefire Way to Prevent a Meltdown!
Weather the Storms Together: 4 Ways to Strengthen Families Through Times of Stress
Daily Mindfulness: 6 Ways to Put More "Being" into what you're "Doing"
Laughter Really Is the Best Medicine
Parenting Practice: "Sit Back & Enjoy the Ride!" Making the Most of Family Drive Time
Parenting Practice: Getting Good at the "Let-Go's"
7 Strategies for Summer Sanity!
Summer Self-Improvement: 25 Inspiring Ideas!