Summer is here. Again. And that means warmer weather, time at the pool or beach, visiting family and friends, and, for many, changing schedules, travel plans, and time off.
Summer Goals
In our home, summer also means summer goals—for the kids. Instead of them lying around, bored, all the time, we sit down at the beginning of summer and create a list of goals, together, that each of them may (or may not) accomplish over the summer. They select their own goals, how many they'll do, and how difficult they'll be, but I require they have at least one goal in each of six areas: 1) Education/Intellect; 2) Personality/Character; 3) Hobbies/Talents; 4) Family; 5) Spirituality/Church, and 6) Contribution/Service. They present me with their "summer goals" plan, and we go over it together, deciding how much each goal will be worth. Yes, that's the other great part of summer goals—they get to earn money to then buy their own school clothes (a win-win for we parents)!  (Watch this quick video for more on summer goals. Or, this one, for toddlers/preschoolers.)
Summer Self-Improvement
But sometime, a few years ago, I started thinking, "Why don't I set summer goals too?" After all, I want to be the example for my kids. And, much as I love summer reading, hammock swinging, travelling, and relaxation (or attempts at relaxation, at least), I also love self-improvement. What better time to work on myself than summer?
This summer, I'm hoping you will join me in my summer self-improvement movement. Below, are just a few suggestions to inspire you. Pick one or several. Then, get to work! After all, wouldn't it be great, at the end of summer, to be able to look back and say, "Hey, I'm not just tan—I'm actually a better person!"
25 Inspirational Ideas for Summer Self-Improvement
1)   Pick a virtue each month and focus on it. Maybe you need a little more patience. Or perhaps it's courage you need. Pick one, write it and post it on your fridge or mirror, look up a quote or two to inspire you, and practice. Virtues aren't simply born with us. We can and must work to develop into who we want to be!
2)   Read. As much as you can. Read for pleasure, yes, but also, read to learn. Read many different varieties of books–self-help, history, culture, whatever you like. And read with your kids too.
3)  Laugh. If you don't laugh enough, look for ways to get laughing! Work on lightening up, having fun, and letting a little humor into your life. Deep belly laughs are a sure sign of health and vibrancy.
4)   Unplug. How much time do you spend "connected" to technology, TV, and social media? Can you (or your family) use a little less time "plugged in?" If so, summer's a great time to learn how to ditch the tech and reconnect.
5)   Improve your physical space. Use summer as a time to prepare for fall. Pick one area of the house each week, then spend 15 minutes 5 days a week cleaning out, organizing, and beautifying.
6)    Cut the mental clutter. Create internal space by making time for solitude. Teach your kids how to be alone sometimes too. Solitude is crucial to staying in tune with your spirit and what matters most.
7)   Get still, ponder, meditate. If you've never tried meditation, summer's a great time to give it a go. Meditation is one of the best habits you can form for mental, emotional, and spiritual health. (Watch this 30 second "basics of meditation" video to get you started. Or, check out Jon Kabat-Zinn's book, "Mindfulness for Beginners.")
8)   Eat as many colorful fruits and veggies as possible. Filling yourself up with the good things leaves less room for the not-so-good and gives you energy too.
9)  Try 24 hours without criticizing anyone nor anything. That includes thinking criticisms. When you make a mistake, the 24 hours start over. It's harder than you think; at least, it is for me.
10) Take a class. Ever wanted to try oil painting, Zumba, or horseback riding? Why wait? Summer's a great time to try something new! It will keep your mind fresh and might even lead you to discover your life's passion—who knows?
11) Spend quality time with your kids. Set aside 20-30 minutes (or more) each day to get down and do what they love to do. Really focusing on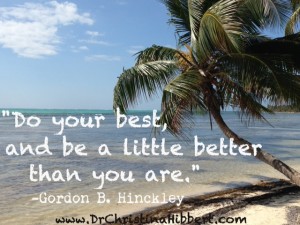 them helps you stay connected and reduces the "I'm bored" syndrome! (Check out this tip too)
12) Incorporate more play into your own life. Did you know play is actually a vital part of mental, physical, and emotional health? Set aside 20-30 minutes (or more) a day for you to play, run, laugh, joke. If you need to improve your play (and most adults do), there's no time like summer!
13) Rest. If you've been sleep-deprived all year, it's time to focus on getting more sleep, naps, and down time. Sleep is the core of health. And, we need "down time" to prevent stress and burn out too. Prioritize sleep, rest, and R&R this summer. And, if you're a parent, set a "quiet" or "nap time" every afternoon to help your kids learn to prioritize rest and sleep too!
14) Get to know yourself. Start a journal and explore who you really are. Start by listing your strengths and weaknesses, adding to the list as summer goes on. When others criticize or praise you, look at it as feedback to help you in your search to better understand yourself.
15) Learn how your thinking affects your body, feelings, and behaviors. Start noticing the thoughts running through your mind all day. Try a thought record, to help you understand and change your thinking and improve your emotions and behavior. (This is one of the best things I've ever learned to do! A fabulous summer goal!)
16) Practice seeking joy. Remember, joy is in the moments. Look for the joyful moments each day. Write them in a journal so you'll never forget.
17) Get grateful. Start practicing gratitude. Research shows it's one of the best things you can do to feel happier, and you can start today!
18) Improve a relationship. Select one loved one and choose to really love them this summer. What is their love language? How can you show them your love and help them feel how much they mean to you? Make it your summer project.
19) Move your body! There's no time like summer to improve your fitness. Go for a hike. Swim. Take a walk each day at sunset. Forget about how many calories you're burning or how hard you're working. Just get out and enjoy the green world around you every day. It will start a habit of motion and get you FITT!
20) Forgive someone. Lighten your own load by letting it go. Keep letting it go as often as you need.
21) Practice and freely share your talents. It can be scary to get up and share with others, but it makes you practice hard, and it's one of the best way to improve!
22) Volunteer. Serve at a soup kitchen, make hygiene kits for those in need, pick up trash, or watch a friend's kids so they can go on a date. Serving others is one of the greatest habits you can develop and will make a huge impact on your character. And, if you can serve as a family, it's even better!
23) Overcome fear. When you want to try something new but feel frozen in your tracks, take a deep breath and do it anyway. Or, start small by signing up for something that will happen later this year or next: A course, a class, a job, a race you've always wanted to try. Look to the future and plant a seed today.
24) Discover your true worth. If your self-esteem isn't where you wish it were, make it your summer plan to seek the true you and practice self-love.
25)  Appreciate where you are. Enjoy the "now." Look around. See the beauty. Hear the peace. Smell the goodness. Feel the warmth. Taste the sweetness that is everywhere, if you will only look and see.
**26) Oh, and one more thing. No matter which self-improvement idea you decide to try, please make sure and follow this excellent advice: "Do your best, and be a little better than you are" (Gordon B. Hinckley). That's all we have to be. Just a little bit better, each and every day.
[author] [author_image timthumb='on']http://www.drchristinahibbert.com/wp-content/uploads/2012/03/square-head-shot1.jpg[/author_image] [author_info]Clinical Psychologist, Mom of 6, Postpartum Couples DVD Producer, Non-Profit Founder, and expert on Parenting, Women's Emotions, Pregnancy & Postpartum, and Grief & Loss, Dr. Christina Hibbert loves songwriting, learning, and teaching what she learns. Learn and Grow with Dr. Hibbert and her community of really great people, self-improving people![/author_info] [/author]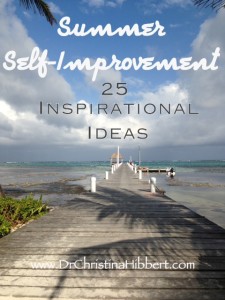 Have some summer self-improvement suggestions? I'd love to hear them! I'd also love to know what you're working on and how it's going. Let's help each other this summer! Leave a comment below.
Don't miss a thing! Please SUBSCRIBE (below), and "Like" my Facebook page, for summer self-improvement inspiration and updates on the topics that interest you most!
Related Posts/Articles:
(see the links in this article too)
"This is How We Grow" Summer Book Club!: Join & Preview Chapters of My New Book!
Create the Life You Desire!: Part 1, What's Keeping You Stuck, & How to Get Unstuck
Parenting Skills: 7 Strategies for Summer Sanity
The Key to Worry-Free: The Worry Tree
Parenting Practice: Getting Good at "The Let-Go's"
Self-Esteem vs. Self-Worth: Q & A with Dr. Christina Hibbert
"This is How We Grow" Summer Book Club!
Living a Life of Purpose and Meaning: The Key to True Happiness
Suggested Reading:
Jon Kabat-Zinn. "Mindfulness for Beginners: Reclaiming the present moment and your life."