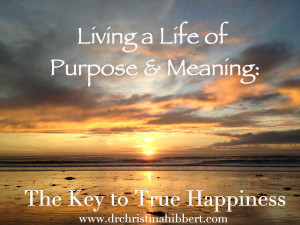 "The way you get meaning into your life is to devote yourself to loving others, devote yourself to your community around you, and devote yourself to creating something that gives you purpose and meaning."[1]
What is your purpose? What were you and you alone put on this earth to do?
We all have one, you know—a purpose. We're all here with a call and a work to do. Allow me to prove it to you with these wise words: "'If you are breathing, you are still alive. If you are alive, then you are still here, physically, on this planet. If you are still here, then you have not completed what you were put on earth to do. If you have not completed what you were put on earth to do…that means your very purpose has not yet been fulfilled. If your purpose has not yet been fulfilled, then the most important part of your life has not yet been lived…"[2]. No matter how old or young or tired or sad or busy or lazy or whatever you believe yourself to be, you have a work to do, my friend. We all do.
The Key to True Happiness: Purpose & Meaning
Research shows that purpose and meaning in life are associated with the highest levels of happiness. Father of positive psychology, Martin Seligman, Ph.D.,[3] teaches that many people live the "pleasant life," which consists of experiencing positive emotion on a regular basis. It's good to feel good, to have fun, to experience the joy of life, for sure, but there's even more out there if you so desire.
"The engaged life" is more than just positive emotion, incorporating a focus on character, feeling engaged in life, really striving to be the best you can be. And that's pretty good too—certainly more desirable than a mere pleasant life.
But the ultimate is the "meaningful life." These people not only create positive emotion and are engaged in life, they also establish what Seligman calls "meaningful positive institutions," or in other words, they live a life full of purpose and meaning.
Have You Felt The Essence of What You Were Created to Be?
As one author writes, "True success is to discern the essence of what we're created to be and to follow it relentlessly"[4].
Have you felt the essence of what you were created to be? If not, what is standing in your way? Is it lack of desire? Is it failing to get still enough to hear the whispers? Is it allowing the distractions of a busy life to keep you in a routine until your life is living you? Whatever is holding you back, hear this: You will never feel at home until you discover, uncover, or recover your divine purpose and make it the focus of your life.
Listen Through The Passion to the Meaning
I'm not just talking about living passionately. Though I'm definitely a fan of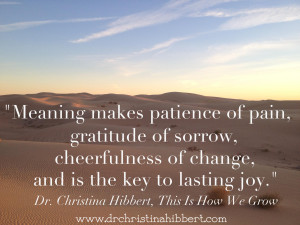 passion, there's a difference between passion's rush of excitement that gets you out of bed each day, and meaning's deeper connection to something greater than yourself–whether you're in or out of bed. Your job is to listen through the passion for the meaning, then infuse it into everything you do.
Meaning makes patience of pain, gratitude of sorrow, cheerfulness of change, and is the key to lasting joy. As C.S. Lewis describes it, "It comes the very moment you wake up each morning. All your wishes and hopes for the day rush at you like wild animals. And the first job each morning consists in shoving them all back; in listening to that other voice, taking that other point of view, letting that other, larger, stronger, quieter life come flowing in"[5].
Let Your Light Shine
The Bible teaches, "Let your light so shine before men," and warns us not to "light a candle and put it under a bushel, but on a candlestick," so it "giveth light unto all that are in the house" [6]. We are all candles and we have brilliant light to share. Only we can hold ourselves back from giving light to all.
Don't hold yourself back. Embrace your light. Seek your life's mission. Live your purpose and your life will be full of meaning and joy. Listen to the wise words of Marianne Williamson and be inspired:
"Our deepest fear is not that we are inadequate. Our deepest fear is that we are powerful beyond measure. It is our light, not our darkness, that frightens us most. We ask ourselves, 'Who am I to be brilliant, gorgeous, talented and famous?'  Actually, who are you not to be? You are a child of God. Your playing small does not serve the world. There is nothing enlightened about shrinking so that people won't feel insecure around you. We were born to make manifest the glory of God that is within us. It's not just in some of us; it's in all of us. And when we let our own light shine, we unconsciously give other people permission to do the same. As we are liberated from our own fear, our presence automatically liberates others"[7].
Your purpose, your life's mission, your calling, whatever words you give it, as long as you're alive, you have one, and as long as you have one, you might as well pull it out, put it on, and let it shine.
Discover Purpose & Meaning: Building Tool
What is YOUR Purpose? What gives your life meaning? If you're not sure yet, then good for you! You get to discover it! (Exciting, isn't it?) Ask yourself the following questions:
1) What gives my life the most meaning?
2) What is my passion? What gets me out of bed each day?
3) What do I feel most "at home" doing?
4) What are my strengths/weaknesses? What do these tell me about my purpose?
5) If I have a sense of my purpose, am I actively seeking to engage in it? If not, what is holding me back or standing in my way?
I'd love to hear how you define and discover meaning and purpose in your life! What questions do you have? What insights? Please share by leaving a comment, below! 

Be sure to check out Dr. Hibbert's Amazon Bestseller, This is How We Grow–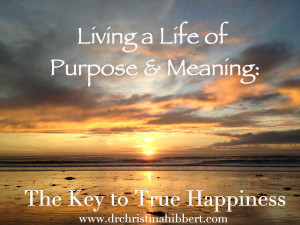 Join my  This is How We Grow Personal Growth Group!
FREE. Online. Growth. What more could you ask for?
---