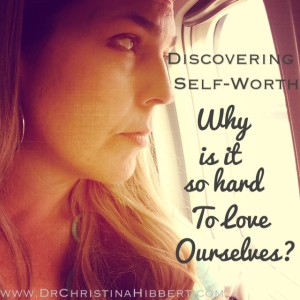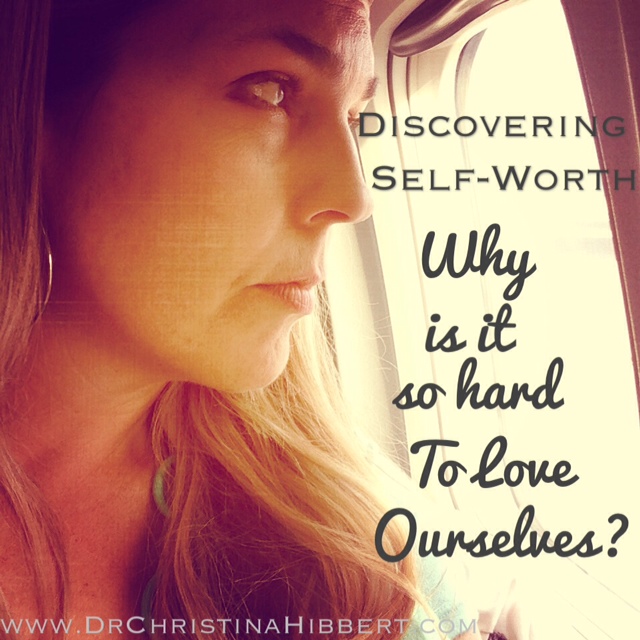 Why is it so hard? I've given a lot of thought to this question over the years, because the number one issue I see in my psychology practice is a struggle with self-worth. People may come in for help with depression, anxiety, relationships, or parenting, but underlying these challenges is almost always "low self-esteem," a struggle to love oneself.
I've read, studied, and watched my clients, friends, family–and yes, myself–struggle to feel self-worth–to truly embrace, believe, and feel it, deep in our bones. I've written about how self-esteem is a myth and how we must instead dig down and discover our true, inherent worth. I've even developed a model for discovering self-worth, and I'm currently writing a book on self-esteem after a breakup, with more books to come on this important topic.
But it still makes me cringe each time I hear someone say, "I don't know how to love myself," or "I try to believe it, but deep down, I don't feel my self-worth." I cringe a lot.
Why is it so hard to Love Ourselves?
So, why is it so hard to love ourselves? Why can't we just believe the books, experts, and centuries-old wisdom that tells us we are so much more than we feel we are? Why can't we accept our strengths and our weaknesses? Why can't we simply love ourselves and let love in? I don't have all the answers for why discovering self-worth and practicing self-love are so hard, but I do have some ideas:
1) Our experiences don't match what we're told or shown in the world. We hear, "You are of worth," "Each soul has infinite value," "We are all beautiful, talented, amazing, in our own way," and we may even believe it–for a while. Then, we go out into the harsh world where our beauty and talent are compared to others, where we are judged, and where we learn to judge ourselves. Suddenly, our self-worthy thoughts have vanished. Our own parents or family are often part of this self-doubt system. They may, knowingly or unknowingly, instill in us a struggle with self-worth, through years of criticism, mixed messages, or withheld love. Unfortunately, some live a whole life never hearing a kind word, never feeling the power of true, unconditional love. How can we believe we are worthy of love if we never experience love in its purest form? Even if our parents were loving and taught us self-worth, teachers, friends, and others around us can tarnish our sense of self-worth, if we buy into their lies. Media also contributes, for sure. Images of those who are slimmer, smarter, richer, faster, more creative, more successful, or more beautiful plaster the world outside, create doubt in our world within.
2) We tend to pay more attention to negative experiences than positive ones. In psychology this is called "The Negativity Bias," and it means that we humans are much more likely to remember and hold to the negatives of life than the positives. We're also more likely to let the negatives influence our future behavior. They stick to us like glue. We'll never forget the time our teacher said we were stupid or that cute high school boy said we were ugly, yet we ignore the dozens of things the people who know and love us see and say about how beautiful and intelligent we are. We ignore all the positive evidence of our beauty and worth, opting instead to cling to the negatives.
3) We don't trust ourselves. Bottom line. We might feel an inkling, or wonder, "Could it be I really AM amazing?" but we don't believe ourselves. We discount what is already whispering of our worth within, in favor of the loud messages of doubt without. We then go looking for ways to build our "esteem" in the world–to feel better about ourselves by being better than someone else, or finding the right person to build us up, or becoming a perfectionist so we feel worthy of love. But all of these paths to "self-esteem" will ultimately fail, for they are each built on a system of self-doubt. Instead, we must learn to trust ourselves, to listen for and hear and trust the whispers within that show us our true value and worth, to let go of the opinion and voices of others and trust a greater Source.
Discovering Self-Worth
To me, this is the answer for self-esteem problems: learn to tap into the truth within, to hear and feel it. Learning to create experiences outside that match those truths, learning to see the positive evidence around us and believe it–learning to trust, accept, and love ourselves. It can sound very easy, I know. Yet, I also know it's not–otherwise we would all feel so much self-worth I wouldn't be writing this. It's simple, yes. But it's not easy.
We're going to work on it.
Help me get this discussion started, by commenting, below! I really am interested in understanding why self-worth is such a challenge for us, and specifically, for you. Why do you think it's so hard to love ourselves? What stands in your way? Do any of my thoughts ring true for you, or is it something else? Let's  begin the self-worth revolution! Together, perhaps we can crush the myth of self-esteem and create a world full of self-worth. Wouldn't that be lovely?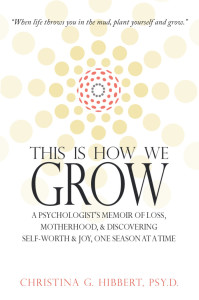 For more on discovering self-worth, be sure to check out my bestselling book,
A psychologist's memoir of loss, motherhood, and discovering self-worth and joy, one season at a time.
Available now on Amazon.com!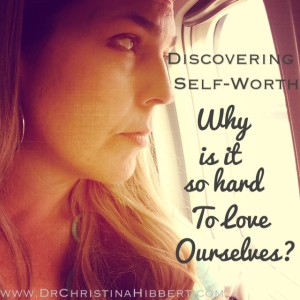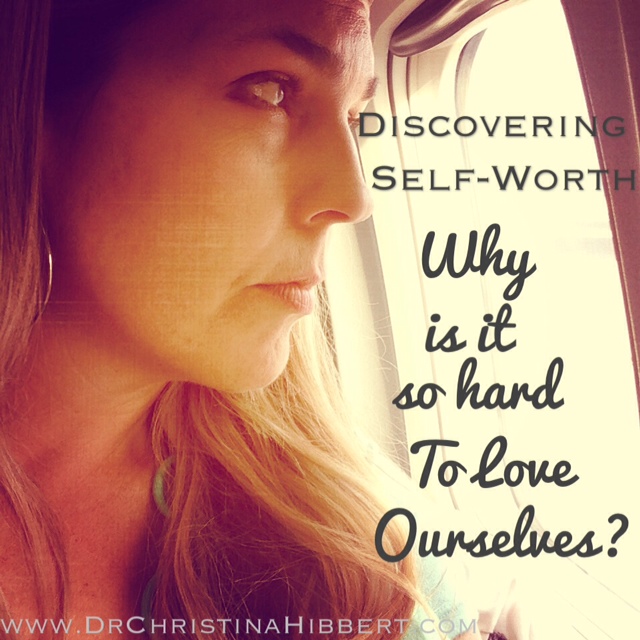 For support and insight to help you discover your own self-worth,
join my "This is How We Grow" Personal Growth Group!
FREE. Online. Growth.
Don't miss a thing! 
SUBSCRIBE, below, "like" my Facebook pages (Dr. Christina Hibbert; This Is How We Grow) and follow me on Twitter,Pinterest, & Instagram!
You may manage your subscription options from your profile
Related Posts/Articles:
Join my This is How We Grow Personal Growth Group!
Personal Growth & Self-Actualization
Goal-Setting: 5 Steps for Personal Growth Success
What I've Learned about Personal Growth from a Decade of New Year's Themes