In Thought Management, Part 1, we learned about the connection between thoughts, feelings, the body, and behavior. We learned about the thousands of automatic thoughts that run through our minds each day, and how one little, unnoticed thought can lead to a whole lot of trouble if we do nothing about it. (If you haven't read it yet, I suggest you do!).
In Part 2, we shift our focus to what we can do about our thoughts, using a little tool I love, called a "thought record".
One of the Best Tools for Thought Management: The Thought Record
A thought record is just a piece of paper with several different columns, including: "Date," "Situation," "Automatic Thoughts," "Feelings," and "Rate Feelings 1-10". However, when used correctly, that little piece of paper can allow you to step back and look at thoughts objectively, to see which thoughts are "truthful" and which are not so truthful, and provide you with the chance to change the thoughts you don't want.  Initially, a thought record helps you notice your automatic thoughts, write them down, and learn to tease them apart from what you're feeling. In time, a thought record can also help you identify and alter false thoughts and beliefs into something more helpful and truthful for you.
Today we're focusing on the first steps of using a thought record: learning to identify difficult situations, thoughts, and emotions, and writing them out. I've attached a copy of a basic thought record, below, for you to view or to print and use, if you'd like.
Thought Record, Part 1; www.DrChristinaHibbert.com
How to Use a Thought Record: 3-Minute Therapy
Since it's much easier to show you how to use a thought record than to write it out, I made this video, as part of my "3-Minute Therapy" series. I urge you to take 3 minutes and watch as I explain exactly how the thought record works. Then, join me back below for a couple more points to get you on your way.
"Change Your Thinking with a Thought Record: 3-Minute Therapy w/Dr. Christina Hibbert, YouTube
 [stream provider=youtube flv=http%3A//www.youtube.com/watch%3Fv%3Dre8VbR0h1hU img=x:/img.youtube.com/vi/re8VbR0h1hU/0.jpg embed=false share=false width=640 height=360 dock=true controlbar=over bandwidth=high autostart=false responsive=16:9 /]
6 Tips on Using a Thought Record
Now that you know how the thought record works, there are a couple of things that might be helpful to understand:
1) It's hard to hear automatic thoughts at first. If you're not used to it, be patient. Give yourself time to learn how to listen and hear them. It often helps to talk out your situations and have someone else help you identify your thoughts. Therapy is great for this–I have clients bring empty thought records to me and we fill them out together. It's so easy for me to hear and write their thoughts as they tell the story. I highly recommend it if you need help.
2) Most people have a hard time distinguishing thoughts from feelings, at first. It often feels like a jumbled mess and it can be tough to tease them apart. The thought record helps you work on this, so keep at it and ask for help if you need it. It's so much easier to deal with thoughts and emotions when you can see them as the separate entities they are.
3) As you work on this, you'll begin to notice patterns of thoughts and feelings. Certain feelings will come up often, and will usually be related to the same types of thoughts. It's good to see how often you're dealing with the same old things. Very motivating!
4) Over time, you'll be able to pull out "themes" from your thoughts. For instance, you might always automatically go to the belief that you're "not good enough," or that "everyone always abandons" you, or that "life is against" you. It's good to know what these "themes" are, for then you have the chance to challenge and change them.
5) At first, it may be minutes, hours, or days later that you write things down. It's hard to want to pay attention to your thoughts and emotions right away at first, even if you hear them. That's ok. The important thing is to write them down, whenever you do it. Writing them down gives you the chance to come back later, with fresh eyes, and see the truth of the situation. And it also gives you the chance to work on that "truth".
6) Eventually, you'll be able to hear the automatic thoughts and beliefs, challenge them, and change the ones you want to change while you're still in the situation, or even before the situation gets really going. Yep, eventually, if you work on it, you will. How's that for changing your life?
Change Your Thinking, Change Your Life! (It's Worked for Me!)
Now you know what a thought record is and, hopefully, why I think it's such a great tool. I've been using thought records, on and off, for over 10 years, and they've been essential in helping me identify what's really going on when I'm feeling powerful emotions or engaging in behaviors I don't understand and don't want. I still struggle with hearing and changing my thoughts sometimes, but this tool has been one of the best things I've ever learned, for it's helped me change so many false thoughts and beliefs and thus has helped me overcome so many false emotions. I hope it helps you too!
[author] [author_image timthumb='on']http://www.drchristinahibbert.com/wp-content/uploads/2012/03/square-head-shot1.jpg[/author_image] [author_info]Clinical Psychologist, Mom of 6, Postpartum Couples DVD Producer, Non-Profit Founder, and expert on Parenting, Women's Emotions, Pregnancy & Postpartum, and Grief & Loss, Dr. Christina Hibbert loves songwriting, learning, and teaching what she learns. An "over-thinker" by nature, Dr. Hibbert's had plenty of chances to work on "Thought Management" and is happy to share her best ideas and tools with you![/author_info] [/author]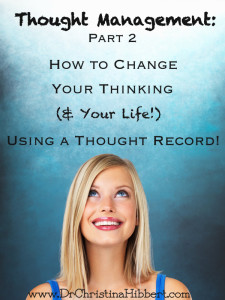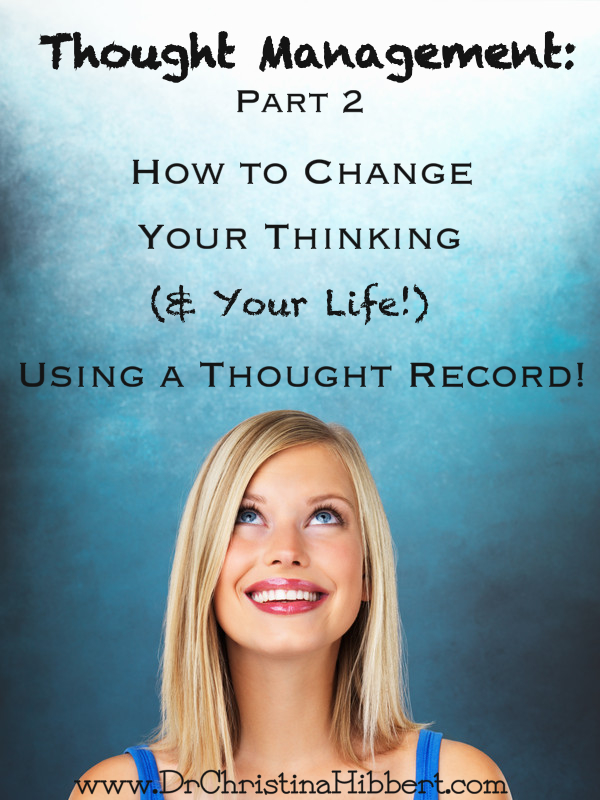 Join me as we learn the next, important steps of using a thought record in: How to Challenge and Change Thoughts Using a Thought Record! (coming soon!)
And, please, leave me your questions and comments below as you try this out! I'd love to know what you think!
 For Inspiration, Motivation, and Great Discussion on topics like this, Please "Like" My Facebook Page!
Related Posts:
Thought Management, Part 1: The Link Bewteen Thoughts, FEelings, the Body, & Behavior
How to Make Lasting Change: 5 Lessons that Will Change Your Life!
Personal Growth & Self-Actualization
"If Self-Esteem is a Myth, What is the Truth?": Understanding Self-Worth (plus video)
The 5 Love Languages: Improve Relationships & Feel the Love! (plus video)
How to NOT Be Ungrateful: 10 Things for Which I am NOT Un-Grateful