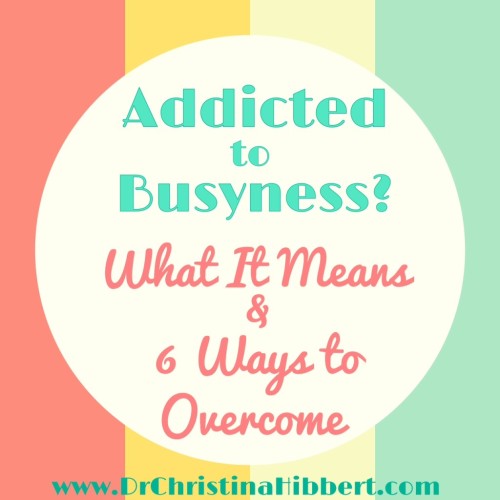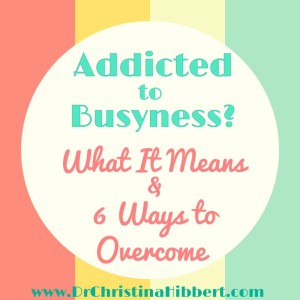 In part 1, I shared some of my experiences with busyness and how I recently realized I was actually addicted. Today, I want to focus on you.
Do you struggle with busyness? Are you, like I was, "addicted" to it? Does this bother you, or is it just something you "accept" about yourself or laugh off?
I hope to help you gain a little insight into your relationship with busyness, and then I hope to provide you with some ideas for how you might overcome it (should you choose!).
What, exactly, do I mean by "busyness?"
After I posted my story (part 1), some readers posed some excellent questions. The first was, "What exactly constitutes 'busyness'?"
Great question, because life is naturally full of responsibilities, opportunities, challenges, and hopefully goals and dreams. How, then, do we know if we're caught up in busyness or if we're simply living a full and healthy life? Just because we have many things going on doesn't necessarily mean we're busy.
To me, busyness differs from a "full life" by how it impacts you.
When life is "full," you are…
Healthy
Happy (at least most of the time)
Fulfilling your life's calling
Discovering meaning and purpose in each day
When life is "full," you're growing, and it feels good.
When life is "busy,"…
You feel like you're just keeping up.
You feel like you can't stop, take a break, or slow down.
You might feel healthy and happy sometimes,
But many days you're exhausted, overwhelmed, and feeling burned out.
You're more likely to suffer from illness, chronic stress, and anxiety or depression.
You may think in your mind, "This is too much!" or "What's the point of all this?" and yet you keep saying "Yes," or adding things.
Your sense of self-worth may be tied up in your busyness.
Even if you enjoy much of what you do, you will still feel something deep down telling you, "This is not what life is all about."
Can we really be "addicted" to busyness?
After reading my Part 1 post, someone asked if I really believe busyness is an addiction, similar to a drug or alcohol addiction, or was I just using that word for the impact? Excellent question.
Yes, I really mean "addicted." I don't believe everyone who is busy is addicted to it. As I wrote about in part 1, some times of life are naturally busy, whether we want them to be or not, and we simply have to do what must be done. However, I do believe busyness can grow to the level of a true addiction.
I say this for a couple of reasons: 1) No matter how unhealthy it had been making me, and no matter how much I knew I shouldn't keep saying "yes" and adding on, I kept doing it. I couldn't stop. That's an addiction. 2) When I finally forced myself to stop, I experienced symptoms of withdrawal. That's one way to know for sure if you're truly addicted to anything, be it alcohol, caffeine, or busyness–do you have symptoms of withdrawal? I did. I was agitated, restless, bored, and desperate to add something back into my life so I could avoid feeling that way. The symptoms of withdrawal might not be as bad with busyness detox as for someone coming off Heroin, but it is the same process.
Actually, that's what being addicted to busyness is–a process addiction. A "process addiction" occurs when a person becomes addicted to an activity. Online gaming is a great example of a process addiction, and it's actually one of the newest mental health disorders that's been added to the DSM-5 ("Internet-Gaming Addiction"). Other process addictions include things like social media or internet addiction, and even worse, pornography, all of which can significantly impair a person's well-being and destroy a family or life.
So, yes, I do believe busyness can become an addiction.
The Illness of Busyness: "Why is it so bad?"
We wear our busyness like a badge of honor, like an identity, or proof of worthiness. But we've got it wrong. Being too busy can diminish our quality of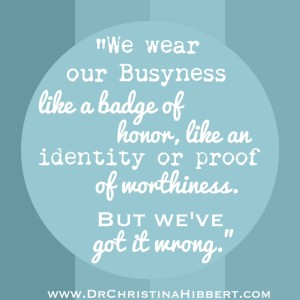 life and can impact relationships, family, and our sense of self.
Problems with "busyness":
1) It distracts us away from the deeper, more meaningful things. We say we're doing it for more memories, or for our kids, or so we can have a richer life, but really busyness prevents us from having time, perspective, understanding, and self-awareness.
2) It's a form of escape. We can avoid what's really going on—avoid life problems, relationships, or bad habits we need to change—through busyness. The problem is, avoiding prevents positive change and personal growth.
3) It's a false substitute for true self-worth. We are not what we do. I don't care who you are or what your daily work or "busyness" entails, it has nothing to do with your worth and value. Yet, we allow ourselves to believe this. Society reinforces this. But it's a lie.
4) It's like a drug. I don't know about you, but I don't like being addicted to anything. Busyness as a habit is unhealthy, body, mind and soul, and when we can't stop ourselves from being busy, then it's just as harmful as a drug.
5) It detracts from personal growth and our true life's purpose. Being busy all the time prevents us from hearing the whispers that direct our life and reveal meaning and purpose. It distracts us from learning about ourselves, from growing emotionally and spiritually, and from really seeing what we and our life are really about.
6 Steps to overcome busyness addiction
If you can relate at all to my story, or to anything I've said above, then it's time to decide: Do you want to stay addicted to busyness? Or do you want to heed this wake up call for a deeper, richer life?
If it's the latter, then here are 6 steps to get you started:
1) Give yourself a "busyness detox" time frame. One month, two, or more? It's up to you, but set a time frame for detox that will give you a real chance to make change. I gave myself the summer, which allowed me plenty of time to get through the detox. Without so much time, I probably never would have realized I was even addicted.
2) Start saying "no" and cut out all non-necessities. Saying no is really saying "yes" to something better. In this case, it's saying "yes" to greater meaning, understanding, and improved joy, love, and relationships. For a while, you need to focus only on what matters most. Let the rest go. Kind of like figuring out what foods you're allergic to, you first have to cut it all out before you can slowly add back what is good for you.
3) Spell out what you will do during your busyness detox. It helps to not only know what you're not going to do, but to know what you are going to do. My goal this summer was to only spend time with my family, read, rest, recover, relax, only work on essential projects, and serve when I felt inspired to do so. It opened me to new ideas and ways to heal and connect and create memories. It led to finally feeling like I was really living.
4) When boredom, restlessness, grief, anxiety, or even depression sets in, ride it out. Feel it. Talk about it. Write about it—often. Seek to understand what you are feeling and go through the emotions. Start therapy if you need it. Don't let yourself escape by becoming busy again. Stay with it.
5) After you've detoxed, only add back those things that are essential to you and your family's well-being or that bring your life greater meaning and purpose. Start adding things only after you've fully detoxed, and only add those things that are truly important. Don't add anything out of guilt. Add things that expand and enrich your life, not just those things you feel you "should" do. Focus on those things that help you give and receive greater love. It helps to first work on meaning and purpose in your life (My This is How We Grow Personal Growth Group is a great place to start!). Then, give yourself plenty of time.
Ask…"Is this essential to the care of myself or my family?" "Does it add greater meaning to my life or detract from it?" "Is this part of my life's purpose?" "Do I really want, need, or desire this in my life?" Don't cheat. Be firm about what you accept back into your life. You owe it to yourself to do this right.
6) Keep checking in. If you don't make this a priority, you'll find yourself back in the busyness addiction in no time. Check in often and be honest about how you're doing. It's much easier to make course corrections along the way than to turn a blind eye and wake up months down the road right back where you started. You can do this! And you're not alone. You're in great company, trust me.
Questions, comments, thoughts about busyness, addiction, and where you currently are? I'd love to hear your insights on this important topic, so please leave a comment, below!
Part 1: Confession–"I was addicted to busyness & didn't even know it!"

You may manage your subscription options from your profile.

Be sure to check out Dr. Hibbert's Amazon Bestseller, This is How We Grow–
 
Don't miss a thing! 
SUBSCRIBE, just below, "like" my Facebook pages (Dr. Christina Hibbert; This Is How We Grow), and follow me on Twitter,Pinterest, & Instagram!
 You may manage your subscription options from your profile
'
Related Posts/Articles:
Living a Life of Purpose & Meaning: The Key to true Happiness
When Life Hands You Lemons, Stop & Reevaluate: 4 Steps to Reevaluate Life & Fearlessly Meet Your Needs
Create the Life You Desire: Part 2–The 3 Steps of Creating
"This is How We Grow:" Understanding the Seasons of Personal Growth
Join my Free, Online "This Is How We Grow" Personal Growth Group!
Personal Growth & Family Vacation?: 10 Things I Learned in an RV with my Family of 8 for 8 Days
PPD & Motherhood Mental Health: Self-Care & Letting Help In–The 2 Most Important Things
10 Ways I Choose to Grow Each Day 
Personal Growth & Self-Actualization: What Will Your Choice Be?
"These are my Strengths!" and "This is my Lame-O List!": How to Embrace Strengths & Weaknesses
Parenting Success: It's More about the Parent than the Child
Learning Self-Love: 5 Tricks for Treating Yourself More Kindly