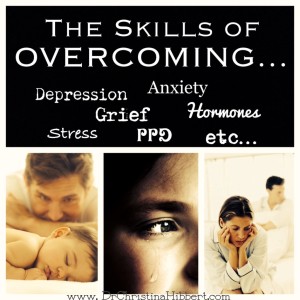 It's important for all of us to learn the skills of overcoming–because life will test us. We will struggle and fall and have to learn to get back up. We will face hardships, loss, and physical and mental health challenges. And we need to be able to overcome these challenges, not only so we will feel again, but so we will be free to become our best self, experience the payoffs of personal growth, and flourish in life and love. That's why my tagline is: Overcoming. Becoming. Flourishing.
5 Skills of Overcoming
Most of my professional work has focused on helping women, children, and men overcome something. Be it parenting issues, depression, anxiety, grief, relationship challenges, postpartum depression, adjustment to motherhood, hormone-related emotional struggles, etc.–there are five principles I've discovered that stand true no matter what we are overcoming. There are five skills of overcoming we can all begin developing today.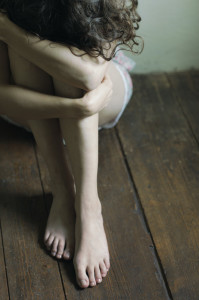 1) You must accept your situation. No matter the "problem," the first step in overcoming is always acceptance. How can the alcoholic get clean if he fails to accept he's an alcoholic? How can a family in grief overcome it if they fail to accept their need to grieve? It's simple, yet not always easy–accepting what is. But it's a crucial first step in moving beyond the "problem," in overcoming it.
2) You must be willing to change and–if you choose to–grow. Many people say they want to overcome their challenges but aren't willing to change in order to do so. I recall a client who had been seeing me for moderate depression for three months. Sensing she was not making progress, I brought it up in a session. She replied she didn't think what I was doing was working for her. "Okay," I said, "then let's try something different." I then explained a whole new approach to her depression, and how, if she was willing to work hard and I was willing to work hard, I believed she really could and would overcome. It was a "Dead Poet's Society," standing on the desk, kind of motivational moment that moved me to tears on her behalf. I paused and awaited her reply. "No, I guess I don't want to do that," she said, and quit therapy that day. I was stunned, but it helped me learn a lesson: You have to want to change if you ever want to overcome your problems. Overcoming is change, after all. And,  you can not only change, you can grow through your struggles, too–if you choose to.
3) Create a plan for help, and incorporate outside support. Too many people just jump into the emotions of their problems and get lost, because they have no anchor, no plan, no support system. If you're trying to make lasting change, you're going to need a plan and support. Your plan might include self-help, like reading good books, taking courses on how to overcome your particular problem, vitamins and supplements, or talking with a friend or family member. It might also include outpatient professional treatment, like a support group, counseling, doctor's visits or medication, or alternative treatment methods. More severe mental health struggles might include inpatient help in a hospital, treatment center, or other facility. Your plan should also include a strong support system, consisting of family, friends, community, and church members, who can encourage, teach, and be there for you. The important thing is to create the plan that is right for you, and use your supports. (More on Goal-Setting Success Skills, here)
*If you're struggling with overcoming grief, watch this short video to get you started!
[stream provider=youtube flv=http%3A//www.youtube.com/watch%3Fv%3DEgr690jSVMQ img=x:/img.youtube.com/vi/Egr690jSVMQ/0.jpg embed=false share=false width=640 height=360 dock=true controlbar=over bandwidth=high autostart=false responsive=16:9 /]
4) Work hard. Give it your all. And remember, "It is work, but it is worth it." Overcoming, by nature, is work. Hard work. But remind yourself of the choice that lies before you–"Either I do the hard work and get better, or I give up and stay the same." One day at a time. One foot in front of the other. One healthy choice. One changed thought. It's worth the hard work in the end.
5) Reevaluate the plan as needed, and be willing to go back to number one and start this "overcoming" process all over again, as many times as it takes. Change is like a spiral staircase, through which we move up and down. As we make mistakes, we learn. As we learn, we can choose new options and make better choices that will enable our plan to eventually work.  The only "failure" is in giving up, or giving in to our troubles. Don't let your troubles get the best of you. You're better than that. You're worth the work it will take to overcome. Someday, your overcoming will help you become your best self. And yes, if you stick with it, you will eventually flourish, too!
What helps you overcome, and what are you willing to give to become and flourish, too? I'd love to know what you think, so leave a comment, below!
For more on Overcoming, be sure to check out my bestselling memoir,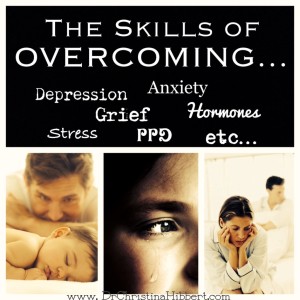 Looking for inspiration & support as you overcome, become, and flourish?
Join my "This is How We Grow" Personal Growth Group!
FREE. Online. Growth.
Don't miss a thing! 
SUBSCRIBE, below, "like" my Facebook pages (Dr. Christina Hibbert; This Is How We Grow) and follow me on Twitter,Pinterest, & Instagram!
You may manage your subscription options from your profile
Related Posts/Articles:
FEEL: How to cope with Powerful Emotions
Beyond "Happiness": 10 Ways to Increase Joy
Women & Depression: 12 Facts Everyone Should Know
Postpartum Depression Treatment: What Everyone Should Know
Women's Emotions: Part 3, The Menstrual Cycle & Mood 
12 Facts on Depression & Medication 
Parenting Skills Top Ten, #1: Do Your Own Work First
Discovering Self-Worth: Why is it so Hard to Love Ourselves?
The Positive Psychology of Flourishing! What is it? And Am I doing It?
Practicing Patience: 20 Ways to Be More Patient Today
"This Is How We Grow" Blog Hop: 10 Ways I Choose to Grow Each Day