Dealing with Grief:
Grief & the Family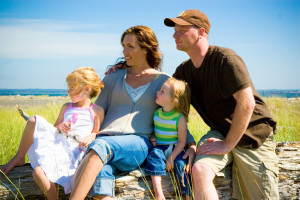 Traditionally, the focus of grief has been on the individual. But my experiences–as a sister, daughter, and mother–have taught me that dealing with grief is not meant to be an individual process. Along with culture and religion, families teach us how to handle death, dying and grief. Understanding loss and grief from a family perspective enables families to engage in the work of grief together, to heal not only the individuals but the family as a whole.
Grief & Family Dynamics
Families often have unspoken "rules" or messages about grief and loss. Messages such as "Just be strong," "Never talk about it," or "It's in the past, move on," may lead to feelings of isolation and can halt grief work before it's even begun, leaving family members stuck between repeating old patterns and trying to do things differently.
After my sister, Miki, died from cancer at age 8, the unspoken message was not to talk about it. When one of us brought up a memory—"Remember when Miki…"—it wasn't like we were punished for it, but we could all feel that it was too painful for Mom and Dad, so we ended up keeping things to ourselves. As a consequence, all of my siblings have said Miki's death was a profound turning point in their lives, not just because of losing our dear sister, but because it changed our family dynamics forever.
Family Roles & Grief
Dealing with grief poses unique challenges for each family member's role. Parents may find it challenging to maintain their previous sense of order or responsibility in the home. Children may feel lost and alone without a grief-stricken parent's guidance. Sibling grief can be overlooked or minimized. And individual differences in processing grief can create tension in family relationships.
Couples dealing with grief can face significant struggles in their relationship based on normal differences in grief styles. Women are more likely to talk about their emotions directly and take responsibility for each family member's grief. Men, on the other hand, are more likely to avoid directly feeling the emotions of grief by turning to work, athletics or hobbies. As one person turns to the other hoping to talk, cry or share emotions, they may be distraught to find the other is unavailable. As one author aptly writes, "…even for those in the same grief. Grief can't be shared. Everyone carries it alone, his own burden, his own way." (Anne Morrow Lindbergh, 2003.  Dearly Beloved). 
Family Dealing=Family Healing
Though the emotions of grief can be a highly personal experience, families can learn to reach out and support one another, despite their differences. Family members can turn toward one another in dealing with their grief, and families who are able to do so are more likely to find not only individual healing, but healing for the family unit as a whole.
Families can unite under the weight of grief by following some of these simple tips:
Couples—remember to just be there for each other. It's ok to grieve a little on your own, but don't shut each other out. Make time to listen, to talk, to do things together, to just love each other. Be patient.
Parents—remember your children.  f you are overcome by your own grief for a time, enlist the help of other adults who can serve as caregiver and support your children in the meantime. Work to see the good in them, to recognize their efforts, to love them.
Children—are resilient but they have feelings too. Adults can help children identify and process what they feel. Validate that what they are experiencing is real. Let them know they are not alone.
The family's role is to provide the physical, loving attention we need through loss. As we read in the New Testament, "…ye shall be sorrowful, but your sorrow shall be turned into joy…." (John 16:  20-22). Families can not only survive, but thrive, if they allow their unique experiences of grief to knit them together and heal them as one.
Related Articles
"How do I grieve?" Grief Work & TEARS
In Memory of My Sister, on the 5th Anniversary of Her Death
The Do's & Don'ts of Helping Others Through Grief
Parents & Grief (coming soon!)
Children & Grief: What you Need to Know
Children & Grief: What You Can Do
Siblings & Grief: 10 things Everyone Should Know
Couples & Grief (coming soon!)
Don't miss a thing! Subscribe! to Dr. Hibbert's FREE Newsletter & Updates (above right), to our RSS Feed (top right), or visit our Facebook Page and "Like" us!
Grief Support
---
Resources:
Walsh, F. & McGoldrick, M.  2004, Living Beyond Loss: Death in the family, 2nd Ed.
Bernstein, J.R. 1997, When the Bough Breaks.