The Do's & Don'ts of Helping Others Through Grief
Yesterday was my sister, Shannon's, birthday. She would have been 36 years old. She died in 2007.
I've faced many birthdays and anniversaries, having lost two of my sisters, my brother-in-law, my beloved father-in-law, two dear grandfathers, and an incredible aunt. These "dates" are not as hard as they used to be; yesterday I didn't tell anyone and I didn't reach out for support. I really didn't feel I needed it this time. I've learned, over the years, how to get through, reminding myself, "It's just a day like any other. You choose its meaning." And through time and a lot of hard work I am now at the point where I can choose to fondly remember and honor Shannon on her birthday.
Handling Grief is Hard for Most of Us
But how do we help those who just aren't there yet? How can we be there for those in grief? The truth is that most of us have no idea how to handle grief, so most of us do not handle it well. We try our best to be there for the bereaved, but all too often our well-meaning gestures end up putting a wedge between us, our greif-stricken loved ones feeling isolated, judged, misunderstood, and alone. And though grief is deep and personal, it is not meant to be experienced all alone. In fact, families and friends who are able to share their grief find they have gained a depth to their relationship that would never otherwise have been found.
What NOT to Do: Common Grief Misperceptions & Barriers
So, what are some of the common misperceptions of grief that get in our way, and what can we do about them?
First we don't always need to say "something".  The truth is, when someone has just experienced a major loss, there is usually nothing that can or needs to be said. Just being with them is good enough.
Second, trite reassurances do not usually help. "They're in a better place," "At least they're no longer suffering," or "Time heals all wounds," though well-meant, are better left unsaid.
Third, talking about our own loss experiences is not a good option. Sharing our experiences with loss–saying "I know exactly how you feel," or "I understand completely"–usually makes the griever feel as if you are minimizing their experience or pain.
Because of these misconceptions and others, many bereaved find it difficult to feel supported. In fact, research shows that often the bereaved's circle of friends significantly changes through their grief process(1). We tend to filter out friends or family members who were emotionally insensitive, who seemed to lack depth or perspective or who were simply absent in our time of need. Sadly, I fell away from a couple of my closest friends through my years of grief. One in particular, who was one of the first people I called after I learned Shannon had died, I never heard from again until two years later. Though I still loved her for the friendship of our past, I realized as I spoke to her that too much had happened in those two years, the years that changed me and my family.
For all of these reasons, seeking support through grief can be a challenge. Family members may not be available, due to their own grief, or they may expect the bereaved to continue to perform her "role" in the family system. Friends may or may not be capable of pushing aside their own fears about death and grief to be there for the bereaved. Community and church support can help if the bereaved feels comfortable reaching out and trusts those who are there to help. Sometimes professional counseling is the only place to turn, but it is important the person you turn to is familiar with grief work, allowing you to simply be in the emotions of grief without trying to turn the grief into something more "familiar" to them, like depression or relationship issues. The point is to keep trying until you find the support that is right for you.
What TO Do
Then, what is the best way to support someone through grief? It's simpler than you'd think.
Just be there. Listen. Let them talk and cry and talk and cry without putting a time limit on it and without judging.
Don't get tired of hearing them tell their "story". Encourage expression of the facts, details and emotions related to the loss; it is a simple but profound method of healing.
Check in on them. Say, "I'm just calling to see how you're doing today."  No pressure or expectations, simply a friend checking in.
And hold your tongue. When you feel the urge to say something trite, like, "This too shall pass," don't. Instead, just say, "I'm so sorry," let them cry, and cry with them.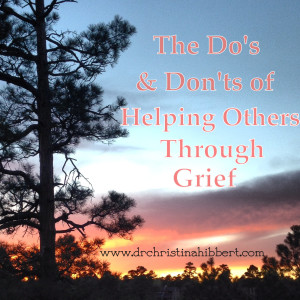 Just Be There
We can all use a hand to hold in the dark. Be with those you love through their darkest times. Then, perhaps someday they will be able to say, like I said yesterday, "Today, I choose to remember fondly and honor the one that I love." And they might not be referring to just the one they've lost; they might also be referring to you.
How have you helped others through grief and loss? How have others helped you? Have you experienced misconceptions that get in the way? What is your advice for those seeking to help the bereaved? Please leave a comment!
Don't miss a thing! SUBSCRIBE, below, and "Like" my Facebook page, for updates, inspiration, and discussion on the topics that interest you most!
Related Articles/Posts:
(1)Bernstein, J.R.  (1997).  When the Bough Breaks:  Forever after the death of a son or daughter.  Kansas City, MO:  Andrews McMeel Publishing.