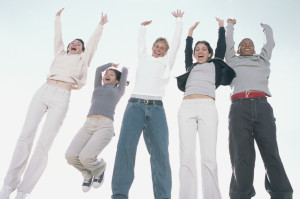 Are you a naturally cheerful person? Sadly, I am not. If I don't work on it, I can be grumpy, complaining, critical, and downright negative. But, for all who are cheer-challenged, like I am, good news: Cheerfulness can be learned and developed. Yes, with practice, you can become a cheerful person.
My "Year of Cheerfulness"
I know this firsthand after spending an entire year practicing cheerfulness. It was during one of my hardest years, during a time when I desperately wanted to feel joyful, yet knew I couldn't. At least, not yet. So, instead, I figured I could act cheerfully, hoping perhaps it would bring me a little more joy.
And it did. My year of cheerfulness was one of my favorite years, not because life was easy or fun–it wasn't–but because no matter what, I told myself, all I had to do was put on a smile and try to "be of good cheer." The bible tells us to "be of good cheer" more than a dozen times, and what excellent advice it is. Cheerfulness calms us, strengthens our relationships, and can actually create more joy—in us and those around us.
As I wrote in Part 3: Year of Cheerfulness, of my memoir, This Is How We Grow, "I can act cheerfully even if I feel unhappy, stressed, or overwhelmed. I don't have to feel joyful to be cheerful." (p. 224) Again, that's the great news—we don't have to feel joyful to act cheerfully or even become a cheerful person. And don't we all want to be a little more cheerful?
12 Ways to Act Cheerfully & Become a Cheerful Person
Here are 12 ways you can begin to practice acting cheerfully. And if you stick with it, eventually, these things just might help you become a more cheerful person, too.
1) Smile on purpose. Even when things are tough–especially when things are tough–smile. As I wrote about my year of cheerfulness, "this is my goal: to smile when I want to scream, hold my tongue when I want to complain, to laugh when I want to escape." (p. 224)
2) Hold your tongue. When you feel the urge to complain, bite your tongue (and literally, if you need to). If you want to criticize something or someone else, refrain. Staying silent is a wonderful way to get us through stressful moments without saying or doing something we will later regret. If you still feel something needs to be said after thinking it through, then formulate a kind response. Cheerfulness can help us through tough confrontations.
3) Fake it 'til you make it. I've written about this before, because it really is a helpful tool. When you're not sure what to do, fake it. When you feel your stress levels rise and you're about to lay into someone you love, fake it! I fake laugh when I'm particularly stressed, or pretend I know what I'm doing when faced with a tough new task. Sometimes, it just takes a little "faking" to help us "make it" cheerfully through.
4) Change your brain each morning. Our brains are naturally wired to focus on the negative throughout the day. Instead, wake up and tell your brain, "Your job today is to find all the good stuff." Giving your brain a specific task helps calm the mind chatter and stress that can stand in the way of a cheerful outlook and attitude.
5) Focus on creation. We feel "cheerful" when we are creating something good. Shift your focus from "overcoming a problem" to "creating a solution" or "creating a memory" or "creating a new you." This creative shift can uplift and inspire us to behave more cheerfully. (For more on creation, read this.)
6) Admit the truth. Acting cheerfully doesn't mean we ignore our true feelings. It simply means we don't want our feelings to control how we are in the world. In fact, ignoring our true feelings can destroy cheerfulness. It's important to check in with ourselves–to FEEL and grieve and process what's really going on. We may not need to do it all day, with everyone we meet, but in safe places, with people we trust, we must get real and admit the truth. Say, "I don't like this. I wish this weren't happening. I wish I did not have to do this." Let yourself feel the pain or discomfort. Then, when it's time, get up and say, "I'm going to do it anyway, and doggone it, I'm doing it with a cheerful attitude."
7) Focus on Making Memories. When you're creating a memory, it's hard to want to be anything but cheerful. Memories are all we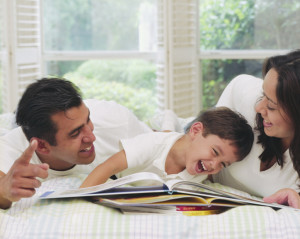 take with us through life—they matter most. If you're a parent it's especially important to make memories with your children. Focus on how to turn this boring, uninspired, or tense moment into a memory, and you just might feel the cheer naturally pouring out of you.
8) Take a Time-Out. Just like kids need a break once in a while, to regroup, so do adults. When cheerfulness feels like an impossibility, put yourself in a quiet place where you can breathe, lie down for a while, or just calm down. Then, put your smile back on and practice cheerfulness again.
9) Practice Gratitude. Gratitude is at the heart of cheerfulness, for when you are conscious of your gifts and blessings, it's hard not to feel cheerful about them. For more on practicing gratitude, read 10 Benefits of Practicing Gratitude, 10 Ways to Practice Gratitude Today, & How to NOT Be UN-Grateful.
10) Practice Patience. Like gratitude, patience and cheerfulness go hand-in-hand. Cheerfulness helps you practice patience, and practicing patience leads to greater cheerfulness. For more ideas, read 20 Ways to Practice Patience Today.
11) Get in the "now": pray, ponder, meditate, breathe. Take 5-30 minutes each day to slow down, breathe deeply, and pray, meditate, and simply ponder the goodness of life. This will help you focus on "the now." Countless studies show the benefits of mindfulness, meditation, and prayer. So, when you need more cheerfulness, take a deep breath, relax, and pray. Using all your senses, focus on what's all around you. Tapping into spiritual power and the present moment is essential to living a cheerful life.
12) Let go. One of the biggest barriers to cheerfulness is holding on to the past, worrying about the future, and letting negativity rule your mind. I know it's not as easy as it sounds, but you must let it go. Work to get worry under control (read The Key to Worry-Free: The Worry Tree), forgive, focus on the here and now, let the past go. "Our past, once examined and processed, must be let go." (This is How We Grow, p. 314) Choose cheerfulness right now, and let the rest go.
Are you a naturally cheerful person? What have you done to "be of good cheer?" How does cheerfulness improve your life? Share with us by leaving a comment, below!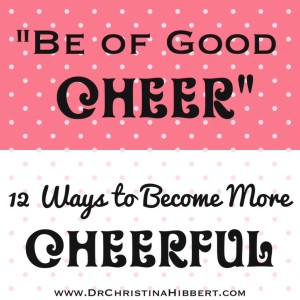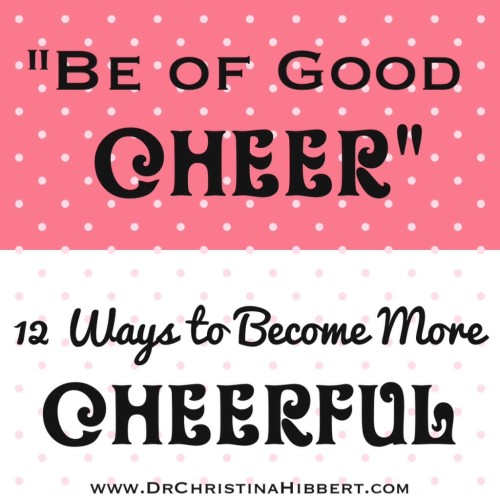 Be sure to check out my new bestselling memoir, 
This is How We Grow, available now on Amazon.com!
Don't miss a thing!
SUBSCRIBE, below, and please "like" my Facebook pages (Dr. Christina Hibbert; This Is How We Grow) and follow me on Twitter,Pinterest, & Instagram!
And be sure to check out my Amazon Author Central Page! Join the discussion!
You may manage your subscription options from your profile
Related Posts:
Join my "This is How We Grow" Personal Growth Group! FREE. Online. Growth.
Practicing Patience: 20 Ways to Be More Patient Today
"This Is How We Grow" Blog Hop: 10 Ways I Choose to Grow Each Day
10 Benefits of Practicing Gratitude
The Positive Psychology of Flourishing: What is it? And am I doing it?
6 Ways to Create a More Peaceful Christmas Holiday
Create a more Meaningful Christmas with "The 5 Gifts of Meaning"
This Holiday Season, Make it a 4-Gift Christmas
Holiday Stress: Relationships Survival Guide
Slow Down & See: How to Appreciate the Richness of Life
"Achieving Balance": Why You've Got it Wrong, & How to Get it Right