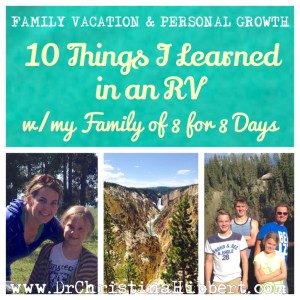 I knew it would be an adventure—driving over 2,000 miles in an RV, with my husband and our six kids, for 8 days, from Flagstaff, AZ to Las Vegas, to Utah to Idaho, to Montana to Yellowstone National Park, to Jackson, Wyoming and back. We'd been wanting to do this trip for years, and since my oldest had just graduated from high school (I still can't believe I have a college student!), it was now or never.
We weren't oblivious, however. My husband, OJ, and I both knew that being together, 24/7, in very tight quarters could be disastrous! "It will be memorable," we laughed to each other. "Either it will be so bad we'll never forget, or it will be so good." I figured, based on our history, the former would be the case. I was pleasantly surprised to be wrong.
From Surviving to Thriving on Family Vacation
I had no idea how incredible this vacation would be—the scenery of Yellowstone, yes, but also the experience with my family. We'd had a rough few months going into it. We'd all been struggling through grief, especially me, yet on this crazy trip I felt better than I had in months. It made me wonder why.
On our drive home, I pulled out a notebook and began to write. I wanted to figure out why this trip, which had such potential to go horribly wrong, had gone so well. It made me wonder if I could take some lessons home with me to my "real life" and apply them. It gave me hope I might be able to bring this same peace, love, and joy I'd found, back home into my ordinary days.
10 Ways our Family Vacation Inspired my Personal Growth
(& how it can inspire yours, too!)
Not only did I have a really fun time on our family vacation; I grew. I didn't intend to grow, it just happened.  Now, I hope to take what I learned on our trip and put it into practice in my everyday life.
So, here are 10 unexpected things I learned on this unexpected vacation, and thus 10 lessons I'm working to implement in my daily life now. I hope, in sharing them, you might feel inspired to do the same.
1) It forced me to live in the now. Kids have a way of doing that. It's one thing I've always appreciated about being a mom of 6: I don't have time to get too stuck in my head, because my kids are always pulling me back to the here and now. And being together all the time on this trip definitely left me with only "now." Yes, at times it drove me nuts, constantly hearing, "Mom, mom," but more so it was good for me. Also, Yellowstone is such an incredible place, with so much wildlife and beauty, you have to focus as you drive or you might miss something really good—like this bear by the side of the road or this incredible waterfall and river, as seen from "Artist's Point" at "The Little Grand Canyon of Yellowstone."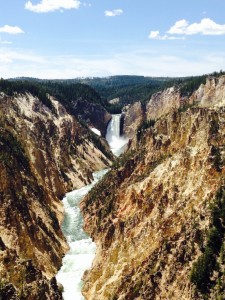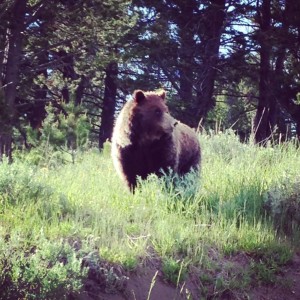 2) Traveling, for me, I realized, is a state of "flow," and that means it helps me forget the unpleasantries of life. Yes, traveling with kids is crazy, and when they were younger it usually just pushed me over the edge of insanity. But I LOVE to travel, and now that they're older, I love showing my kids the world, too. I was reading, "Flow," by Mihaly Csikszentmihalyi, on this trip and I realized, for me, traveling is a state of "flow," or can be. This quote explains what I mean, "One of the most frequently mentioned dimensions of the flow experience is that, while it lasts, one is able to forget all the unpleasant aspects of life…Enjoyable activities require a complete focusing of attention on the task at hand–thus leaving no room in the mind for irrelevant information." (p. 58) Like the impressive river in that photo, above, I love  traveling; love being in flow.
3) Time with no electronics for a week? Priceless. I really don't need to be plugged in all the time. I'm much more relaxed, much happier when I'm not. It also forced my four teenaged sons and two young, wannabe-teenaged daughters off their phones, tablets, and gaming devices. They had to spend all day playing and interacting with each other, and with us! Cards, Frisbee, football, bike-riding, I loved hearing them laugh together. Incredibly healing for all of us after we've had such a tough past few months.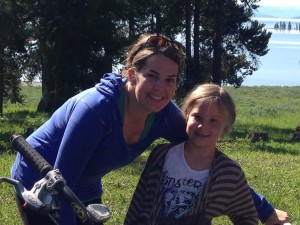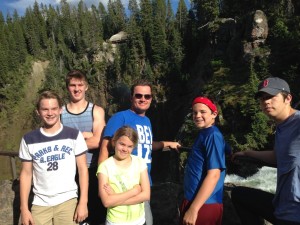 4) I slept more soundly. Driving, moving, exploring all day, does wonders for a terrible sleeper like me. Even with 8 of us in a small, enclosed space, we all zonked out at the end of the day. It may have been late, and I may not have actually slept more hours than I usually do, but I definitely slept more deeply (with the help of earplugs, of course). The balance between activity and rest is crucial to sleep, and it makes me want to get out and explore more in my real life, too.
5) Seeing the beauty of the world brings out our own beauty. It reminds me of how vast and grand the world is and how tiny and shrinking my head. It reminds me how much I LOVE nature, and how amazing I feel when immersed in it. When I get out of my tiny head and just experience the beauty, I feel more beautiful, joyful, loving. How can you not, when you see things like this all day…
6) It reminded me of my love for music, especially music with my family. Hearing my boys play guitar and laugh while "jamming" together, and seeing my girls do fireside song and dance performances was heavenly. It relaxes me. It also showed me how badly I need to get practicing guitar and song-writing again. It lights me up.
7) It made me appreciate my husband so much more. On the first day, OJ woke up at 5:30 (after a very late night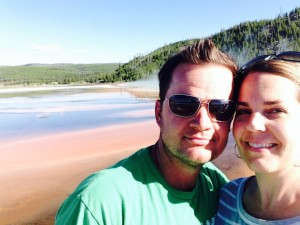 before) and drove us from southern Utah to Montana while we all slept in. It was the best sleep in I've had in ages, with the rocking of the moving motor home! I woke up thinking, "What a guy." I told him so. It made me really appreciate how hard he works for our happiness. Sure, we had our fighting moments (because, when traveling, let's face it—things can get pretty stressful pretty quickly!), but there's nothing like seeing the world with the one you adore, who adores you right back. (Read 17 Secrets for Making Marriage Work)
8) I really am happier with less. I've been craving simplicity for, well, forever. Now, I'm motivated to do something about it. Less stuff. Less saying yes to things that deplete me. More saying "yes" to living and being and loving. (Read Daily Mindfulness: 6 Ways to Put More Being into what You're Doing)
9) Teaching my kids about and showing them the world is the best education—for them and me. I love showing them new places and new ways of seeing things. I also love hearing their perspectives on things as we do. I learn just as much, if not more, from them as they do from me.
10) Family vacations are an excellent lesson in patience and love.  Yes, I had to continually practice patience, do my deep breathing, etc, and I did lose it with the kids sometimes (namely late at night when they were fighting and I was beyond tired). But, I also held it together so many more times. I taught my daughter how to deep breathe and start journaling, too, to help her deal with the stress of her siblings. I guess we were all learning patience and greater love. Each kid had a 'job' each day—a job to become more patient and loving. "Your job is to look for the good and say it out loud today." "Your job is to look around and notice what others need and not just what you want, and then to help them." "Your job is to be more sharing with your things." "Yours is to take 10 deep breaths each time you're feeling too stressed and tired, and to pray when you need extra help." (That was mine most of the time.)
How Family Vacation can Translate into Greater Love, Joy & Peace at Home
The big Question, then, after coming home and processing this experience, was this: "Why was I so much "better," or as
OJ said, "put together," in this crazy situation, versus at home?" And, more importantly, "Can't I choose to be this way all the time?"
I'm sure going to try. I figure, what good is all this personal growth I achieved on vacation if I can't somehow bring it home? I can choose to live in the now each day, to find my "flow" in what I do, or seek it when it's missing. I can turn off the electronics, spend more quality time with my family, and notice more of the great beauty around me; chances are, I'll sleep more soundly. I can clear the clutter–both mentally and physically and simplify my schedule and mind. I can focus on love and patience, and actively seek the good in my husband and children. I can sing more and develop my talents, and I can share them with my kids–another great way to learn from one another.
I can choose to follow my vacation rule, "No complaining." What's the point of complaining anyway? Instead, I can choose to bring that feel of this family vacation home every day. I can choose to continually grow.
And so can you.
What have you learned from family vacations? What surprises have you found that you'd like to share? We'd love to hear them, so please leave a comment, below!

Be sure to check out Dr. Hibbert's Amazon Bestseller, This is How We Grow–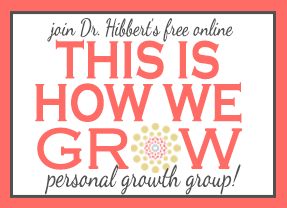 FREE. Online. Growth. What more could you ask for?

You may manage your subscription options from your profile.

Let's Connect…
"Like" my Facebook pages (Dr. Christina Hibbert; This Is How We Grow) and follow me on Twitter,Pinterest, & Instagram!
Related Articles/Posts:
This Is How We Grow wins an IPPY Award in NYC & is one of Aspire Magazine's "Top 10 Inspirational Books!"
When Life Hands You Lemons, Stop & Reevaluate: 4 Steps to Reevaluate Life & Fearlessly Meet Your Needs 
Life: The Battle & The Beauty (Living the Paradox of Personal Growth)
Understanding & Coping with Loss & Trauma
PPD & Motherhood Mental Health: Self-Care & Letting Help In–The 2 Most Important Things
"This is How We Grow:" Understanding the Seasons of Personal Growth
Join my Free, Online "This Is How We Grow" Personal Growth Group!
In Memory of my Sister, on the 5th Anniversary of her Death
What I've Learned about Personal Growth from a Decade of Yearly Themes
Weather the Storms Together: 4 Ways to Strengthen Families in Times of Stress
Discovering Self-Worth: Why is it So Hard to Love Ourselves?