I wasn't going to write today, but I can't help myself. You see, as of yesterday, I am a published author, and since I started writing this post, I learned that I am also a #1 Amazon bestselling author!! This may or may not sound like a big deal to you, but to me, it is a HUGE deal.
For as long as I can remember, I've dreamed of being an author. I love to write. I journal religiously. I have absolutely loved writing here on my website and blog. But my dream of being an author was put on hold when I suddenly became a mother of six children. My new dream was simply to help us heal, to build this new family we'd been given. Now, I have fulfilled both dreams. Writing this memoir, This is How We Grow, has been a labor of love for over four years. The story I tell in the book, my family's story, has been a labor of love for over six.We have been through so much as a family, and writing this book has taken me through so much more.
Therefore, today I celebrate. Not because I'm "an author" or even a "#1 Amazon Bestselling Author." No. I know I said that was why I was celebrating, but really today I am celebrating because I did it. I didn't quit, even when times got tough (and believe me, they did!). I didn't give up when I was told it was impossible, or that I couldn't write a book because, "Um. Hello! You have six kids!" I didn't give up raising my family or being the kind of mother I desired to be. I didn't give up healing, or helping us all heal. Yes, I didn't give up, and that is what today is all about–pursuing dreams to the end and never giving up.
So, celebrate this book launch with me by downloading This Is How We Grow for FREE on Amazon.com before midnight MST! (It's available for Kindle and Kindle app devices–iPhone/Pad/Pod/Mac) Then, please tell everyone you know to go get the book and join the celebration, too!
It is okay–even amazing–to dream, my friends. Dream of family, of joy, of love, of success, of a bright future. Never give up on your dream.
[author] [author_image timthumb='on']http://www.drchristinahibbert.com/wp-content/uploads/2012/03/square-head-shot1.jpg[/author_image] [author_info]Mom, Author, Psychologist, Speaker, & Writer, Dr. Christina Hibbert loves songwriting, dark chocolate, and naps. She is feeling truly grateful today for the support of so many friends and family who have helped make her dream come true.[/author_info] [/author]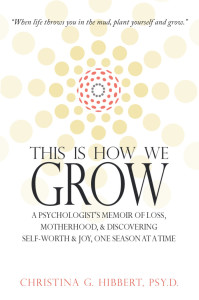 What is your dream? Leave me a comment, below, and share!!
Follow me on Facebook (Dr.Christina Hibbert; This Is How We Grow), Pinterest, Twitter, & Instagram! And please SUBSCRIBE, below, for news and inspiration on the topics that matter to you!
Related Posts/Articles:
"10 Ways I Choose To Grow Each Day": This Is How We Grow Blog Hop 2013
Introducing my This Is How We Grow Personal Growth Group: Free. Online. Join Today!
This is How we Grow: Understanding the Seasons of Personal Growth
PSI Blog Hop 2013: 16 Things I'd Like My Postpartum Self to Know, 6 Kids and 16 Years Later
Why I Feel Like a Loser Mom, and How I Know I'm Really Not
Let's Get Real: 10 Confessions from "The Psychologist, The Mom, & Me"
In Memory of My Sister, on the 5th Anniversary of her Death
10 Major Mistakes I've Made This Month, and Why It's OK
How to Embrace Strengths & Weaknesses
The Positive Psychology of Flourishing: What is it? And Am I doing it?
The 3 Layers of Self-Care: Build a Healthier, Happier YOU!
Practicing Patience: 20 Ways to be More Patient Today
Postpartum Depression Treatment
Self-Esteem & Self-Worth: 10 Things Everyone Should Know
5 Women's Mental Health Facts Everyone Should Know
Weather the Storms Together: 4 Ways to Strengthen Families Through Times of Stress