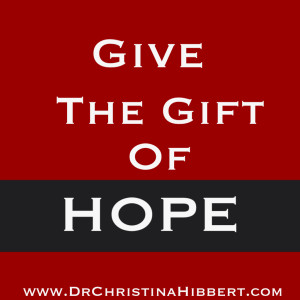 If there is one thing we all need during the holidays and all year long it is hope. Hope in today. Hope in tomorrow. Hope in days to come.
Don't Lose Hope
Too many of us are losing hope. We fear our emotions. We fear failure. We fear the future will not bring us what we need. In fact, hopelessness is a core component of depression and other mental illness, leaving those afflicted feeling lost and alone. I know. I've experienced times of hopelessness. I have felt that darkness, that doubt. I have wondered if the sun would ever shine again–if I would ever be healed. I write about many of these times in my memoir, This is How We Grow. To quote, "Hopelessness is, in my mind, one of the worst emotions we can feel, because it leads to giving up, to quitting, to saying, 'It's too hard. I can't do it.'" (p. 202)
Knowing many people are feeling hopeless right now drives me to want to give the gift of hope–hope that hope is possible. Hope that hope is the light that leads us out of despair. Hope that there is a spark of hope in each of us, and if we can just find it and fan it, our hope will grow.
The Gift of Hope
Hope is what gets us up each morning and moves our feet through each day. Hope is the courage to dream and the wisdom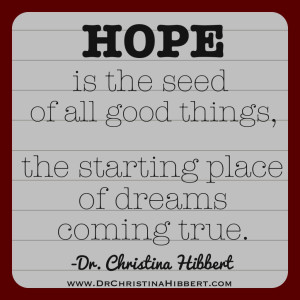 that helps us heal. "Hope is the light that shines in the darkest winter, the one we take for granted until we find ourselves desperate in the cold. 'Hope is faith holding out its hand in the dark,' and in choosing to grasp that hand, we choose to live, for hope keeps us going, reminding us there is something to keep going for." (This Is How We Grow, p. 202)
Give the Gift of Hope
Is your heart filled with hope?
If so, do you have enough to share? Can you give others in need the gift of your hope? Can you smile, reach out a hand, lend a shoulder to cry upon? Can you write a note, say the words, "You matter to me," show your love to your family, friends, and even strangers?
If you can't feel hope, what is blocking it? Do you have a heartache, pain, or hurt from the recent past that is still fresh? Do you have an old hurt that needs attention and care? Can you take one hopeful step to reach out for help? Can you, for a moment, look up and see the beauty around you, let love in, and dare to hope?
Whether you feel hopeful or not, you can choose to give the gift of hope this holiday season, and all year long–to your loved ones, to those you've just met, and especially to yourself. How?
First, open your heart and dare to let that spark of hope appear.
Then, flame your hope by seeking connection, serving others, seeing the good in the world, discovering meaning and purpose.
Share your spark of hope by telling others what you see in them, by showing them how you feel.
Create a moment of joy for someone, and that will bring hope.
Create a memory for someone, and hope will be strengthened.
Fan your hope like a fire, then share it with others through laughter, singing, hugs, kisses, charity, and faith.
Give the gift of hope. Then, open and receive the gifts of hope you've been given, too. Hope is the seed of all good things, the starting place of dreams coming true.
What gives you hope? How do you "give" hope to others? I'd love to hear your thoughts, so share a comment, below!
Be sure to check out my new bestselling memoir,
This is How We Grow, available now on Amazon.com!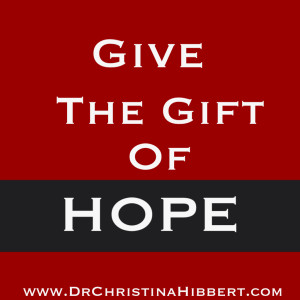 Don't miss a thing!
SUBSCRIBE, below, and please "like" my Facebook pages (Dr. Christina Hibbert; This Is How We Grow) and follow me on Twitter,Pinterest, & Instagram!
And be sure to check out my Amazon Author Central Page! Join the discussion!
You may manage your subscription options from your profile
Related Posts:
 "Be of Good Cheer": 12 Ways to Become More Cheerful
Join my "This is How We Grow" Personal Growth Group! FREE. Online. Growth.
Practicing Patience: 20 Ways to Be More Patient Today
"This Is How We Grow" Blog Hop: 10 Ways I Choose to Grow Each Day
10 Benefits of Practicing Gratitude
The Positive Psychology of Flourishing: What is it? And am I doing it?
6 Ways to Create a More Peaceful Christmas Holiday
Create a more Meaningful Christmas with "The 5 Gifts of Meaning"
This Holiday Season, Make it a 4-Gift Christmas
Holiday Stress: Relationships Survival Guide
Slow Down & See: How to Appreciate the Richness of Life
"Achieving Balance": Why You've Got it Wrong, & How to Get it Right