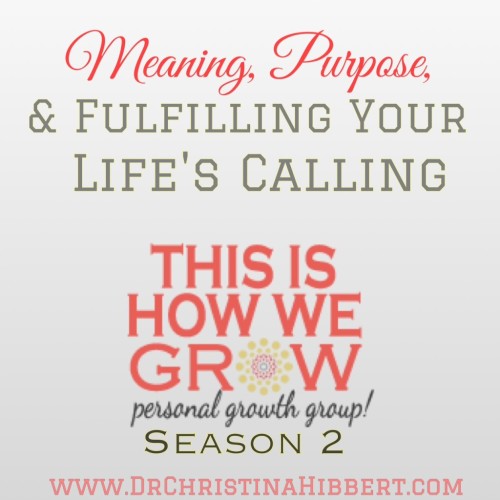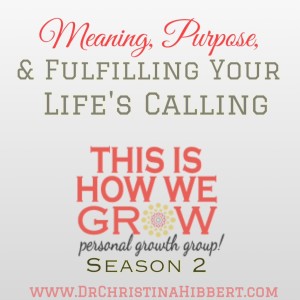 It's that time of year again—time to resume my This is How We Grow Personal Growth Group! Last year was the first year I took it online, but really I've been doing this incredible group for going on five years. Hard to believe what started as a small church group to help women with depression has become such a staple of personal growth for so many.
We've had many different themes over the years in our in-person group, including "Discovering who you really are," "How to keep an open heart and mind," "How to create the life you desire," and of course, last year's theme (our first online session's theme), "The seasons of personal growth."
Now, as we begin Season 2 of our online group, I've been working hard to select a theme I think applies to all of us, no matter where we live, what life has handed us, or which season we're in. It's something I believe we're all seeking a deeper understanding of—"Meaning, purpose, and fulfilling your life's calling."
Meaning, Purpose, & Fulfilling Your Life's Calling: Season 2′s Theme!

The topics of this season's theme are not new to me. I've been working on greater meaning, purpose, and fulfilling my life's calling, personally, for many years now. I've been especially focused on these things these past months as I've been preparing for the upcoming season of our This is How We Grow Personal Growth Group, and I've come to know a few important things for sure:
1) Meaning & Purpose are essential to a happy, healthy, abundant life. Daily meaning and purpose get us through our weeks and months with greater joy and satisfaction. They help us get out of bed in the morning, carry us through tough moments, and create enthusiasm with each new day.
2) Meaning and Purpose are also essential to overcoming, becoming, and flourishing. When we seek and find meaning in even the hardest times, it helps us overcome them. Knowing there is a purpose for us helps us become who we are meant to be, and both of these are a core element of living a flourishing life.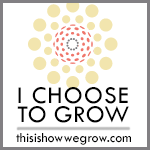 3) We each have a divine purpose, mission, or life calling here on earth. Every single one of us. If you don't believe me, join us in the group this season. I'll make a believer out of you.
4) Most of us struggle to understand what our life's calling really is, or where to even begin. Years of helping people in my psychology practice, of helping friends, family, and myself, have clearly demonstrated how much we all struggle to know why we are here and what we are supposed to do. However…
5) It's simpler to know than we realize. We just need a little guidance and direction, and a little more patience and hard work. That's what this year's group is all about.
6) We grow best by learning and growing together. I'm a firm believer in this one. Even though I'm an introvert and highly value learning on my own, there are many, many lessons we can only understand together. We need one another. We see ourselves more clearly through one another. One of my favorite quotes reminds us, "We cannot see ourselves. We need a mirror to see ourselves. You are my mirror, and I am yours." (Debbie Ford, Dark Side of the Light Chasers, p. 54)
Join us for Season 2, This is How We Grow Personal Growth Group!
I am here to be a mirror, and I look forward to seeing more of myself in your mirrors, as well. That's what this group is all about. I know as we prioritize our personal growth, and as we continually work on these things together, we will each discover greater meaning and purpose in our lives and begin to comprehend and truly fulfill our life's callings. It's going to be an exciting season of growth!
FREE. Online. Growth. What more could you ask for?
For more details about the personal growth group, click here.
Join the This Is How We Grow Personal Growth Group Today!
Register Here:
After you've registered, above, join us in our This is How We Grow Personal Growth Group on Facebook! Just request to be added, and we'll make sure you are! A great place to get to know other group members and "grow" together!
**Disclaimer: The This is How We Grow Personal Growth Group is purely educational. It does not replace the need for professional mental health care, including psychotherapy.**
Have a question, comment, or idea about meaning, purpose, life's calling or the personal growth group? I'd love to hear it! Leave a comment, below.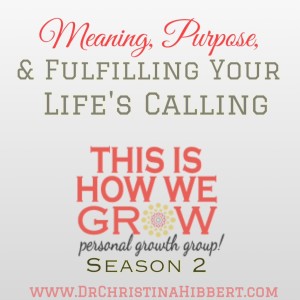 Don't miss a thing! 
SUBSCRIBE, just below, "like" my Facebook pages (Dr. Christina Hibbert; This Is How We Grow), and follow me on Twitter,Pinterest, & Instagram!
 You may manage your subscription options from your profile
'
Related Posts/Articles:
Living a Life of Purpose & Meaning: The Key to true Happiness
When Life Hands You Lemons, Stop & Reevaluate: 4 Steps to Reevaluate Life & Fearlessly Meet Your Needs
Create the Life You Desire: Part 2–The 3 Steps of Creating
"This is How We Grow:" Understanding the Seasons of Personal Growth
Join my Free, Online "This Is How We Grow" Personal Growth Group!
This Is How We Grow wins an IPPY Award in NYC & is one of Aspire Magazine's "Top 10 Inspirational Books!"
Life: The Battle & The Beauty (Living the Paradox of Personal Growth)
Personal Growth & Family Vacation?: 10 Things I Learned in an RV with my Family of 8 for 8 Days
PPD & Motherhood Mental Health: Self-Care & Letting Help In–The 2 Most Important Things
10 Ways I Choose to Grow Each Day 
Personal Growth & Self-Actualization: What Will Your Choice Be?
"These are my Strengths!" and "This is my Lame-O List!": How to Embrace Strengths & Weaknesses
Parenting Success: It's More about the Parent than the Child
Learning Self-Love: 5 Tricks for Treating Yourself More Kindly
10 Benefits of Practicing Gratitude