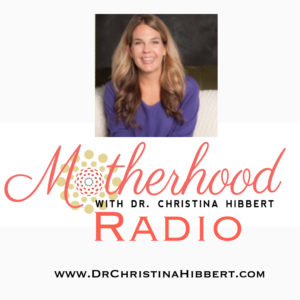 "Grow through Motherhood" with me
on Motherhood Radio!
"Motherhood" means so many things: pregnancy, partnering, parenting, redefining oneself as a wife and mother and still knowing who you are, making hard decisions and loving well. Watching your children be born and grow up, get married and sometimes go away. Join me, Dr. Christina Hibbert, clinical psychologist, author and full-time mother of six children as my guests and I discuss the, joys, problems and conundrums of being a mother. Grab some chocolate, find a favorite comfortable chair, and grow through motherhood with me!
Tune in each Monday for brand new episodes!
Oh, and don't forget to tell your friends (& your own mom) to tune in, too!
Latest Episodes:
Episode #51- The Power of Music in Raising a Family
Music is powerful. It can bring up a memory, change a mood, inspire, uplift, comfort, heal. Music is also a powerful way to strengthen families. It not only helps us learn, develop, and grow; music can strengthen family relationships, understanding, and emotional connection and help our children grow, too. Today, I'm talking with Thomas Byers, M.A., guitarist, teacher, and creator of the "Guitar for All" program through www.ThomasByersGuitar.com. In this fun episode, Thomas and I have a great time discussing the many ways we can incorporate music into our families– to build, strengthen, teach, and create joy. Laugh, learn, and be inspired with us on Motherhood radio!
Episode #50- Mom Brain Care: The #1 Practice for Family Health, Mental Health & Happiness
What is the very best thing you can do for your personal and family health, mental health, and lifelong happiness? Protect and care for your brain. As moms, we need a healthy brain in order to be physically, emotionally, socially, spiritually, and mentally able to take on our family's needs and to create the life we desire. Dr. Hibbert shares her personal experience of overcoming a mild brain injury in this episode and then explains a simple method for how you can better prioritize, nurture, and care for your brain's health and vibrancy, starting right now. Be sure to visit www.DrChristinaHibbert.com for Dr. Hibbert's blog post, "When Life Drops You on Your Head: 5 Post-Concussion Lessons I'm still Learning," and to watch this episode on "Motherhood TV".
 – The Self-Care Solution
If there's one thing we talk about all the time on Motherhood, it's self-care–because it's one the thing we moms need most. Taking time for yourself to nourish, nurture, and care for your mind, body, and soul is one of the best things you can do for your family, though it may also be one of the the toughest. I'm talking with author of The Self-Care Solution, Julie Burton, in this episode about what self-care truly means, how to overcome the guilt, and give yourself the permission you need to practice powerful self-care!
 – Nutrition for Mental Health & Energy
 – Nutrition for Mental Health & Family Wellness
Moms need strong mental health and energy, and one of the best ways to get these is through nutrition. What foods are best for moms' brains and bodies? What supplements can help? And how can we get these important nutrients when life is busy? I'm talking with psychologist and author Dr. Leslie Korn about her latest book, "Nutrition Essentials for Mental Health: A complete guide to the food-mood connection." She's sharing practical solutions for how to strengthen your brain, emotional health, and raise healthy kids, and many of them will surprise you! Tune in for more and check out Dr. Korn's website, drlesliekorn.com/ or my website www.drchristinahibbert.com for more on mom mental health.
– Mom Mind & Emotional Wellness
Motherhood is, by nature, an emotional roller-coaster of highs and lows and everything in between. Worry, fear, anxiety, stress, sorrow, are each part of  mothering at some point, and they all begin with the mind. What can we do to identify emotional challenges–in pregnancy, postpartum, and beyond? And how can we overcome them? I'm talking with Dr. Kat Kaeni, producer of the "Mom and Mind" podcast (www.momandmind.com) about how to get and keep your "mom mind" in tip-top shape for the best possible motherhood experience. More on this topic on my website/blog, http://www.DrChristinaHibbert.com.