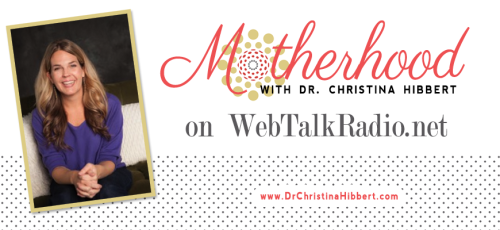 Join me on my new, weekly radio show, "Motherhood!"
"Motherhood" means so many things: pregnancy, partnering, parenting, redefining oneself as a wife and mother and still knowing who you are, making hard decisions and loving well. Watching your children be born and grow up, get married and sometimes go away. Join Dr. Christina Hibbert, clinical psychologist, author and full-time mother of six children as she and her guests discuss the, joys, problems and conundrums of being a mother. So grab some chocolate, find a favorite comfortable chair, and join Christi and her guests. Oh – you might think about calling your mom, too.
Tune in each Monday for brand new shows!
Listen on demand or download podcasts from WebTalkRadio.net, iTunes, or these below, and listen later!
Oh, and don't forget to tell your friends (& your own mom) to tune in, too!
with guest Birdie Meyer, RN, MS, Past President, Postpartum Support International