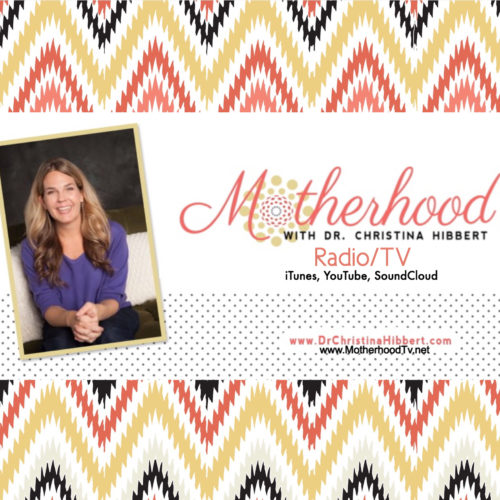 "Grow through Motherhood" with me
on Motherhood Radio/TV!
"Motherhood" means so many things: pregnancy, partnering, parenting, redefining oneself as a wife and mother and still knowing who you are, making hard decisions and loving well. Watching your children be born and grow up, get married and sometimes go away. Join me, Dr. Christina Hibbert, clinical psychologist, author and full-time mother of six children as my guests and I discuss the, joys, problems and conundrums of being a mother. Grab some chocolate, find a favorite comfortable chair, and grow through motherhood with me!
Tune in every other Wednesday for brand new episodes, here, or below! OR, SUBSCRIBE to the show on iTunes for automatic updates!
LATEST EPISODES:
Never Binge Again: Overcoming Overeating & Binge Eating (Episode 106)
Overeating and binge eating: they aren't just for those with eating disorders. As busy moms, these can be easy habits to pick up and tough habits to break. Why is it so easy to overeat, and so difficult to stop? What does the research say on what is and isn't helpful with binge eating and overeating? And how can we stop overeating and bingeing, once and for all? Dr. Glenn Livingston, author of "Never Binge Again" (available FREE on his website, http://www.NeverBingeAgain.com) is here to show us how. His research-based approach to never bingeing again can help anyone  better understand why we overeat and/or binge, why it's such a challenge to break the habit, and especially what tools are most effective in making lasting, positive change. Never binge again by listening in to this informative episode of Motherhood, and then check out Dr. Hibbert's book, "8 Keys to Mental Health Through Exercise" and related free resources at http://www.Exercise4MentalHealth.com for more healthy habit-building success!
Raising Kids with Medical Issues & Special Needs: Caring for them, Caring for You (Episode 105)
Being a mother is tough enough, but raising children with medical challenges, illness, developmental delays, or special needs makes it all the tougher. Some days, it may feel like you're all alone, with the weight of the world on your shoulders, like no one understands your struggle. Today, we're here to tell you, "We understand." My guest, Dr. Erin Joyce, clinical psychologist, is also a mother raising three children, including twins, one of whom lives with medical challenges everyday. She understands the pain of watching your child suffer and the fear of wondering if s/he will be okay. Dr. Joyce shares with us the compassion, understanding, tools, and resources all parents need when facing a child's health, mental health, or developmental trials.
Self-Compassion: Give Yourself (& Your Kids) A Break! (Episode 104)
One of the hardest things for parents, and especially moms, to do is give themselves a break. When life is busy and stressful, as it always is, when you make mistakes, when you just don't know what to do–self-compassion is what's needed most. But how do we learn to practice self-kindness, self-love, and self-compassion? And how can we extend that compassion, and teach it to, our children? Dr. Hibbert welcomes guest Kim Fredrickson, author of Give Yourself a Break and Give Your Kids a Break, licensed marriage and family therapist of 30+ years, and true survivor in every sense of the word (www.kimfredrickson.com). Together, they share the secrets to living with self-compassion and the tools for teaching your children how to be kind, forgiving, and compassionate to themselves, too. Then, visit "Practicing Self-Compassion: How to Give Yourself A Break" for more (www.drchristinahibbert.com/practicing-…elf-a-break).
Avoiding & Overcoming Self-Sabotage in Parenthood (Episode 103)
Self-sabotage: as parents, we all do it. We stand in our own way, make things emotionally harder for ourselves, fail to forgive our parenting mistakes, and too often forget our all-important self-care. Why are we so hard on ourselves as mothers and parents, and what can we do to identify and change self-sabotaging tendencies? Dr. Christina Hibbert and guest, mental health clinician and doula Nicole Woodcox Bolden, LSW (http://www.thrivingwithbaby.com), share enlightening insights on how we all exhibit self-sabotaging behaviors from time to time, how to recognize these destructive patterns, and tools to help us avoid and overcome them. Then, visit Dr. Hibbert's article, "Avoiding & Overcoming Self-Sabotage in Parenthood" for more ideas to keep you self-sabotage-free!

Keeping the Passion Alive–Sexual Intimacy for Flourishing Relationships (Episode 102)
When you're "mom," intimacy can easily fall by the wayside. Too many people need you, you don't feel sexy, and if one more person touches you, you just might lose it! Most marriages and partnerships experience challenges keeping the passion alive over the years, and especially in parenthood. A healthy sex life is important to healthy intimate relationships, however; so, what can you do to reignite the flame, or keep it burning, when motherhood feels like it's taking over? I'm talking with therapist and author of "Before I Do," Olivia Baylor, LCPC (www.LifeRevisions.com), about how to redefine intimacy and connection, identify your physical and emotional needs, and help yourself and your partner get those needs met to keep the sexual fires burning and your relationships strong and flourishing! (Parents: Because of the "intimate" nature of today's episode, you may wish to keep the kids away as you listen!) Please visit my article, "Couples & Romantic Love: 9 Ways to Build Intimacy in Relationships" for more.

Family Relationships: Chaos, Love & Skills to Strengthen (Episode 101)
Family can be chaotic, loving, and everything in between. From interactions between siblings, to parent-child relations, to parenting adult children, to family-of-origin relationships, yes, navigating family relationships can be complex. Today, I'm talking with some very special guests–my aunt Christina Anderson, and cousins Hilary Anderson and Eden Koenig about family relationships, sibling rivalry, common challenges, and how to navigate those challenges in ways that strengthen us, our children, and our family unit as a whole. With 11 children in their family of origin (6 biological and 5 adopted, including many foster children over the years), these ladies know what they're talking about! Then, be sure to visit Christina & Eden's adorable baby clothing line, Neo's Nook, on Etsy and pass it on! And for more on surviving holiday relationships, visit my blog post, "Holiday Stress Relationship Survival Guide".

Mastering Motherhood, Best Advice Ever- 100th Episode!
Motherhood is celebrating its 100th episode! Join me, Dr. Christina Hibbert, as I talk with some of our favorite past guest experts about their best advice for moms EVER about how to "master" motherhood, including why mastery of motherhood is possible, how to manage energy, parenting skills advice, best ways to improve self-care, and more. Get your pen and paper ready to take notes! Then, be part of my "Mastery of Motherhood" book project by taking the M.O.M. survey and sharing your stories/experiences at www.MasteryOfMotherhood.com! A HUGE thank you to all of today's incredible guests and especially to all you fabulous mom listeners who've made these 100 episodes possible. Here's to 100 more! www.drchristinahibbert.com
Reinventing Yourself (Episode 99)
Motherhood is, by nature, a process of self-reinvention. From becoming a mom for the first time, to coping with the obstacles life throws our way, to dealing with the empty nest and beyond, yes, motherhood requires us to continually reinvent ourselves. My guest, Ashley Hanna Morgan, LCSW, clinical social worker and author of "I Gave Birth to My Heart" (www.ashleyhannamorgan.com) and I are talking about the many ways we, as mothers, might "reinvent ourselves" through the seasons of motherhood, what stands in our way, and how to overcome the obstacles to becoming the mother, and person, we most desire to be. Tune in, and then check out "Becoming the Butterfly: The Power of Personal Transformation".

Emotionally Overwhelmed- How to Identify & Let Feelings Go (Episode 98)
As moms, we tend to take on the emotional load of our children and family. From kids' personal struggles to school challenges to basic life distress, it's hard not to heap the emotional burden upon ourselves until we become completely overwhelmed. How can we deal with these feelings that overwhelm us? Today, in this one-on-one session, I'm sharing some strategies for how to identify and process emotional overwhelm, in order to let powerful feelings go. Join me and realize you're not alone, and with some work and time, you too can tackle and triumph over your emotions! For more, visit www.drchristinahibbert.com/overcoming-mom-guilt/.

The Menstrual Cycle: Understanding, Honoring, & Preparing our Daughters (Episode 97)
How much do you really know about the menstrual cycle and how it affects your body, mood, sleep, and brain? Most women, I've found, know far too little of the facts and even less about how to honor this sacred cycle. How can we prepare our daughters for menarche when we still have so much to learn? Learning about our body and our own unique rhythm is the beginning to honoring this cycle, bringing greater peace and healing, and allowing us to model this for our daughters. My guest, massage therapist, Reiki Master and Holistic Pelvic Care Practitioner, Sophia Wise One (www.SophiaWiseOne.com), is here to help us better understand and honor our female body and its rhythms, and teach us how to prepare our daughters to do the same. Join us for this insightful episode, share it with your daughters and granddaughters, and then check out my 3- part "Women's Emotions" series & FREE Webinar, "Introduction to Women's Emotions" for more on the menstrual cycle, the female brain, and mood.
When Postpartum Packs a Punch (Episode 96)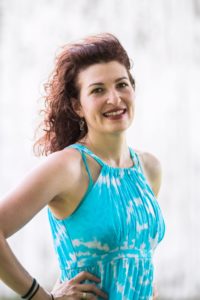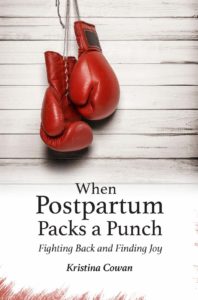 Having a baby is supposed to be the happiest time of our lives. Right? For many new moms, however, postpartum can pack a punch, with emotional changes ranging from the Baby Blues to depression to anxiety to, in extreme cases, psychosis. What role does trauma, including birth trauma, play in postpartum mental health? How do postpartum emotional changes impact dads and partners? And how can we overcome stigma to find the help we need after the birth of a baby? My guest, Kristina Cowan (www.kristinacowan.com), author of the powerful new book, "When Postpartum Packs a Punch," and I are discussing how to navigate the postpartum period, where to turn for support, and how to reach out and let that support and help in. Please visit my "Postpartum Depression Treatment" series for more on pregnancy and postpartum emotional health and healing (www.drchristinahibbert.com/postpartum-…-treatment/).

Mothers, Mental Health & Culture: Overcoming Stigma & Speaking Up! (Episode 95)
Culture and mental health go hand in hand, impacting not only how we perceive mental health but also our identity, life experiences, how or if we ask for help, and too often, whether or not we can access that much-needed help. Today I'm talking with mental health & culture advocate, Ashley Carino (www.postpartumdepressionsupport.org), about the many ways community and family culture can either facilitate or block mental health, how to overcome the stigma of mental health and cultural barriers, and how we can learn to speak up for ourselves and our families! For more on the importance of speaking up, practicing self-care, and receiving help, read "Motherhood Mental Health: Self-Care & Letting Help In–the 2 Most Important Things."

Motherhood Reality Check: It's Hard Being Mom! (Episode 94)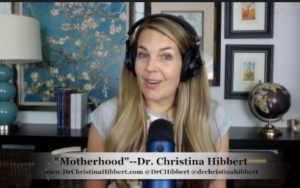 It's hard being "Mom!" Yet, how often do we forget that "hard" is "normal," in motherhood? How often do we place the blame on ourselves when things get tough–during transitions like back to school, everyday stress, and the ups and downs that are inevitable in motherhood? In today's one-on-one session, I'm sharing 5 "reality checks" all moms need to hear and believe, including some of the "paradoxes" of motherhood, how to survive the transitions and changes of parenting, and why you just might be doing better than you think. Tune in, and then pass it on! For more inspiration (or commiseration), please visit "Motherhood Reality Check: It's Hard! AND I'm Improving" and "7 Strategies for School-Year Sanity".

Breast Cancer Awareness: BRCA Gene, Prevention & How to Educate Kids (Episode 93)
Breast cancer affects us all at some point or another, whether through a parent, friend, aunt, colleague. As mothers, it's crucial we understand the facts about breast cancer awareness in order to educate our daughters and families. In this educational episode, I'm talking with Kim Kusiciel, mom of 3, BRCA gene mutation carrier, breast cancer advocate, and early childhood teacher. Both Kim and I are daughters of breast cancer survivors, and we're discussing having a parent with breast cancer, how we can help/educate our children, as well as genetic testing, the BRCA gene mutation and the decisions that go along with discovering you are a carrier. Tune in with your daughters for this highly informative, important episode. And please visit www.nohappyaccidents.com to learn more about Kim's experiences with the BRCA gene mutation and breast cancer advocacy.

The Power of Authenticity (Episode 92)
Why do we fear being our true selves? How do we find our true selves, especially when it's so easy to get lost in "being mom"? Why is it so easy to fall victim to fear–fear of being judged or criticized, fear of being different? The power of living authentically is the power to live without these fears, to be at peace with who we truly are and to let the world know us, the real us. Only when we, as mothers, learn the power of authenticity can we then teach and model it for our children. My guest, Kristy Dominiak, mom, speaker, and author of "The Shaken Snow Globe" (www.shakensnowglobe.com), and I discuss why it's so challenging to live authentically and how we can overcome those challenges to embrace the power of authenticity, for ourselves and for our families. And read my post, "The Value of Authenticity: 5 Ways to Get Real," for more ways to live authentically.

Dealing with Anxiety: The #1 Mental Health Issue in Women & Moms (Episode 91)
Did you know anxiety is the #1 mental health issue in women? Anxiety is even more common than depression in women, and mothers seem to experience anxiety regularly. What is anxiety? How does it show up in women? And what can you do about it? My guest, Kathryn Gardner, LCPC (www.newdawnwellnessgroup.com/), is a Chicago-based counselor specializing in maternal mental health and anxiety disorders, and she's here to share her best strategies for coping with worry, fear, stress, PTSD, OCD, and all types of anxiety you may face. Get ready to give anxiety the boot and to help your family do the same, with this empowering episode! For more on 'Anxiety & Women: Sleep, & Hormones-What You Can Do," click here.

Overcoming Mom Guilt (Episode 90)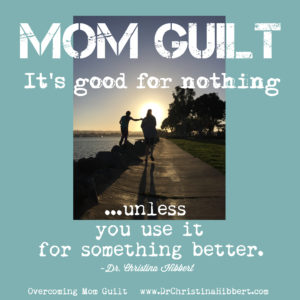 Guilt is one of the most common emotions mothers experience–guilt over not doing enough, not being enough, guilt for what we've said, done, or how we "are" as moms. Yes, guilt is all too common in motherhood. So, what do we do with this guilt? How can we overcome it, or even better, use guilt to help US "overcome, become, and flourish?" That's what today's episode is all about, in this one-on-one "session" on the skills of overcoming guilt. We'll discuss the two types of guilt, what to do with guilt, and some top strategies to ditch the guilt or let it motivate us to something better. Be sure to visit my website (www.drchristinahibbert.com) for more on overcoming guilt, including my "Overcoming Mom Guilt" post.

Time Management for Busy Moms (Episode 89)
If there's one thing all moms have too little of it's time! Between kids' schedules, home and family tasks and our own needs, there's just never enough time to go around. That's why today we're talking with Myrna Haskell, writer and editor of Sanctuary Magazine (www.santuary-magazine.com), all about the tools of time management. How can you prioritize? What will help your kids manage time better? And how can you face your work/home life with more peace and calm? Tune in to find out. Then, check out Sanctuary Magazine's May issue–devoted to moms, in honor of Mother's Day, and featuring an interview with yours truly! (http://www.sanctuary-magazine.com/may-17-christina-hibbert.html)
When the Bough Breaks: The Reality of Postpartum Depression & What You Can Do (Episode 88)
One in five women will experience postpartum depression after the baby is born, and many others will deal with anxiety, OCD, PTSD, or even psychosis. Together, these disorders, named "Perinatal Mood & Anxiety Disorders," are the most common complication associated with childbirth. We're taking a deeper look at the reality of postpartum depression with my friend, Lindsay Gerszt, PPD survivor and producer of the powerful new documentary, "When the Bough Breaks," narrated by Brooke Shields. Lindsay shares her heart-wrenching experience with postpartum depression and anxiety in the film and here with us, to raise awareness and promote support and help for all mothers in pregnancy and postpartum. What is postpartum depression? How can you tell if you're experiencing it? Where can you turn for help? How can your relationships survive? These are just a few questions answered in today's episode, along with the inspiring message from Lindsay's life and film–that you truly are not alone, that with help, you will be well, and that beyond postpartum depression life goes on and can even flourish, with gifts of greater understanding, service, love, and personal growth. For more on Postpartum Depression Treatment, click here, and read my post, "The Benefits of Postpartum Depression." Watch the YouTube video of this episode here.
Birth Healing- What Every Mom Needs to Know (Episode 87)
What happens to your body after childbirth? If you've given birth you've no doubt experienced some alterations in how your body works (or doesn't work), but you might be surprised at how dramatically the experience of pregnancy, labor and delivery can alter the body. From changes in the pelvic floor to the diaphragm, from the back and abdomen to the way we breathe, these changes can go unnoticed and untreated and lead to long-term physical and emotional symptoms that otherwise could be prevented. Today's guest, Lynn Shulte-Leech (www.instituteforbirthhealing.com) women's health physical therapist, birth healing expert and founder of The Birth Healing Institute, will open your eyes (as she did mine!) to the many changes our bodies undergo when we give birth. Lynn shares her incredible knowledge on what we can do to heal from such after-birth complications as vaginal prolapse, leakage, painful intercourse, or a "doming" belly. An important, eye-opening episode every mother who's given birth must see! (*Due to the intimate nature of today's topic, you may wish to ensure young children are not listening.) For more on Birth Healing, join the Birth Healing Summit, featuring Lynn, me, and several other birth and postpartum experts. Visit www.instituteforbirthhealing.com/summit-2017 to register or for more information. Watch the YouTube video of this episode here.

How to Speak Up, Ask For & Receive What You Need (Episode 86)
When it comes to speaking up, asking for, and receiving what we need, we moms aren't doing so well. Too often, we feel guilty having "needs," let alone asking for help or letting that help in. Yet identifying and asking for what we need–for help, for support, for love, for a break!–is crucial to not only our own health and wellness, but our children's and family's as well. In this important episode, I'm sharing two stories I'm certain will motivate you to reconsider how you feel about asking for and receiving help. I'm also sharing the tools for how to identify, clearly state, and actually let that help in, including my How to Get Your Needs Met: 4 Steps to Asking & Receiving. To learn more about the stories, women, and tools I discuss in this moving episode, visit Postpartum Psychosis + Mental Health Stigma=40 Years in Prison and PPD & Mental Health: Self-Care & Letting Help In–The 2 Most Important Things. Watch the YouTube video of this episode here.
 Mastery of Motherhood! Best "Mom Advice" from Mental Health Providers + Join the M.O.M. tour! (Episode 85)
Today I'm unveiling "Mastery of Motherhood"–my newest venture–and I want YOU to be part of it! Listen in for details on how to join me, and I just might be coming to visit you! Then, listen as 5 mental health provider friends of mine share their best "mom advice." I'm sharing two of my top bits of wisdom, too. All geared to help you master motherhood, this is only the beginning! Visit www.drchristinahibbert.com/mastery-of-…dio-tv-tour for more info or email support@drchristinahibbert.com to invite me to visit your group on the "M.O.M. tour!"  W
The Power of Connection–Finding Your "Tribe" Online & IRL (in real life) (Episode 84)
Connection is powerful in motherhood. We need one another–to support, encourage, and be there when the going gets tough. We need to be able to talk about kids—the joys and the stresses—and to find and nurture relationships with those who understand and support us through our parenting journey. Nowadays, there are a variety of options for connecting with others, both online–through social media, blogs, forums, etc–and in real life (IRL). The beauty of online connections is we no longer need feel isolated. But when is it all too much? Can it become a problem to connect online? Does it prevent us from the real life connections that are so crucial to community in motherhood? And when is it best to say "no" to connecting with others? Today my fabulous friend and www.30Seconds.com founder/CEO, Elisa All Schmitz, is here to share her wisdom on the power of connection–both online and IRL–on broad vs. deep connections, how to find your "tribe," when to say "no" to online or real life commitments, and when to say "yes" to the opportunities for connection that come our way. Then, check out Women & Friendship: The ABC's of Making & Keeping Friends. Watch the YouTube video of this episode here.
The Road to Calm (Episode 83)
It's easy for emotions to run high in motherhood. Kids are emotional. Parents are emotional. It can be a perfect storm. How can we calm our emotions, teach our kids to do the same, and bring more peace into our families and homes? My guests, Dr. Carolyn Daitch (www.anxiety-treatmentlcom) & Lissah Lorberbaum (www.therapy-healing-recovery.com), authors of "The Road to Calm Workbook" (books.wwnorton.com/books/The-Road-…-Calm-Workbook/) are here to teach us the tools for calming emotional flooding. They're walking us through the STOP solution, sharing their favorite tools for calming anxiety and stress, and even doing a relaxing hypnotherapy exercise with us. Get your "calm" on in this stress-relieving episode of Motherhood! Then, check out "8 Keys to Stress Relief" for more ways to travel the 'road to calm!' Watch the YouTube video of this episode here.
Overcoming Mom Shame: The #StopMomShaming Solution (Episode 82)
If you're a mom, you've experienced it–unwanted advice, criticism, or even shaming about your parenting style, choices, or lifestyle that leaves you feeling devastated. And chances are, you've experienced this mom-shaming from other moms. Why are we so hard on one another? And why are we so hard on ourselves? My guests, Dee Anna McPherson and Charong Chow, creators of the popular Mom.Life app (http://mom.life/i/drchristihibbert), are on a mission to stop mom shaming and help all moms find the safe and uplifting networks of true, un-judging support we all need. Together, we're sharing solutions to overcome mom shame, as part of the Mom.Life app's #StopMomShaming campaign. An important episode that will help us all remember we're not alone, we're doing the best we can, and we can, and must, support one another in this incredible, challenging experience we call Motherhood. Be sure to share with a friend, and then visit my related post, "Overcoming Mom Shame: #StopMomShaming Solutions (Q & A from Mom.Life app)" here. And don't forget to download the FREE Mom.Life App here http://mom.life/i/drchristihibbert, to follow me and join the #StopMomShaming movement! Watch the YouTube video of this episode here
Parenting Teens (Episode 81)
Parenting is tough enough, but once they hit the teenage years, it can feel like your world has been flipped upside down! From changes in hormones, to changes in the brain, teenagers are bombarded with physical and emotional shifts that can impact not only their lives, but parents and the whole family as well. How can you help your teen navigate adolescence not only safely, but with mutual compassion, love, and stronger relationships? My guest, Myrna Haskell, writer and author of "Lions and Tigers and Teens!" is here to share the skills of relating, bonding with, and understanding teenagers. We're sharing our top strategies for how to build strong relationships with your teen before adolescence begins and keep those ties strong and flourishing well into young adulthood. Whether you have a teen or someday will, this is one episode you don't want to miss. For more, visit "Parenting Teens: Am I Doing Good Enough?". Watch the YouTube video of this episode here.

 Infant Massage: Bonding & Building Relationships with Baby (& Beyond)
From the moment a child is born, a dance begins–the dance of bonding, attachment, and building a relationship. One of the most powerful ways to begin this dance is through touch. As we learn to identify, tune in to, and soothe our child, physically and emotionally, we are not only laying a foundation for a strong communication throughout his/her life; we also find comfort, stress relief, and empowerment as mothers. Today, I'm talking with infant massage instructor Marija Eanes (www.lovinghandsbabymassage.com), who says the principles of infant massage can not only help us calm and soothe our babies; they are principles we can apply as children grow–to foster connection, strengthen mother-child relationships, and truly empower us in our parenting role. From baby to beyond, tune in and learn how you can "slow down," tune in, and grow with your child. And for more on parenting & relationships, read "4 Ways We Learn to Parent, and the Good News about your Parenting Potential". Watch the YouTube video of this episode here.

Happy Mom: Blocks to Happiness & Skills to Overcome
Are you happy? If not, what's blocking your happiness? As moms, it can be challenging to keep up with responsibilities and schedules, get little to no sleep, and still feel happy all the time. But happiness in motherhood isn't a constant state, but rather is found in the moments. My guest, Becky Squire, writer of the "Make Mine Happy" blog (www.makeminehappy.com) and mom of 4 has been working on building happiness, and has some strategies to share. Becky outlines some of the most powerful blocks to happiness in motherhood, and together, we discuss the skills to overcome them. Get ready to increase your "happy" in today's uplifting episode! For more tips on increasing happiness in motherhood, visit www.drchristinahibbert.com/mom-mental-…time-video/. Watch the YouTube video of this episode here.

Lean In to your Full Potential!
As a busy mom, do you sometimes feel like you don't know what your true potential even is? It's a new year, and that means time think about goals, dreams, personal transformation. From physical goals to emotional, social, or spiritual goals, if we want to live the life of which we dream, we first need to tap into our true potential, and I'm ready to show you how. Guest Susy Kilby (www.susykilby.com) is here to teach us how to rediscover and "lean in" to this potential, which every one of us has. All you have to do is listen, take note, and believe, and you'll be living to your full potential in no time! For more, visit "Living a Life of Meaning & Purpose: The Key to True Happiness".  Watch the YouTube video of this episode here.
Reflective Parenting: Do Less & Relate More with your Kids
When it comes to parenting, it's easy to feel like we don't know what we're doing. Even parenting "experts" or family offer advice that can confuse us even more. But my guest today, Dr. Regina Pally, psychiatrist and author of the new book "The Reflective Parent" (books.wwnorton.com/books/The-Reflective-Parent/), is here to show us how to do less and relate more with our children. Regina offers time-tested counsel that will help you realize you're doing enough, and to inspire and guide you in how to develop your relationship with your children. Get ready to view parenting in a whole new light–one that will ease your burdens, provide the skills you need, and enrich your parent-child relationship(s)! For more parenting help, check out "Parenting Success: It's More About the Parent than the Child" (www.drchristinahibbert.com/parenting-s…than-child/). Watch the YouTube video of this episode here.
Holiday Stress & Relationship Survival Guide
No time is more stressful for mothers than the holidays. Not only is normal life still happening, but we add on shopping, decorating, parties, sick kids, events, and a million school/extracurricular activities. No wonder we're beat come Christmas or Hanukkah! Today, I'm answering your questions on how to overcome the stress of the season, including how to feel holiday joy when you're going through a rough time, how to deal with family drama, creative ways to preserve your finances, and more. Tune in, know you're not alone, and then put these time-tested strategies to use to reduce stress and increase your holiday peace and joy! Also, Enter to win in my "Motherhood Essentials: 5 Days of Giveaways"! Add yourself to our Facebook group to enter & then visit the daily posts for instructions on how to win! (www.facebook.com/groups/motherhoodessentials/)! And for more holiday stress support, check out "5 Gifts of Meaning" (www.drchristinahibbert.com/more-meanin…of-meaning/), "Light the World" (www.drchristinahibbert.com/lightthewor…-love-grow/) & "How to feel more Peace & Joy this Holiday" (www.drchristinahibbert.com/holiday-str…his-season/).
The Power and Path of Forgiveness
Forgiveness is something we all need–both to give and to receive–and yet something we all struggle with at times. How can we forgive others when they hurt or wrong us, and how can we forgive ourselves when we do the same? As mothers, forgiveness is essential, but too often we struggle to know how to truly work through, heal, and let go. Today, I'm talking with Dr. Robert Enright, pioneering researcher of forgiveness, about the power of forgiveness and how we can heal from even the most painful wounds. Dr. Enright is also sharing tools from his groundbreaking program and his book "8 Keys to Forgiveness." To forgive is to let your own burdens go. Make this episode a priority, listen, do the work, and then pass it on. Visit internationalforgiveness.com/ or www.drchristinahibbert.com for more.

The Art of Living Extraordinarily
What does it mean to live an extraordinary life? Do you believe YOU are meant to do so? My guest, Briana Johnson, creator of The Lifebeats podcast and blog (www.thelifebeatsproject.com) believes you are, and I agree! Briana and I share some of our personal experiences with choosing the extraordinary life in today's episode. We're talking about not only the good, but the hard times of life, how to overcome them, and how these are often the impetuous for extraordinary personal growth, meaning, and purpose in life. We're also sharing some of our best strategies to practice "the art of living extraordinarily". So, settle in, listen and get ready to be inspired! And be sure to visit my post, "Living a life of Meaning & Purpose" for more inspiration and tools! (www.drchristinahibbert.com/living-a-li…-happiness/)

8 Keys to End Bullying
Bullying is a hot topic these days. Hot because it's important, because kids deserve better than to feel powerless in their own schools, homes, and lives. As parents, it can be challenging to know how to handle bullying–whether your child is the bullied, or the bully. How do we talk with our kids about it? Deal with other parents about it? How can we give our children the skills they need to stand up to bullies and be advocates for themselves and others? My guest, Signe Whitson, counselor and author of "8 Keys to End Bullying" [books.wwnorton.com/books/8-Keys-to-End-Bullying/] is here to show us how. Signe is sharing her 8 keys in this powerful episode, including practical "how-to's" for parents, children and teachers. Together, we can end bullying! We just need the tools to know how, and that's what this episode is all about. For more parenting skills and tools, please visit www.drchristinahibbert.com/parenting-s…ing-skills/.
Don't Quit Your Daydream!
As moms it's easy to let our own dreams go, as we focus on loving, giving, serving, and caring for our families. We may feel guilty following our dreams, or we may feel like it simply isn't possible. I'm here to tell you the truth: Not only is it possible, but when we let ourselves dream, and work toward those dreams, we give our children and families permission and a model for how to do the same. My guest, Dani Smith (doTERRA Blue Diamond Leader), and I are discussing the "how-to's" of going for your daydreams–how to let yourself dream, creatively find ways to go for it, and feel like an even better mom as a result! For more, visit my post, "Create the Life You Desire," www.drchristinahibbert.com/create-the-…et-unstuck/and be sure to join my FREE "Motherhood Essentials" webinar series www.drchristinahibbert.com/motherhood-…nar-series/ to expand your family health, wellness, and happiness toolbox!
Motherhood Essentials-Support for Emotions, Hormones, Sleep, Family & Finances!
On today's exciting episode, I'm announcing my brand new "Motherhood Essentials" team! I've long loved the empowering health and wellness benefits of essential oils for my family, and now, I'm excited to share them with you. Did you know you can benefit your family's sleep, emotional health, and even hormones with essential oils? You can! And there's some excellent research I'm sharing, to back it up. In today's episode, I'm talking with doTERRA Blue Diamond Leader, Dani Smith, all about the surprising new ways essential oils can support and help your family. We are also sharing our new "Motherhood Essentials" Team leadership opportunities, including a giveaway and FREE webinar series! Take it from me, doTERRA oils are a phenomenal addition to your "Mom Toolbox" for family wellness, and now you can learn more about how to use them, with me, and even work with me on my new leadership team! For more on these exciting opportunities or to register for our giveaway or FREE webinar series, please visit www.drchristinahibbert.com/motherhood-essentials/ or www.motherhoodessential.com today!

Strengthening Marriage: How to Like Each Other Better, with Drs. Christi & OJ Hibbert (Episode 70)
When it comes to marriage and couples' relationships, it's just as important to build the positives as it is to overcome the negatives. In fact, building the positives is how we are able to thrive through the negatives. My husband, OJ, joins me today as we share our tips and tools for one of the most important "positives" we can build–how to actively like each other. While marriage is about love, it is hopefully also about like–about fun, laughter, and enjoying one another. So, grab your partner and join us for some reality, entertainment, and inspiration to get you liking each other a little better, too. And visit www.drchristinahibbert.com/making-marr…nniversary/ for more on strengthening marriage.

Making Pleasure an Everyday Habit, For Moms
When you think of everyday pleasure, what comes to mind? As moms, we too often consider pleasure a dirty word–something we'd feel guilty even thinking of–when in fact, pleasure is an important aspect of a healthy, happy motherhood experience, relationships, and life. My guest, Dr. Jessica Michaelson, is passionate about pleasure and helping moms understand the benefits of incorporating more "feel good" moments into everyday life. Make pleasure an everyday habit with this pleasurable episode, and see the payoff in your level of happiness, health, and family joy! For more on creating a healthy lifestyle, including the importance of play and pleasure, check out www.drchristinahibbert.com/creating-a-…pter-part-1 .

What is Personal Growth? Growing through the Seasons of Motherhood
What is personal growth? How do we "choose to grow" through motherhood, when life is so full? In this one-on-one episode, I explain the "seasons of personal growth" and how to not only handle the "falls," "winters," "springs" and "summers" of family, work, and personal life, but how to come out better on the other side. Grab a notebook and get ready to learn the skills of growing through motherhood with me! Then, register for my free gifts, "This is How We Grow Personal Growth Group" and "30-Day Personal Growth Plan," through my website (www.drchristinahibbert.com/). And visit "How to Create Your Life's Vision" for more personal growth inspiration and tools (www.drchristinahibbert.com/personal-gr…fes-vision/).

Soul Selfish Aging: Creating the Life You Desire at Every Age
"Age is just a number." Do you believe it? Do you believe you can live the life you desire at every age? I do, and so does my guest, therapist and author, Jane Wyker. Jane is sharing her 80 years-young wisdom about how we can age happily by being what she calls "soul selfish"–leading to better relationships, happier children and families, and a happier, more fulfilled you. Be sure to look for Jane's book, "Soul Selfish" through her website www.JaneWyker.com, and for more on creating the life you desire, visit www.drchristinahibbert.com/create-the-…et-unstuck/.

Change Your Thoughts, Change your Emotions, Parenting, & Life
We all know motherhood is challenging, which can lead to negative thoughts, which can lead to negative feelings, and well, you get the point. How can we overcome negative thinking and find truthful, helpful alternative thoughts to put in its place? In today's one-on-one session, I'm teaching you one of my favorite skills–thought management. Using cognitive-behavioral therapy (CBT) techniques, I'll show you how to hear, challenge, and change your thoughts, leading to more positive emotion, behavior, and parenting experiences. Plus, I'll tell you how you can start teaching these skills to your children, spouse/parter, and family. So, grab a notebook and come learn with me, as we change our thinking to change our life! And visit www.DrChristinaHibbert.com for tools and resources related to today's topic.

Episode #51- The Power of Music in Raising a Family
Music is powerful. It can bring up a memory, change a mood, inspire, uplift, comfort, heal. Music is also a powerful way to strengthen families. It not only helps us learn, develop, and grow; music can strengthen family relationships, understanding, and emotional connection and help our children grow, too. Today, I'm talking with Thomas Byers, M.A., guitarist, teacher, and creator of the "Guitar for All" program through www.ThomasByersGuitar.com. In this fun episode, Thomas and I have a great time discussing the many ways we can incorporate music into our families– to build, strengthen, teach, and create joy. Laugh, learn, and be inspired with us on Motherhood radio!
Episode #50- Mom Brain Care: The #1 Practice for Family Health, Mental Health & Happiness
What is the very best thing you can do for your personal and family health, mental health, and lifelong happiness? Protect and care for your brain. As moms, we need a healthy brain in order to be physically, emotionally, socially, spiritually, and mentally able to take on our family's needs and to create the life we desire. Dr. Hibbert shares her personal experience of overcoming a mild brain injury in this episode and then explains a simple method for how you can better prioritize, nurture, and care for your brain's health and vibrancy, starting right now. Be sure to visit www.DrChristinaHibbert.com for Dr. Hibbert's blog post, "When Life Drops You on Your Head: 5 Post-Concussion Lessons I'm still Learning," and to watch this episode on "Motherhood TV".
 – The Self-Care Solution
If there's one thing we talk about all the time on Motherhood, it's self-care–because it's one the thing we moms need most. Taking time for yourself to nourish, nurture, and care for your mind, body, and soul is one of the best things you can do for your family, though it may also be one of the the toughest. I'm talking with author of The Self-Care Solution, Julie Burton, in this episode about what self-care truly means, how to overcome the guilt, and give yourself the permission you need to practice powerful self-care!
 – Nutrition for Mental Health & Energy
 – Nutrition for Mental Health & Family Wellness
Moms need strong mental health and energy, and one of the best ways to get these is through nutrition. What foods are best for moms' brains and bodies? What supplements can help? And how can we get these important nutrients when life is busy? I'm talking with psychologist and author Dr. Leslie Korn about her latest book, "Nutrition Essentials for Mental Health: A complete guide to the food-mood connection." She's sharing practical solutions for how to strengthen your brain, emotional health, and raise healthy kids, and many of them will surprise you! Tune in for more and check out Dr. Korn's website, drlesliekorn.com/ or my website www.drchristinahibbert.com for more on mom mental health.
– Mom Mind & Emotional Wellness
Motherhood is, by nature, an emotional roller-coaster of highs and lows and everything in between. Worry, fear, anxiety, stress, sorrow, are each part of  mothering at some point, and they all begin with the mind. What can we do to identify emotional challenges–in pregnancy, postpartum, and beyond? And how can we overcome them? I'm talking with Dr. Kat Kaeni, producer of the "Mom and Mind" podcast (www.momandmind.com) about how to get and keep your "mom mind" in tip-top shape for the best possible motherhood experience. More on this topic on my website/blog, http://www.DrChristinaHibbert.com.