"[A] useful and supportive exercise guide…enlightening and empowering…"
-Publisher's Weekly
Order on Amazon, Barnes & Noble, Target.com, Walmart.com, or find it at your favorite bookseller!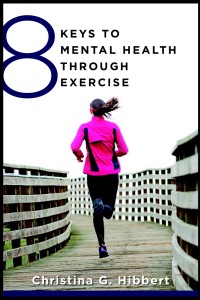 Advance Praise for "8 Keys to Mental Health Through Exercise"
"[A] useful and supportive exercise guide . . . . As Hibbert makes clear, she has not written a workout regimen or weight-loss how-to, but a guide to using exercise to become both mentally and physically stronger. . . . [A]n enlightening and empowering instrument for people who have struggled with mental illness." — Publishers Weekly

"The 8 Keys books series provides clear, concise, empirically supported evidence for anyone from beginners to experts; 8 Keys to Mental Health Through Exercise is certainly no exception to this mantra. . . . Dr. Hibbert works through the process of change with an array of exercises and reflection questions that ease even the most ambivalent reader into the process. . . . [A]n eye-opening read not only for those searching for the motivation to commit to adding exercise to their routine, but for anyone striving towards self-empowerment. Dr. Hibbert synthesizes a large body of research into a captivating argument for how and why exercise serves as an immensely powerful mechanism for improving mental wellbeing." — Somatic Psychotherapy Today
"Exercise is essential in maintaining good health—both physical and mental. . . . Hibbert's book should help readers stick with a successful plan." — Booklist

"As a therapist, I'm a big proponent of exercise for its positive effects on mood. I frequently talk to my clients about the positive effect of exercise on the body and mind. But even when you know all the positives, you don't always fully utilize exercise as a way to get or stay mentally well. This is why 8 Keys to Mental Health Through Exercise is such a useful tool. . . . [I]t's full of reflection questions, writing prompts, and action items. . . . [G]reat for those of us who want to experience more of the benefits of exercise, but need a bit of help creating a plan and overcoming the mental blocks to doing so." —PsychCentral
"These 8 keys hold the potential to change your life! In this wonderful book, Dr. Hibbert provides us with effective and easy-to-implement tools that allow the mind and the body to unite, change, and heal. A must-read for anyone seeking to change their bodies in a holistic way." — Dr. Shefali Tsabary, clinical psychologist and New York Times bestselling author of The Conscious Parent
"Exercise is a magic pill for mental well-being; it clears your mind, calms your body, and makes you feel good about YOU and what you have accomplished. Dr. Hibbert has captured this mind-body connection, and why we must all move toward improved mental health through exercise." — Kathy Kaehler, celebrity health, fitness, and nutrition expert and bestselling author
"A delightful synopsis of why exercise is so essential to our mental health. With a narrative that is both a pleasure to read and superbly sensitive to the common barriers that get in our way, Dr. Hibbert shows the reader how to harness the motivation for self-care and well-being. Hibbert's clinical skills and down-to-earth guidance can make a believer out of the most resistant exerciser!" — Karen Kleiman, Founder and Director of The Postpartum Stress Center, author of Therapy and the Postpartum Woman
"I love this book because it combines solid research with practical, easy-to-follow steps to achieve the motivation and skills to exercise for better mental health. Being at your 'personal best' and, for parents, being a great role model to your children, means taking care of yourself first. If you're serious about getting fit mentally and physically, this book will help you to flourish!" — Dr. Rosina McAlpine, parenting expert and author of Inspired Children; winwinparenting.com
"An incredible, accessible, and useful tool for ANYONE hoping to get exercising. Dr. Hibbert offers guidance, support, and tangible solutions to assist the reader through physical or mental roadblocks in order to strive to be their best self. I can't imagine anyone finishing the book without finding themself an improved individual. I'm grateful it has been written so that more people can benefit from exercise and tackle it through these carefully designed steps." — Dana Pieper, creator of EveryBody Fitness
Join me for one of my Upcoming Book Events!
Join me for one of my upcoming speaking or book-signing events.
Or if I'm coming to your area, contact me about scheduling a book club, workshop, fireside, or other smaller event at the same time! Email me using the form above, right; I'd love to connect!
For more information on booking me for a keynote or other speaking engagement, click here.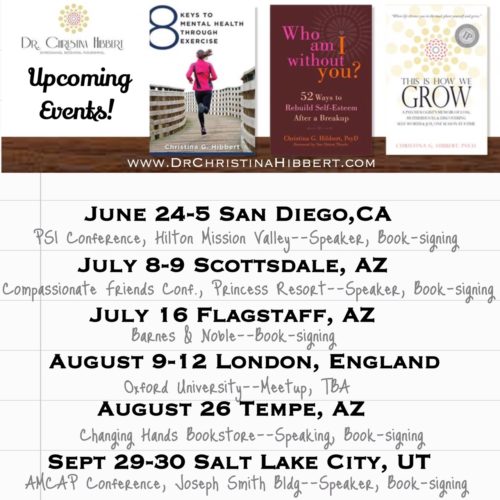 8 Keys to Mental Health Through Exercise 
Supplemental Materials
Worksheets
Earthquake Assessment Chart, p. 37
Exercise Motivation Self-Evaluation, p. 94-5
Exercise 4 Mental Health SMART Goal-Setting Worksheet, p. 111-116
Thought Record, Part 1, p. 134
Thought Record, Part 1, Example, p. 137
Thought Record, part 2, p. 139
Thought Record, part 2, Example, p. 141
Exercise 4 Mental Health SMART Goal-Setting Worksheet, p. 111-116
My "Exercise 4 Mental Health Plan" Worksheet, p. 202-7
Videos
Change Your Thoughts Using a Thought Record
Join one of my Facebook Support Groups!
"This is How We Grow" Personal Growth Group
"Who Am I Without You?" Women's Breakup/Divorce Support Group
Growing through Postpartum Depression/Anxiety Support Group
Women's Emotions: Overcome, Become, Flourish! Group
"Blog to Book Deal" Author Platform & Branding
Growing through Grief, Loss & Trauma 
Connect with Me!
 on Facebook Dr. Christina Hibbert; This Is How We Grow, Instagram, Twitter, Pinterest, LinkedIn, and YouTube!


With exercise for mental health, it should be a long, healthy, happy life!

Be sure to check out my bestselling, award-winning memoir, This is How We Grow!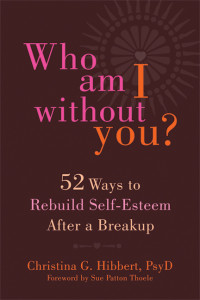 My latest book, "Who Am I Without You," is available now at
Listen to my latest episode of "Motherhood" radio and "choose to grow through motherhood" with me!  Listen on demand/download the episode at WebTalkRadio.net, and/or visit iTunes to subscribe.