Welcome to
Mastery of

I'm working on my newest book, "Mastery of Motherhood," and I need your help!
I want to hear what matters to YOU as a mom–what you think and feel and need and want, and especially what you think matters most for moms today.
How can you be involved in this new book project?
1) Take my "Mastery of Motherhood" Survey
Click the image or link below to complete this survey and be part of my new book!
The M.O.M. survey should take about 10-15 minutes to complete, depending on how detailed your responses are. A handful of mandatory questions are marked with an *, and then decide how many of the other questions you'd like to complete (though I hope you'll complete them all). Simply answer as honestly as possible, and enjoy the opportunity to learn more about your own feelings and experiences related to motherhood!  (Most find this survey personally enlightening and therapeutic–hopefully you will too!)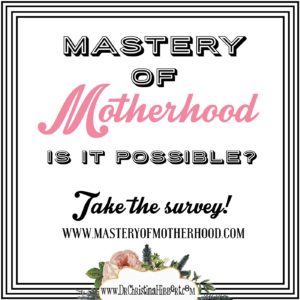 2) Tell others to take the survey/pass on this link.
Either link works great: http://www.masteryofmotherhood.com or https://survey.zohopublic.com/zs/kHB5oB
(Pretty please?)
3) Email me
Email me at support@drchristinahibbert.com to share your motherhood experiences/thoughts/questions with me. I just might end up using them in the book!
4) Invite me to speak
I would love to come to your mom/women's group to talk about "Mastery of Motherhood" and related topics with you! Visit this post to learn more.
5) Subscribe!
Stay tuned for more Mastery of Motherhood updates and events by subscribing to my newsletter, above right, and be sure to leave your email address on the survey for exclusive follow-ups, news, and opportunities!
More to come, soon!

Connect with me!
"Like" my Facebook pages, Dr. Christina Hibbert; This Is How We Grow, & follow me on Twitter, Pinterest, Google Plus, & Instagram!
Also, follow my other Instagram accounts: @motherhood.tv, @motherhood.essentials, and @thisishowwegrow