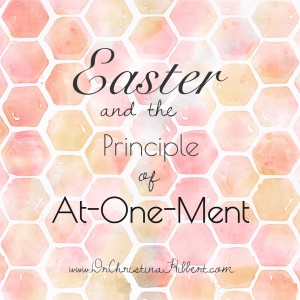 It's Easter Sunday, and though I don't usually write here about religion, I am compelled to write today. I am thinking about Jesus Christ and His Atonement, and whether you're a follower of Christ or not, whether you celebrate Easter or not, whether you even believe in God or not, there is an important lesson here, for all of us.
Easter is about Jesus Christ's life, His death, and His rising again. Christians call this masterful event the Atonement. The word "atonement" has long fascinated me, because it means, quite literally, "At-One-Ment." It means that, as Christ died and three days later, rose again, He did something incomprehensible and miraculous–for every single one of us–enabling each us to live again, too. What comfort this brings to those, who, like me, who have lost dear loved ones, for those of us pondering, or facing, death. We, too, will live again!
The Meaning, and Power, of At-One-Ment
Yet, the At-one-ment is about so much more. It is literally a reminder that we choose to "at-one," or to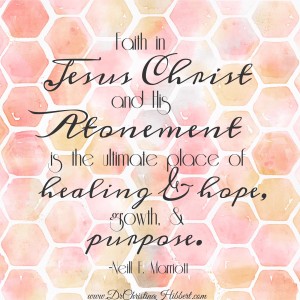 "become one," with something, or some things, each and every minute of each and every day. With what are you at-one-ing right now?
We can choose to at-one with good and holy, pure and True thoughts, deeds, and emotions. Or, we can choose to at-one with those things that bring us down, that make us feel less than, destroy peace and happiness, and lead to bondage and misery. What is your choice today? 
The Atonement is about transformation–a reminder that we are more than meets the eye, and that we have greater Divine potential than we realize, if we will only let God–our Higher Power–lift us and help us reach it.
The Atonement is about hope–the hope that we truly are so much grander, kinder, full of love and potential, than meets the eye, and that there is so much more waiting for us if we will only act on that hope and, with faith, take that first step forward.
The Atonement is about peace–peace in life and peace in death. It's about knowing there is life beyond this one, that we will be with our loved ones who've died again, and that we, too, can have peace. By letting go of the fears that hold us back, we can find peace, right here and right now.
The Atonement is about joy–joy in knowing there is more to life, and to us, than just surviving, day by day. We are actually made of joy, and as we dig down through the muck that life piles on top of it, we will find we are meant to be happy. It is our birthright, and with patience, hope, faith, and love, we can, and will become joy.
The Atonement is about personal growth. Truly, that's what we can, and must, learn from this miracle–that we, too, can be changed, can learn, can grow, can become, can be transformed. It's a reminder of our Divine potential. I see this potential in each and every soul I meet. Those I work with. Those I live with. Those I laugh with. Those I teach, and learn from. Those I meet on the street. Each and every one of us has a Divine potential beyond our wildest imaginings. We can, and with faith and a little work on our part, one day will, become who God sees us to be. Not the small vision we have for ourselves, though certainly that is a perfect place to start; but someone more beautiful, hopeful, joyful, full of peace and made of love, than we could have ever dreamed.
Above all, the Atonement is about love–the love of God for each and every one of us. It is a reminder that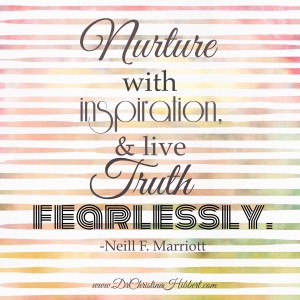 we are known, that we are loved, and that we are valued so much more than we realize. We have access to Divine help every moment, if we will but ask. This is the greatest love…"Greater love hath no man than this…" (Holy Bible, King James Version, John 15:13), and we, too, can seek, ask for, be filled with, and become this great Love.
We can kneel down and humbly "pray unto the Father with all the energy of heart, that ye may be filled with this love (Book of Mormon: Another Testament of Jesus Christ, Moroni 7: 48)." We can speak our heart's greatest needs and desires and then get up and obey the whispers that lead us toward greater love and growth. We can reach out in love to others in need; we can "nurture with inspiration, and live Truth fearlessly" (Neill F. Marriott, Relief Society General Conference, March 26, 2016).
In so doing, we will find hope and joy and peace, personal growth, and transformation. As we embrace God's love for us and love ourselves in like manner, we won't be able to help but share that love with all around us. This is the power of the Atonement. This is personal transformation at its finest–unveiling our true potential.
With What Will We "At-One" Today?
Are we realizing that true potential today? Do we even believe it's there? I know it's there. I've witnessed it in myself, and in my children. In my husband, and in my friends. In my clients, and in my acquaintances. Friends, I believe in Jesus Christ, and I believe in the power of His Atonement. I know He lives, and that we, too, will live again. The question is, how will we live? Not only then, but now? How will we live today? With what will we choose to at-one right now?
I welcome your thoughts and comments, below.