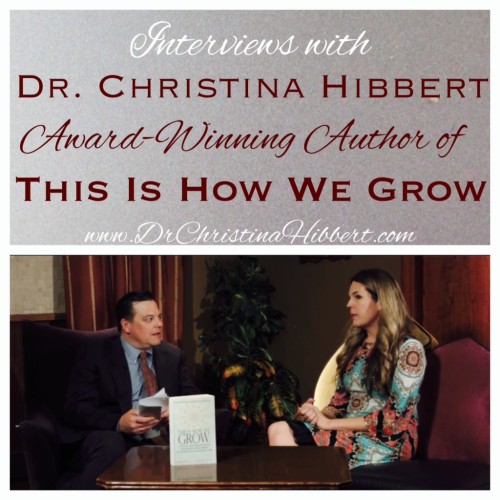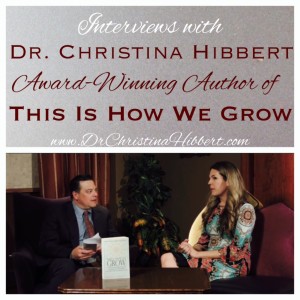 I'm always happy when others are interested in my work or my writing, but I'm especially grateful for opportunities to share the real me. To talk about my past and things like overcoming grief and postpartum depression, to discuss how I presently find ways to grow as a mother, psychologist, and author, and to dream about my future–in short, to let others see who I truly am and what I stand for. That's why I've been thrilled lately to have had several interviews–on camera, radio, and in-print–which have enabled me to show my true colors.
"This is How We Grow" Interviews–various perspectives for all kinds of audiences
I am happy to share with you a few interviews I particularly enjoyed (below), because even though they're all book interviews, they are 1) each with people from different perspectives and points of view, 2) speak to unique audiences, and 3) share insights on different topics, from writing, to fulfilling your dreams, to postpartum depression, to faith. Though they started out as an interview related to This Is How We Grow, each has its unique spin, opening up a little different side of me, and for that I am grateful.
I love to learn about other real people–to know how they do it in life, what their challenges are, how they overcome, become, and flourish. I hope, as you check out one, or two, or all of these interviews, they will do the same for you–help you
connect with me in some small way and know you're not the only one. Help you see some new ways to grow. Then, I hope you'll leave a comment here or on the video/post itself and let me know a little bit about what resonates with you. I desire to get to know what makes you tick just as much as I hope you'll get to know a little more about me.
IPPY Book Award Interview–(For writers, fans of dreams coming true, and lovers of This is How We Grow!)
An hour before the Independent Publisher's Book Awards (IPPYs) began, in New York City, I had the opportunity to sit down with their interviewer and discuss my book, the award, and what it meant to me.
I wrote about this experience here, but let me just add that this was an important event for me as an author. It was not only my first book award for This is How We Grow, but it was my first on-camera interview. I never get nervous to speak, even to large crowds, but I admit, I was a little nervous for this interview. Since I knew I'd be getting a copy to use for forever, I wanted it to be great, and you know what? I think it is pretty great. I hope you think so too!
Word of Mom Radio (For Moms, Business Women, and Entrepreneurs!)
Word of Mom Radio is an online radio show that seeks to empower "mompreneurs" and business women. I actually met Word of Mom founder, Dori DiCarlo on Twitter (hooray for social media!) and we immediately hit it off. After an hour long phone conversation, I sent her a copy of my book, which she quickly read. She tweeted me, "Honestly it is one of the best books I have read in a long time…I rarely annotate books and can't help myself with yours." I was honored, and even more honored to be a guest on Dori's show to discuss my book and how I juggle six children, a husband and home, a psychology practice, and now full-time work as an author!
The show is titled, "Award Winning Author Dr. Christina Hibbert on the Mompreneur Model Show" and you can download and listen to the podcast of the show at this link!
Segullah & Julie de Azevedo Hanks Blogs (For LDS, Faith-Based, and Spiritual Insights!)
Last week I was thrilled to be featured in two different posts on Segullah.org. The first was a This Is How We Grow book
review, by editor Shelah Miner, and the second was an interview Shelah did with me. Segullah runs a journal and blog, its mission being "to encourage literary and artistic talent, provoke thought and promote greater understanding and faith among Latter-day Saint women." It's no secret I am a member of the Church of Jesus Christ of Latter-Day Saints, or "a Mormon," as many people call us. I thoroughly enjoyed this interview with Segullah because it allowed me to share my experiences with achieving my dream of becoming an author, how I manage to write with six kids needing me all the time, and also to share some of my faith-building experiences I've had along my journey so far. You can check out the interview here: Faces of Latter-Day Saint Women: A Conversation with Author & Psychologist Dr. Christina Hibbert.
In a similar vein, I was honored to be interviewed by my good friend, Julie de Azevedo Hanks, last November when This is How We Grow was released. Julie is a well-known self and relationship expert, media personality, and singer-songwriter, and we've known each other for almost 8 years now. I loved Julie's interview because she knows me. She knows what to ask and how to ask it, and again, I can also share my faith experiences with her since she is a member of the LDS faith as well. Check out Julie's article, "Q & A with Dr. Christina Hibbert, Author of This is How We Grow," here.
Postpartum Progress, Ivy's PPD Blog, & Birthtouch (For Pregnant and Postpartum Moms, Dads, and Families!) 
Finally, I want to share some interviews and guest posts I did a few months back that center around the theme of "Postpartum Depression/Anxiety". As a four-time survivor of PPD, I know a thing or two about how challenging it can be to feel well after a new baby comes, and especially how challenging it can be to feel well again. But as a clinical psychologist and expert in pregnancy and postpartum mood/anxiety disorders, I also know 1) you are not alone, 2) you will be well, and 3) with help, you will be well (PSI's universal message). I am grateful for every opportunity I'm given to help pregnant and postpartum women realize these things.
It's important for pregnant and postpartum women to realize they're not the only ones feeling this way, and I loved the following three interviews/ guest posts for this very reason. I hope you'll check them out and share with any pregnant/postpartum women and families you know:
Ivy's PPD Blog: Interview with Dr. Christina Hibbert, Author of This Is How We Grow
Postpartum Progress Blog: Pregnancy & Postpartum Loss, Grief, & Family Healing, Part 1 & How to Cope with and Treat Perinatal Loss, Part 2
Birthtouch Blog: Interview & Book Review, This is How We Grow by Dr. Christina Hibbert
Do you enjoy learning about other people's real lives as much as I do? In what ways did you most connect to one or more of these interviews? What do we have in common? I'd love to get to know you, too, so please leave a comment for me, below!

Be sure to check out Dr. Hibbert's Amazon Bestseller, This is How We Grow–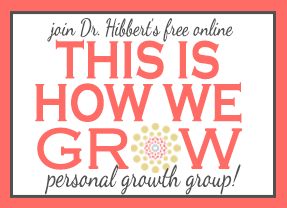 FREE. Online. Growth. What more could you ask for?

You may manage your subscription options from your profile.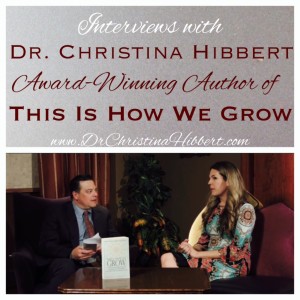 Let's Connect…
"Like" my Facebook pages (Dr. Christina Hibbert; This Is How We Grow) and follow me on Twitter,Pinterest, & Instagram!
Related Articles/Posts:
This Is How We Grow wins an IPPY Award in NYC & is one of Aspire Magazine's "Top 10 Inspirational Books!"
When Life Hands You Lemons, Stop & Reevaluate: 4 Steps to Reevaluate Life & Fearlessly Meet Your Needs 
Life: The Battle & The Beauty (Living the Paradox of Personal Growth)
Family Summer Vacation, & Personal Growth? 10 Things I Learned in an RV with my Family of 8 for 8 Days
Summer Reading & Personal Growth: Dr. Hibbert's Top 10 Personal Growth Books
Understanding & Coping with Loss & Trauma
PPD & Motherhood Mental Health: Self-Care & Letting Help In–The 2 Most Important Things
"This is How We Grow:" Understanding the Seasons of Personal Growth
Join my Free, Online "This Is How We Grow" Personal Growth Group!
In Memory of my Sister, on the 5th Anniversary of her Death
What I've Learned about Personal Growth from a Decade of Yearly Themes
Weather the Storms Together: 4 Ways to Strengthen Families in Times of Stress
Discovering Self-Worth: Why is it So Hard to Love Ourselves?