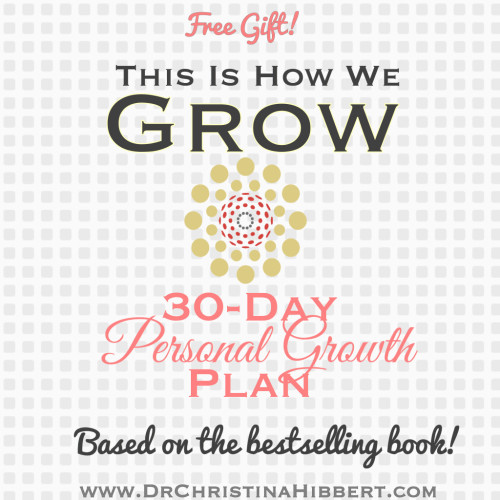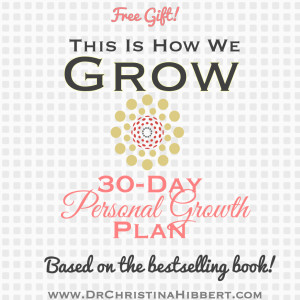 As I write this, it's the first Monday of the new year, and we all know the first Monday of the new year is the busiest day for personal growth. We turn our thoughts to letting go of the past and creating our vision for the future—or, at least, we try to.
We set goals, make resolutions, develop themes, and put our good intentions to work. At least, for a while. Research shows that by the end of January each year, approximately 64% of people are still working on their resolutions, wheras six months later, only 44% are sticking with it.[1]
However, we mustn't give up hope, for research also shows that those who resolve to make positive change in their lives, whether they reach their goals right away or not, are ultimately more successful than those who fail to even try.
Why is it so hard to change?
Why is it so hard to achieve personal growth? I have a few ideas…
1) We don't know how to change. We may know we want x, y, or z; we may really want to improve this, or overcome that. But, we don't know how.
2) Change is hard, by nature. It's part of the process of growth and change to struggle and fail, and to have to go back to the drawing board and try again. Understanding and even expecting this "spiral of change" is the key to true growth.
3) We focus too much on our own version of what "successful" change should look like, failing to see how much we've actually grown in the process. We think if we don't stick to our goal, or if we mess up, we've failed, so we quit. We give up too soon, not realizing that "success" is really about growing, not about achieving some idealized goal.
4) We don't have the support we need to stick with it. We need motivation, dedication, inspiration to make lasting change! When we are trying to change on our own, we may feel these things for a while, but long-term it definitely helps to have some encouragement, advice, and assistance from others.
So, what are we to do?
I am thrilled to introduce my This is How We Grow 30-Day Personal Growth Plan!
Based on my bestselling, IPPY Award-winning memoir, This is How We Grow, this 30-Day Personal Growth Plan is designed to show you how to make lasting change, to teach you the skills and tools you need to grow to where you want to be. This plan draws from the lessons, insights, and practical tools and skills I've utilized in my own life and with my clients to help you overcome, become, and flourish!
Make Lasting Change & GROW!
Whatever your current goals, whatever your current challenges, this plan will be a valuable guide you will want to draw from for years to come. I know, because I'm working the plan along with you! In fact, I've created this plan at the suggestion of one of the judges from the book award I received, who said, "You should create a study guide to help people apply the lessons you teach in your book." That's exactly what I've done, and I hope it will benefit you as much as it has benefitted me.
Receive Daily Lessons, Tools, & Inspiration!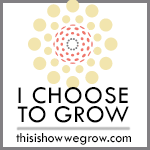 By registering, you will immediately receive the 30-day Personal Growth Plan Guide, an 8-page eBook complete with the themes for the next 30 days and an inspirational quote for each theme, to pique your interest and keep you motivated!
Bonus!
As a bonus, you will also receive a short email lesson from me each day, for the next 30-days, with questions and exercises to teach, encourage, and inspire you in your personal growth journey! Additionally, you will receive videos, worksheets, and other tools and exercises to ensure you not only learn but apply the skills you need to make the positive change you desire.
Customized Just for YOU!
This plan is designed to complement your unique personal growth goals, to custom fit your needs, desires, and life vision. It is here to motivate you to keep going when the going gets tough, reminding you that each day, you can "Choose to grow."
Don't miss your chance to GROW!
Register for my This is How We Grow 30-Day Growth Plan here! 
Also, be sure to subscribe, below, (if you haven't already) so you can keep up to date on other exciting opportunities!
Join and stick with me as I teach, motivate, counsel, and inspire you along your personal growth path. It's far cheaper than therapy! And hopefully, just about as helpful. Join me for your best year yet–a year of overcoming, a year of becoming, a year of flourishing–a year of growth!
And if you want more personal growth lessons and support, then join my…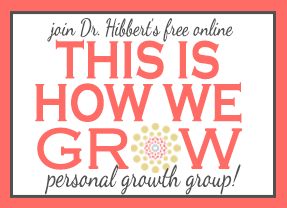 FREE. Online. Growth. What more could you ask for?
For more details about the Personal Growth GROUP, click here.
**Disclaimer: The This is How We Grow Personal Growth Group and 30-Day Personal Growth Plan are purely educational. It does not replace the need for professional mental health care, including psychotherapy.**

You may manage your subscription options from your profile.

Be sure to check out Dr. Hibbert's Amazon Bestseller, This is How We Grow–

Don't miss a thing! 
SUBSCRIBE, above, "like" my Facebook pages (Dr. Christina Hibbert; This Is How We Grow), and follow me on Twitter,Pinterest, & Instagram!
Related Posts/Articles:
"This is How We Grow:" Understanding the Seasons of Personal Growth
Join my Free, Online "This Is How We Grow" Personal Growth Group!
This Is How We Grow wins an IPPY Award in NYC & is one of Aspire Magazine's "Top 10 Inspirational Books!"
Personal Growth & Family Vacation?: 10 Things I Learned in an RV with my Family of 8 for 8 Days
PPD & Motherhood Mental Health: Self-Care & Letting Help In–The 2 Most Important Things
10 Ways I Choose to Grow Each Day 
Personal Growth & Self-Actualization: What Will Your Choice Be?
"These are my Strengths!" and "This is my Lame-O List!": How to Embrace Strengths & Weaknesses
Parenting Success: It's More about the Parent than the Child
Learning Self-Love: 5 Tricks for Treating Yourself More Kindly
40 Physical & Mental Health Benefits of Exercise!
10 Benefits of Practicing Gratitude
Living a Life of Purpose & Meaning: The Key to true Happiness
When Life Hands You Lemons, Stop & Reevaluate: 4 Steps to Reevaluate Life & Fearlessly Meet Your Needs
Resources:
[1] Prochaska, J., Norcross, J, and Diclemente, C. (2007). Changing for Good: A revolutionary six-stage program for overcoming bad habits and moving your life positively forward. William Morrow Publishing.