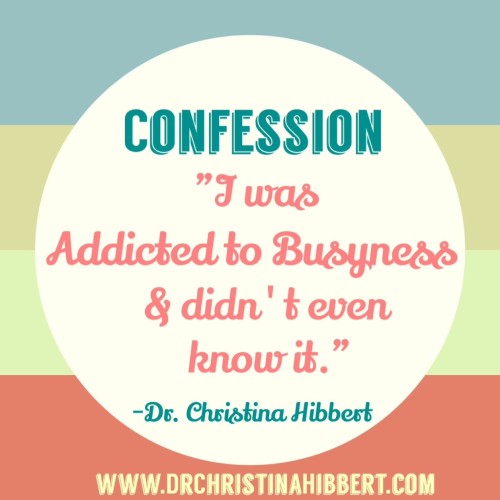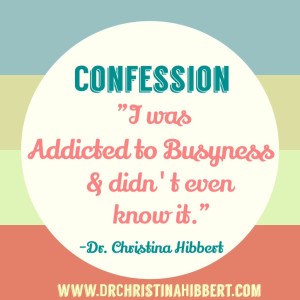 I'm no stranger to busyness. I came by it honestly. Since graduate school–with two young kids (5 months & 3 years), my husband in dental school, and caring for my younger sister who lived with us–life has been incredibly busy. I became pregnant with our 3rd baby during our fourth year, in addition to internships, dissertation, and part-time work so we could keep our family financially afloat.
My husband graduated and started work as a dentist–in another state–three months before I graduated. Each week, he would commute from LA, where the kids and I stayed so I could finish my internship and classwork and they could finish school, to Phoenix, and back. Finally, I graduated, 8-months pregnant, on a Sunday. I gave birth the following Sunday, and we moved back to Phoenix the following Friday.
Like I said, life was naturally incredibly busy.
How "Life" can Sweep You Into Busyness
After we graduated, I stayed home full-time, in a new city, with a newborn, 4 and 6 year-old, while my husband started full-time work as a dentist. I used to say I "did nothing" during this time, but that's not true. I may not have been in school or working outside the home, but I was a full-time mom of 3, and motherhood is busy by nature. Add to that my third battle with Postpartum Depression & Anxiety, and it was a lot. Looking back, I think I was also so used to the pace of graduate school that I unknowingly kept it up, filling our days with activities, play dates, church responsibilities, breastfeeding (of course), hosting parties, and making delicious meals. I was trying to do it
all, and it was taking its toll.
Little sleep, very long days, and then, one year later, we moved again, and I started working toward licensure as a clinical psychologist. Soon after, I signed a contract in a group practice. My employers kept increasing my hours until I was forced to see 28 clients a week, on top of caring for 3 kids, a new home, major struggles in my family of origin, and a husband recently diagnosed with Type 1 Diabetes and starting his own dental practice. It was way too much.
I thought I was going to slow down when I finally quit my job to stay home after having my fourth and final baby. But, as many of you know, things only intensified as my sister and brother-in-law died weeks before and I suddenly became the mother of six children.
When "Busyness" is Survival
During this time of my life, busyness became survival. If I didn't keep moving, I couldn't keep up. Soon, months had flown by. I got used to this new level of busyness—even worse than graduate school–a constant stream of needs, responsibilities, and energy that demanded my attention, 24/7. Also, busyness helped me avoid the intense grief and pain from the loss of my sister & brother-in-law since I didn't yet have time to fully process and mend.
Sometimes, we have to stay busy to survive, and that's okay.
A little over a year later, I felt the call to start a very part-time private practice. I was cautious and worried about
overdoing it since life still hadn't slowed down much, but I also believe in service and helping others. I couldn't explain it; it simply felt like the right thing to do. It made life busier, but also richer; I finally felt like that part of me I thought had died was alive again.
And then, I started writing. First, just 10 minutes at night, after my kids went to sleep; writing was therapy. Soon, it
was 5, then 10, then 20 hours a week as I decided to write our story into a book. Whenever I wasn't taking care of kids, I was writing—and then publishing, which included starting a website/blog, building a platform through social media, and an intense editing schedule, all of which I did when my kids were at school, asleep, or when I could wrangle up some help to watch them (my husband was great!).
The Highs & Lows of "Busyness"
I loved and despised it. I cherished the meaning, challenge, and purpose of what I was doing, but loathed how it sucked every moment from me, how I felt like I could never rest or relax, how I was always just "keeping up."
Soon, I was releasing my first book while also writing my second for a new publisher. Add to that parenting challenges, book marketing, and plain old life stress, and I was on the verge of a complete meltdown.
What Opened My Eyes & Led to Busyness Detox
It wasn't until my friend took her life, at the end of April, that it really hit me, that I truly got it. The harshest kind of lesson.
"This has to stop!" I told myself. "I can't afford to keep burning out anymore. My family can't afford it. They need a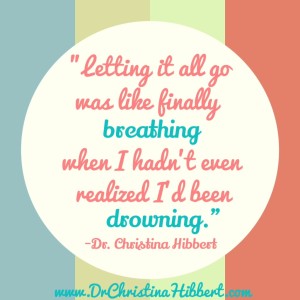 healthy, flourishing mother. I need it, too."
I quit everything. Initially, it was so I could grieve and focus on healing, for my family and for me, and it was a relief. So many people always need me, and it felt unbearably overwhelming at that time. Letting it all go was like finally breathing when I hadn't even realized I'd been drowning.
A month in, however, the understimulation took its toll. Boredom arrived. It's my usual pattern: Overdo it, burnout, completely stop everything to recoup, love it for a while, start feeling restless, bored, depressed, look for a new "project" to fight the boredom. Add things until the restlessness vanishes. Repeat.
I was tempted to add something: "Maybe I should pitch a new book idea, or become a college professor."
Luckily, I was in therapy (again), and my psychologist gave me some excellent advice: "You've just been through another major trauma, one that has triggered your many previous traumas and losses," he said. "You're finally feeling some relief from the intense grief you've been feeling. You have six kids who are still trying to heal from this, too, not to mention just keeping up with the usual demands of a large family. You have a loving husband who wants to spend time with you. You have a home to care for. You're helping people at your practice one morning a week, at your church in your calling, and you help your friends, family, and people online. You've published your first book, you just finished your second, and are about to start your third," he reminded me. Then, the kicker. "Isn't that enough?"
It clicked.
"Yes," I said. "Yes, it is definitely enough."
Enough of the "busyness!" I needed to let the restlessness ride. I made the choice then and there that I would not add a single thing. Instead, I would focus the rest of that month and the rest of the summer solely on making memories with my family, on reading, relaxing, catching up on sleep, and healing. I would focus on those things that truly mattered.
It was more than enough.
The Truth about My Relationship with Busyness

It's embarrassing to admit all this; I thought I was just busy because that was what life had thrown me. I didn't see
how much I'd added to the busyness, nor how addicted to that pace I had become. This summer was my first step in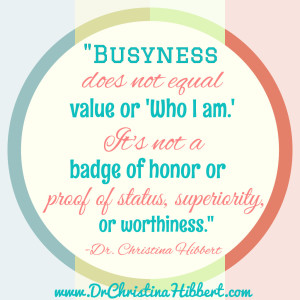 seeing how much I've used busyness as my identity over the years, how much I've relied upon it to give my life some sense of meaning, to give me a sense of purpose and value.
I've long known, intellectually, that busyness does not equal value or "who I am;" it's not a badge of honor or proof of status, superiority, or worthiness. I've known this. I've taught it. I've said many times over the years, "I don't want to be busy," and I meant it! I wanted space in my life so I could be available to serve, to love, to live, to be. I told myself it was just life that was forcing me to be busy, that it wasn't my choice. But I was wrong. Yes, sometimes it was life, but sometimes, it was me.
It wasn't until just a couple of weeks ago, three months after my decision to let myself stick with the restlessness and boredom, that I could really see the truth: I was in busyness detox. Just like coming off a drug, I had to let myself go through the uncomfortable feelings of boredom, anxiety, frustration, of feeling like nothing was interesting, like I wasn't doing enough, in order to get to the other side and see the truth.
What I Know Now
Now, on the other side, I feel free. Yes, my life is still full. With six kids and a job like mine, it's always going to be,
and I am grateful for it. I like full. Full is beautiful.
But I'm not busy. Sure, I have busy moments, but I am proceeding very carefully. I am careful about what I allow into my life now. I pray and ponder about every opportunity that comes my way to see if it's something that fits with the life I want, and need, to live at this time of my life.
I allow myself much more down time now, too. I need it to feel healthy and happy, to be the person I truly want to be. I can watch TV or nap or read. I can go on vacation. I can go out with my husband and not feel guilty. I feel greater peace and greater joy. I am finally truly living.
Busyness of the sake of being busy, I've learned, is the opposite of living. It's a slow death. It's a distraction from what matters most. It prevents the best in life by settling for the "good" or even the "ok." It's the opposite of flourishing.
I choose flourishing. What will your choice be?
 What are your thoughts on busyness? Could you relate to any part of my story? How do you know when you are "too busy," and what do you do to detox and overcome? I love hearing from you, so please leave a comment, below!
 And, if you can relate, then…
Part 2–Addicted to Busyness? What It Means & 6 Steps to Overcome

You may manage your subscription options from your profile.

Be sure to check out Dr. Hibbert's Amazon Bestseller, This is How We Grow–

Don't miss a thing! 
SUBSCRIBE, just below, "like" my Facebook pages (Dr. Christina Hibbert; This Is How We Grow), and follow me on Twitter,Pinterest, & Instagram!
 You may manage your subscription options from your profile
'
Related Posts/Articles:
10 Benefits of Practicing Gratitude
Living a Life of Purpose & Meaning: The Key to true Happiness
When Life Hands You Lemons, Stop & Reevaluate: 4 Steps to Reevaluate Life & Fearlessly Meet Your Needs
Create the Life You Desire: Part 2–The 3 Steps of Creating
"This is How We Grow:" Understanding the Seasons of Personal Growth
Join my Free, Online "This Is How We Grow" Personal Growth Group!
This Is How We Grow wins an IPPY Award in NYC & is one of Aspire Magazine's "Top 10 Inspirational Books!"
Life: The Battle & The Beauty (Living the Paradox of Personal Growth)
Personal Growth & Family Vacation?: 10 Things I Learned in an RV with my Family of 8 for 8 Days
PPD & Motherhood Mental Health: Self-Care & Letting Help In–The 2 Most Important Things
10 Ways I Choose to Grow Each Day 
Personal Growth & Self-Actualization: What Will Your Choice Be?
"These are my Strengths!" and "This is my Lame-O List!": How to Embrace Strengths & Weaknesses
Parenting Success: It's More about the Parent than the Child
Learning Self-Love: 5 Tricks for Treating Yourself More Kindly