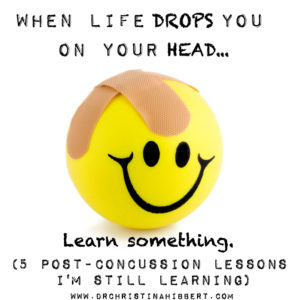 A mom falls over a wall while trying to parkour…
It's not the beginning to a joke. No, it's been my reality for the past seven weeks.
Apparently, I was attempting to "parkour," or do a fancy little jump up and off of a knee-tall, brick planter box wall, when my yoga pants caught on my foot, and instead of twirling and landing gracefully as I'd envisioned, my leg hit the wall and I flipped and fell, hard, headfirst onto the ground.
I say "apparently," because I still have no memory of the incident. I remember we were at my daughter's choir concert and they'd just been singing "Bridge Over Troubled Water." I remember leaving early and hearing my husband say, "Hey, Christi! Parkour," as he successfully jumped up and off the small wall. I remember thinking, "Totally! I've been working out hardcore, and I can parkour!" Apparently not.
The result was a concussion—my first, and boy was I clueless about what it means to get a "moderately severe" concussion. The next morning I was on Facebook and Instagram, dizzy and dazed, posting about my "concussion" from trying to "parkour," laughing about it the whole time. "How ridiculous am I?" I joked. "Taking it easy and on the mend. I'll be back to normal in no time!" Wrong. (Note: People should not be allowed on social media when they've had a concussion.)
Later that day, attempting to put the pieces of what happened back together, I listened to the recording my husband, OJ, made of me that night (you can hear a little of it, below). Oh. My. Goodness. I must have repeated the same ten phrases several dozen times. "Ow… Did I really hit my head? It feels like a dream–not real. Was I trying to parkour? Why would I do that? Should I go to the doctor? I hit my head? Oh, that is NOT good. I'm losing brain cells. Was I trying to parkour? Why would I DO that?" You get the picture.
OJ, being the "I can handle anything" guy he is, was carefully watching and tending to me. He figured he knew the signs of trouble for a concussion (he's a dentist, after all–that's pretty much like an ER doc, right?) and if he saw any, he'd take me to the hospital. I never blacked out. Good sign. Yes, I was nauseous, but even though I came close I did not lose my dinner at any point. My pupils weren't dilated. Another good sign.
There was a huge egg of a bump on my head, but there are ice and acetaminophen for that. And yeah, I couldn't remember anything much, but I could remember a little–"I remember 'Bridge Over Troubled Water,'" I kept repeating. Very good. Still, even he had to admit he was a little worried when, two hours later, I was still repeating those same phrases. "I hit my head? Oh that is NOT good. I'm losing brain cells. Shouldn't I go to the doctor?…"
"Uh… maybe," he finally said.
Thankfully, I did start remembering things, and I did stop crying and start making some sense–at least a little. He faithfully monitored me through the night and I had no complications. Whew! I thought I was over the worst.
Sounds of a Concussion
Here's a little sampling of what I sounded like, 2 hours post-concussion. OJ recorded me the whole time, and mostly I was sobbing and repeating myself over and over–not pretty. This part, however, I find humorous, knowing OJ had already heard me say these things dozens of times, and now here I was, trying to tell my son Colton what had happened. I do have some memory of this, but it's still a bit hazy! (On a side note, below is the tweet Colton sent out the next day. Pretty funny!)
Lesson 1: A Concussion is a Big Deal–And So is Any Life Trauma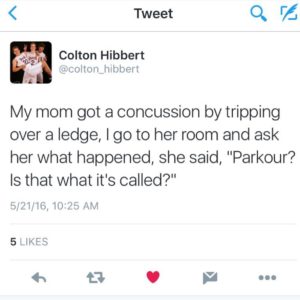 I've learned that, complications or no, a concussion is a big deal. Symptoms will vary but will most definitely impact your daily life, and it can take quite a long time to recover, depending on how severe and where on the brain the injury occurred.
My main symptoms were:
extreme dizziness, to the point I couldn't walk without falling over for a couple of weeks
intense headaches
light and noise sensitivity at first
some memory loss, and cloudy thinking
a very sore neck, which had been twisted in the process of falling
I'd seen brain scans of concussions, but they were mostly from football or boxing injuries. Mine seemed so small by comparison that I minimized everything. But I was wrong. Any concussion is a big deal, and it must be treated like one. This is your brain we're talking about! You're going to need it, so you'd better take care of it.
The same goes for life traumas of all kinds. Though it may not directly change your brain functioning as drastically as a physical injury, emotional injuries do impact the brain, too. We feel "dizzy" or "broken" or overcome by the slightest thing, and we tell ourselves, "It's not a big deal. Move on." No. When life drops you, in any way, don't minimize what you're feeling, and don't minimize what it will take to heal.
Lesson 2: When Life Drops You on your Head, You'd Best Learn Something
I'm a big believer in growing through whatever trials may come. I've certainly had my share, and this one seemed small by comparison. Still, I knew I had some learning to do.
Immediately, I thought, "This is a sign I need to slow down, and so I will. I will just let myself recover." I had no choice, really, because I was completely out—unable to do much of anything but recover. This was the end of the school year, though, and only a few weeks after my latest book came out. Summer was coming, meaning kids needing me all day, and I had things to do! Still, I stopped everything, believing I'd be back to normal within a week, or two, at least. Wrong once more.
I am re-learning patience. And I'm learning about gentleness. Being gentle with myself–not only with my recovering brain, but with my emotions, with my sense of self-worth, with who I feel like I am right now, and who I still hope to be.
When life drops you on your head, what do you need to learn? Stop and listen until you know. I'm still listening…
Lesson 3: When You Get a Concussion (or ANY Life Trauma) it's Eseential to Let Yourself Heal
My last year of grad school, I did a neuropsychology internship in a brain injury unit of a hospital. I'd seen the effects of TBI's (Traumatic Brain Injuries), but it wasn't until I started searching, "How to Recover from a Concussion" that I realized I had had one. A mild traumatic brain injury (MTBI), but still, trauma is trauma, and it's no good for the brain.
I knew this the night of my fall and even gave myself a mental status exam at one point to make sure I wasn't losing my mind! "I need to see if I'm oriented to person, place, time and situation," I told OJ. He asked me the questions, and I was. Whew again! Yes, a concussion is a brain injury, and once I got that through my thick skull, it seemed somehow easier to accept that it would take time to heal.
I've had to let myself heal from emotional trauma so many times, and I felt like I was good at it. But this time, I've been forced to completely stop and heal. It is CRUCIAL to let my brain heal properly for as long as it takes, and the same goes for healing from emotional wounds. I'm still working on this, one day at a time.
Lesson 4: Others May Not See or Understand Your Injury, but Don't Let That Stand In Your Way
At first, I saw this as a much-needed, forced break. "Great," I thought. "I could definitely use some rest." I let myself sleep, nap, lie down, do nothing, and just heal. But after a couple weeks, the emotional symptoms set in. I was prepared by my internet researching; depression, anxiety and frustration are common with post-concussion syndrome.
Still, it hit me hard–sadness, feeling worthless, fearing I'd never be well again. I was down and out, for sure. After a few days of that, I was able to pull myself out, thank goodness, but the dizziness continued, and that made me doubt I'd ever be well again. (Yet another common symptom of post-concussion syndrome).
The hardest part has been that others see me as normal, though I don't always feel normal. It reminds me of depression–how hard it is for others to see. Not that they don't want to see I'm still struggling; just that it's not easy to tell. When others respond toward you like you're back to normal, the temptation is to act like it's true.
But I've learned, for real this time, that it's wrong to do so. We MUST let ourselves heal for as long as it takes, and even if no one else understands how hard recovery may be, it's still important to stand strong and do what you must.
At four weeks, I went to the doctor and I believe his exact words were, "It will just take time and rest. It could be weeks or it could be months."
I'd been eating "brain foods," sleeping as much as possible, using essential oils, taking vitamins, avoiding physical activity and too much mental stimulation, trying to avoid any and all stress (good luck!), and stay down. Ironically, just after the release of my new book, "8 Keys to Mental Health Through Exercise," I'd found the one thing exercise isn't good for—a head injury!
When I asked the doctor what I should DO to heal quickly, I believe his exact words were: "Try to minimize screen time, especially phone and computers but also TV, physical activity, and social interaction. Oh, and thinking."
What?! He'd just listed my daily routine!
What was I supposed to do? Lie on my bed and stare out the window? Yes. Or lie in a hammock and stare. Or close my eyes and just "be." These have been my goal these past many weeks, and while it may sound dreamy to those who are overwhelmed by stress and kids and work and life (like I usually am!), trust me, it's not dreamy when you literally can't do what you normally could for weeks upon end.
Lesson 5: Learning…and Healing…Take Time
7 weeks later, I'm still dizzy off and on, I'm still slow to remember words ("What's the word again? It's not 'fair' or 'parade' or 'carnival'…It's…fireworks! Let's go to the fireworks!"). I can't work on a computer for more than an hour without getting cross-eyed and my head spinning.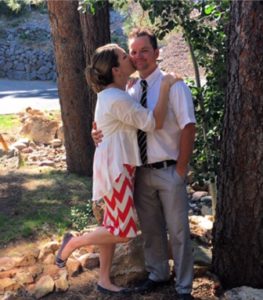 I can easily overdo it lately–and by overdoing it I mean answering emails, or helping someone with a problem, or reading a thought-provoking book, or writing; or going to the beach for vacation and playing in the waves with my kids. These are things I used to do easily, all in one day. Now, it's hard to do just one or two without paying the price, and even harder to NOT do them at all, which is what I need to do and am trying to do as much as possible.
So, why has all this happened? That's my big question, and I'm still listening for answers I know will eventually come. One thing I know is it's forced me to stop. It's forced me to reevaluate everything. It's forced me to be different than I would usually be. It's forced me to be still. And I believe we could all use a little more stillness, especially when we've been through something tough.
I know I need more stillness. It's not easy for me, but it's something I've known I needed for a while. Isn't that always the way? When we don't listen to those whispers, life steps in and forces us to listen.
There are certainly worse things than this, and I know I will recover in time. Again, I am re-learning patience. Always, learning patience. I am learning more of who I am and of what I am truly capable. I am learning what I need to learn. Isn't that the benefit of being dropped on your head? The opportunity to once again grow.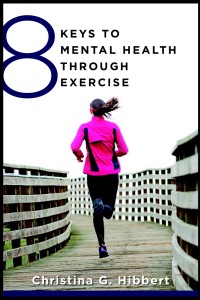 "…Enlightening and empowering…" ~Publisher's Weekly

"Choose to grow" with my bestselling, award-winning memoir, This is How We Grow!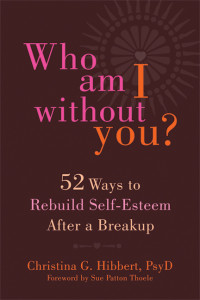 Build true self-worth, confidence, and love with "Who Am I Without You."
Available now at
Watch my "Postpartum Couples" DVD FREE, online!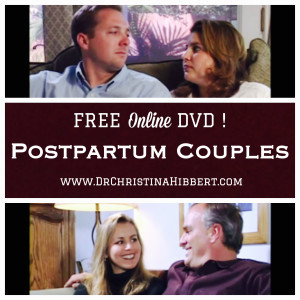 Join my "This is How We Grow" 30-Day Personal Growth Plan!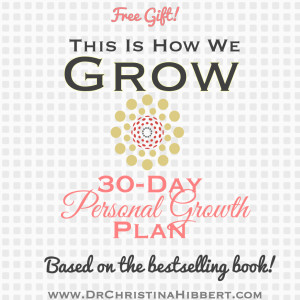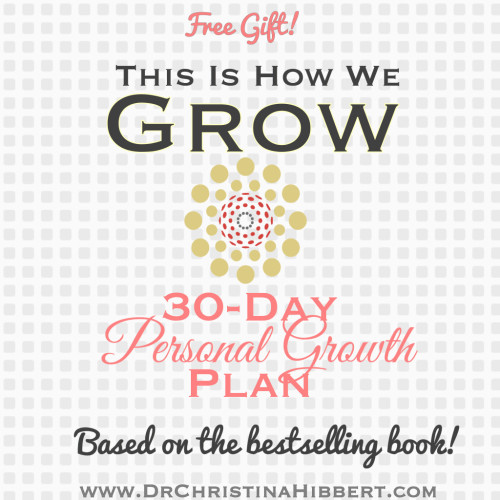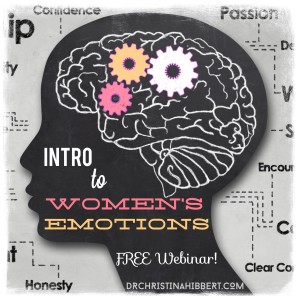 Let's Connect! 
SUBSCRIBE, above, "Like" me on Facebook Dr. Christina Hibbert; This Is How We Grow, & follow me on Twitter, Pinterest, & Instagram
Related Posts/Articles: