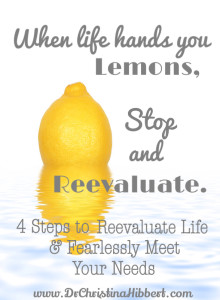 It's no secret life has handed me some lemons–again. I wrote about it a week ago; once again, I'm in a season of loss and grief.
Being here again makes me wonder, "When life hands me lemons, do I really want to make lemonade? Is there something better waiting for me than a satisfying sip of a sugary drink?" It makes me stop and reevaluate.
Life Trials and Transitions: The Lemons
Some times of life naturally lead to self-reflection and evaluation. Transitions like the beginning of a school year, a birthday (especially a big one), New Year's Day, and the beginning of summer always make me stop and reevaluate.
Then, there are life trials. These "lemons" life hands us provide another crucial time to stop and reevaluate. Lately, my lemons have been re-experiencing intense loss and grief. For others, it may be an episode of depression, a breakup or divorce, pregnancy or postpartum, a wayward child, or plain and simple life stress.
Like the seasons, life keeps changing, and as it does we must continually ask, "Am I going to go through this change, or can I choose to grow through this change?" "Like fall fades to winter and spring blooms to summer, we can choose to grow through [all] the seasons of life." (This Is How We Grow, p. 5)
Reevaluating the Lemons of Life
The truth is, when life hands us lemons it might not always be best to make lemonade. Maybe it's better to plant the lemon seeds and grow our own lemon tree so we can make lemonade any time we desire for everyone we know. Instead of jumping in and doing the easy or expected thing, perhaps we need to stop and reevaluate what is actually best for us at each phase and season of life.
That's one great thing about hardships and change—they force us to slow down and pay attention. When we listen to our bodies, minds, experiences, life lessons, we learn, we grow, and eventually, up better than we could have dreamed.
Four Steps to Reevaluate Life & Fearlessly Meet Your Needs
How do we stop and reevaluate? First, stop. Literally sit quietly and breathe. Then, follow these four steps and repeat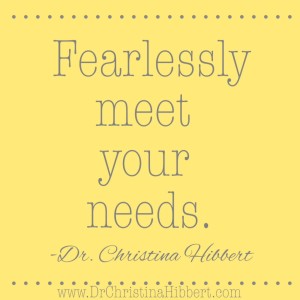 often. As Socrates said, "The unexamined life is not worth living." Whatever season, transition, or hardship you're in, take the time to examine life, where you are, and where you're headed. It's the surest way to get you where you really want to be.
1) Ask, "Where am I right now?" First, we must get real about where we are. This may involve accepting you're not where you want to be. It may involve letting yourself feel things you've been trying not to feel. For me, this has involved admitting I'm back in the middle of grief, and picking up the phone to set up an appointment with my psychologist; it's involved admitting I cannot do this alone. Be willing to see where you are. Gently open your eyes, and then honestly look at your life, the people in it, and where you seem to be headed.
2) Ask, "Where do I desire to be?" It is good to desire. It's an important step in the process of overcoming, becoming, and flourishing. Close your eyes and envision where you would like to be. You may see yourself healthy and smiling, with relationships that thrive, or discovering your true self and fulfilling your life's mission and purpose. At this point, I envision feeling grief-free, whole, healthy, and full of joy again; I imagine the same for my children.
Dream about all the blessings you desire to have one day. Then, write about what you see. Make it clear and concrete, and revisit your desires often. It is in reevaluating our desires that we course correct to eventually arrive at who, how, and where we want to be. (More on this, read "Create the Life You Desire" Part 1 & Part 2)
3) Ask, "What do I need?" This question has been constantly on my mind. I know I'm burned out, and I know something has to change. But what, and how? The only way to answer is to first figure out what I need. What do I mean by "needs?" I mean, the things we absolutely must have right now if we want any shot of fulfilling those desires we envision.
I know it can be hard for many of us to admit we have needs, or to not feel guilty about meeting them. So, let me just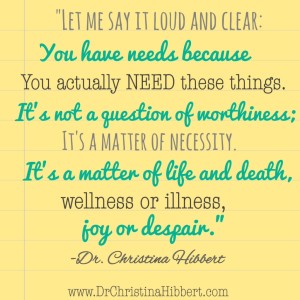 say it loud and clear: You have needs because you actually NEED these things. It's not a question of worthiness; it's a matter of necessity. It's a matter of life or death, wellness or illness, joy or despair. For me, right now, I need sleep. I need space in which I can ponder, learn, and heal. I need to focus on my family; I need to let us have fun together, create memories, and recharge. Knowing my needs is the first step in getting them met. (More on How to Get Needs Met here.)
4) Fearlessly meet your needs. If you know what you absolutely need, then you absolutely need to get those needs met. It's not an option to keep saying, "I don't really need this," or "it can wait," or "Well, no one else seems to think I need this, so I must be wrong." No. Trust me. We cannot afford to fail in meeting our needs. The cost is too high. My dear friend recently lost her life to depression because she was not able to acknowledge her needs and let help in.
We cannot keep putting off our needs. We must demand they be met. We must breathe, trust ourselves, then fearlessly say "No" when we must, "Yes" when we must, and keep repeating, "I need your help," until we get our needs met. I know it's not easy, but we mustn't give up. (More on How to Meet Needs: 4 Tips for Asking & Receiving) (More on How to Not Let Fear Get the Better of You!


Stop…TODAY…and Reevaluate.
That's how we get to where we want to be in life. That's how we overcome life's struggles, become our highest self, and flourish in joy and love. Stop today and reevaluate what you want to do with your lemons. Learn from the bitter in life, and you will one day know the sweet.
What makes you stop and reevaluate life? What tools help you fearlessly meet your needs? Share with us by leaving a comment, below!

Be sure to check out Dr. Hibbert's Amazon Bestseller, This is How We Grow–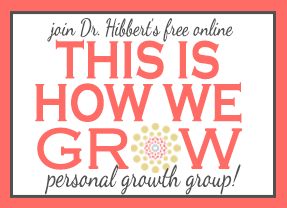 FREE. Online. Growth. What more could you ask for?

You may manage your subscription options from your profile.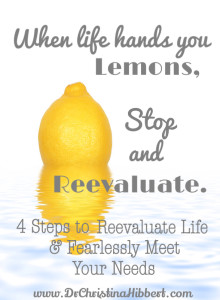 Let's Connect…
"Like" my Facebook pages (Dr. Christina Hibbert; This Is How We Grow) and follow me on Twitter,Pinterest, & Instagram!
Related Articles/Posts:
Life: The Battle & The Beauty (Living the Paradox of Personal Growth)
Understanding & Coping with Loss & Trauma
PPD & Motherhood Mental Health: Self-Care & Letting Help In–The 2 Most Important Things
This Is How We Grow wins an IPPY Award in NYC & is one of Aspire Magazine's "Top 10 Inspirational Books!"
"This is How We Grow:" Understanding the Seasons of Personal Growth
Join my Free, Online "This Is How We Grow" Personal Growth Group!
In Memory of my Sister, on the 5th Anniversary of her Death
What I've Learned about Personal Growth from a Decade of Yearly Themes
Weather the Storms Together: 4 Ways to Strengthen Families in Times of Stress
Discovering Self-Worth: Why is it So Hard to Love Ourselves?
Siblings & Grief: 10 Things Everyone Should Know
How to Feel Self-Worth: "The Pyramid of Self-Worth" (& video)
Learning Self-Love: 5 Tricks for Treating Yourself More Kindly
16 Things I'd Like My Postpartum Self to Know, 16 Years & 6 Kids Later (PSI Blog Hop)
Mom Mental Health (& Happiness): The Importance of Alone Time
Mom Mental Health: HOW to Get Alone Time (25+ Strategies) (& video)
Mother's Day & "Mommy Fails": 3 Messages All Moms Need to Hear
"Perfect?" or "Fake?" 8 Truths about Perfectionism, & 8 Truths to Cure It