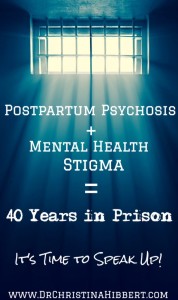 "Never be afraid to raise your voice for honesty and truth and compassion against injustice and lying and greed. If people all over the world…would do this, it would change the earth.
~William Faulkner
I've been working as the expert evaluator on a postpartum case for over five years. Because the case is still active, and because I'm still the expert witness, I've had to keep silent about it all this time. But, I can keep silent no longer. Her attorneys and advocates and I all feel the same: we must speak up. Something must be done. (Though I have permission from the client to use her name, at the advice of her attorneys I refrain from doing so, because I don't want to endanger her case in any way.)
2001…
This woman, at 23 years of age, was sentenced to 40 years without parole for child abuse. After evaluating her case these past years, it is clear to me she was suffering from significant postpartum mental illness at the time, including postpartum posttraumatic stress disorder (as a result of a horrific childbirth experience), postpartum obsessive-compulsive disorder, postpartum depression, and eventually and most prominently, postpartum psychosis.
The baby recovered from her injuries and was adopted away into another family after this woman's parental rights were severed. She could never have children again, thanks to the emergency hysterectomy she'd endured while passed out from blood loss during childbirth, and thus, another punishment was inflicted—sentenced to a childless life.
She was never evaluated for postpartum mental illness in her initial trial. In fact, she was hardly evaluated for any mental illness at all; it certainly wasn't mentioned at her trial, even though the judge stated that clearly she had to be mentally ill to do what she had done. Because it was considered a "child abuse" case, the stigma was strong. She was an "abuser," and seen as a criminal. The prosecutor threw the book at her. The judges' hands were tied. Even though he stated his vehement disagreement with the sentence, by law, he had to impose it—four back to back sentences of 10 years, or 40 years total.
2014…
Now, after serving thirteen years in the state prison system, and with the help of dedicated advocates, attorneys, and experts who are working pro bono, she was finally given the opportunity to seek "clemency," or a commutation of her current ten-year sentence. Each sentence would have to receive clemency, so this was really only seeking her release for the last six years of this sentence (with two more 10-year sentences to follow for which clemency would have to be reevaluated).
Last Monday, we finally had the hearing. The room was full of attorneys, advocates, family, friends, and we were there for six hours. I was grilled on my findings, report, and expertise on postpartum mental illness (something I am very confident about). We were also all grilled on multiple small details that seemed insignificant to us, but on which they seemed stuck. I could see their ignorance about mental illness, though I did my best to educate them. I could feel the stigma speaking louder than any of us, shouting even.
In the end, judgment was swift and harsh. Clemency was denied.
After…
I left feeling beaten up. Exhausted. Depleted. I drove the two hours back home in silence, going over everything and praying for a way to let it go. In the back of my mind was the sense that this was one of those life-changing days, the kind of day you don't forget. The kind of day that forces you to change.
It somehow reminded me of my sister's death; a result of depression and alcoholism, she ultimately died by her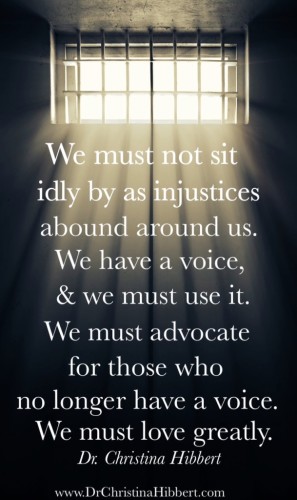 own hand, an overdose of alcohol and acetaminophen. She was too drunk to know what she was doing. It reminded me of my close friend's suicide, only five months ago, also a result mental illness—depression and intense anxiety. It reminded me of the great stigma attached to suicide and to the mental illnesses that led them there.
It made me think of my oldest son, away at college on his own for the first time, and the loss I've been feeling since he left. It made me think of my five other children at home, especially my daughter, who's only slightly younger than this woman's daughter would be now. It made me grateful for parents who raised me with safety and opportunities and education—who didn't expose me to trauma, but sheltered me from it. It made me want to crawl into my husband's arms the second I returned home and let him hold me. It reminded me what a blessed gift it is to have freedom and family and love.
And, it made my heart break. I kept picturing her, alone in her cell, feeling like this was all her fault. It made me feel guilty I could just drive back home and be with my family. She couldn't do that. Why should I be able to? She'd been present at the hearing, via teleconference, and we could see her trying to be strong (she couldn't see us) as the board interrogated her with question after painful question. She was definitely feeling broken at the time, and I could only imagine how broken she was feeling now.
How could this happen again? I kept asking myself. How could any one person be so misunderstood, mistreated her whole life, and flat-out discarded so many times? How does she carry on after all these blows? She's made of stronger stuff than I; she must be. I don't think I could survive all she's been through.
It's not that what she did wasn't wrong. No one was saying that—least of all the woman herself. She even said she felt she deserved 40 years for a long time, like she was willing to trade her life for her baby's survival. She had told me many times she was grateful she had been arrested. Fate had intervened and stopped the hurt and pain for her baby; even if it meant she would have to suffer in prison, at least her baby would survive.
No, it's not that it wasn't wrong. And it's not even that she was trying to give an "excuse" for what she did. It's that we were all trying to help the courts and judges and boards, and whomever is in a position to do something, to understand that there was a reason she did what she did: extreme mental illness. There is a clear, explanatory reason—posptartum psychosis.
Postpartum Psychosis
Postpartum psychosis is a potentially life-threatening illness affecting about 1-2 of every 1,000 births, in which a mother becomes detached from rational thinking, in which she experiences hallucinations (hearing or seeing things), delusions (false beliefs), extreme agitation, inability to concentrate, and waxing and waning episodes of feeling like "I wasn't myself." Like, "someone else took over," as many women describe it. Not all mothers with postpartum psychosis harm their babies or themselves, but 11% do, making it essential these women are immediately hospitalized and put on antipsychotic medications to bring them back to reality.
Yes, this is what this woman, this friend of mine (as she has become over the years), was experiencing all those years ago. And to punish someone with, essentially, a life sentence for suffering such trauma at the hands of postpartum psychosis is a tragedy. It is appalling.
Today…
I get it if we fail a soul one time. There was little education and understanding back then, and clearly no one understood what was really happening at the time. One time, maybe, though even that is a tragedy and can wreck a life.
But to fail a soul time after time, despite the education and understanding now available, to have a recognized top expert in postpartum mental health standing right in front of you, explaining every detail as clearly as humanly possible and yet to dismiss that expert's years of work and data and clinical expertise in favor of one's own opinions; to say, "While I highly respect the good doctor, and even commend her on her excellent report and work," to state, "I agree 40 years is a very long time," and then to state, "but…" and recount one's own preconceived judgments with blatant disregard for all that was said those past 6 hours, and to ultimately "deny" the clemency, is a tragedy. And it fires me up. It fires me to speak up.
Right now…
We must not sit idly by as injustices abound around us. We have a voice, and we must use it. Especially those who have experienced mental illness, suicide, pregnancy/postpartum depression, anxiety, OCD, psychosis, etc., first- or even second-hand—we must share our stories. We must advocate for those who no longer have a voice. We must love greatly.
And perhaps, some blessed day, this world will open, and understanding will be the norm, and compassion will be our language, and we will hold off judgment so we may instead exercise that great love.
This is my hope, and my prayer, and my life's work. In honor of this dear woman whom we have failed again, may we speak up now so perhaps next time, we, she, and those like her, will succeed.
Has your life ever been touched by mental illness, suicide, or the stigma that covers these things? If so, I'd love to hear your experiences and insights. If not, I'd love to hear your thoughts. Let's speak up, everybody! It's more than time. 
Please leave a comment, below.

Be sure to check out Dr. Hibbert's Award-Winning memoir, This is How We Grow!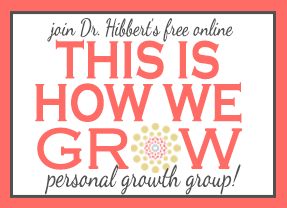 FREE. Online. Growth. What more could you ask for?

You may manage your subscription options from your profile.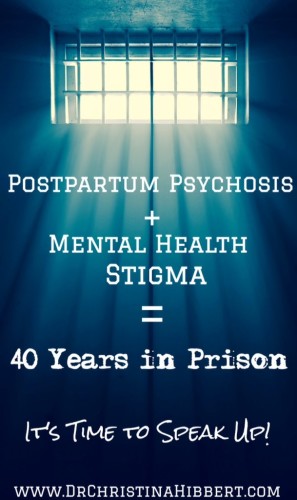 Let's Connect…
"Like" my Facebook pages (Dr. Christina Hibbert; This Is How We Grow) and follow me on Twitter,Pinterest, & Instagram!
Related Posts/Articles:
The Facts vs. The TRUTH about Postpartum Depression (+video)
Postpartum Depression Treatment: What Everyone Should Know
Breaking the Silence about Suicide, Grief, and Family Survivors 
PPD & Motherhood Mental Health: Self-Care & Letting Help in, the 2 most important things
Beyond Depression: Understanding Pregnancy/Postpartum Obsessive Compulsive Disorder (Part 1, plus video)
Understanding & Coping with Loss & Trauma
Women & Depression: 12 Facts Everyone Should Know
Women's Mental Health: 5 Things Everyone Should Know
Parenting, Loss, & Letting Go as Children (& You) Grow
5 Skills of Overcoming…Grief, PPD, Stress, etc.
Understanding & Overcoming Anger
FEEL: How to cope with Powerful Emotions
Women's Emotions: Part 3, The Menstrual Cycle & Mood 
12 Facts on Depression & Medication 
Parenting Skills Top Ten, #1: Do Your Own Work First
Discovering Self-Worth: Why is it so Hard to Love Ourselves?
Practicing Patience: 20 Ways to Be More Patient Today
"This Is How We Grow" Blog Hop: 10 Ways I Choose to Grow Each Day
Personal Growth & Self-Actualization
Womens' Emotions & Hormones– Series