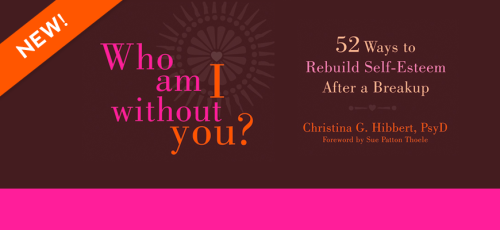 "Who Am I Without You? is the light at the end of the tunnel!"
~Diana Lynn Barnes, Psy.D., coauthor of "The Journey to Parenthood"
Order today from
 New Harbinger.com, Amazon, Barnes & Noble, & Target,
or find it at your favorite bookstore!
Read a FREE PREVIEW Chapter here!
Advanced Praise for "Who Am I Without You?"
"As much as we might wish for an easier path to personal growth, the most effective ones often seem to be paved with heartache, despair, and fears that throw us unceremoniously to our knees. Each section of Hibbert's excellent book Who Am I Without You? is filled with valuable information, unfailing compassion, and practical healing techniques that can help you move and grow through the brokenness of grief, disillusionment, and fear."
—Sue Patton Thoele, author of The Courage to Be Yourself and The Mindful Woman
"
Who Am I Without You?
 is the light at the end of the tunnel! Christina Hibbert has written a compassionate guide for surviving a breakup with a sensitivity and exquisite insight that even in the heartbreak of relationship loss, there is an opportunity for psychological change and personal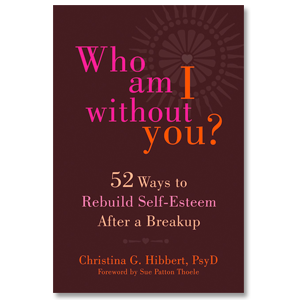 growth."
—Diana Lynn Barnes, PsyD, psychotherapist specializing in women's mental health, coauthor of The Journey to Parenthood, and editor and contributing author of Women's Reproductive Mental Health Across the Lifespan
"With just the right blend of empathy for the reader's pain and encouragement to move forward, Christina Hibbert has written an accessible, practical, and compassionate guidebook for reclaiming self-worth after a breakup. I've seen hundreds of women in my psychotherapy practice who feel unworthy of love, and whose self-esteem has taken a blow after a failed relationship—and I wish I'd had this book to recommend to them! Who Am I Without You? is a much-needed companion on the road to resolving emotional barriers, reclaiming your worth, and re-envisioning a life of love after loss."
—Julie de Azevedo Hanks, LCSW, psychotherapist, author of The Burnout Cure, and owner and executive director of Wasatch Family Therapy
"Who Am I Without You?" Companion Materials
"How to Use Thought Record, Part 1," from Chapter 16, pg. 61 (worksheet download below)
"How to Use Thought Record, Part 2," from Chapter 17, pg. 65 (worksheet download below)
"How to Practice Deep Breathing," from Chapter 21, pg. 85
"Spirit Meditation," from Chapter 22, pg. 93
Audio Downloads
Shadow Exercise Visualization, Audio from Chapter 27, p. 109
Worksheet Downloads
"Thought Record, Part 1" Worksheet, from "Who Am I Without You?" from Chapter 15, p. 61
"Thought Record, Part 2" Worksheet, from "Who Am I Without You?" Chapter 16, p. 65
"Pinnable" Images