The Singing Psychologist
One of Dr. Hibbert's favorite things to do is to write songs and share them with others. She has written songs for weddings, birthdays, funerals, and for her children. When speaking, she often surprises participants by pulling out her guitar and saying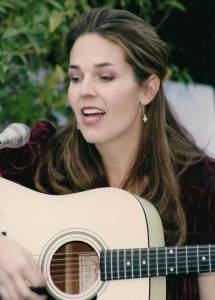 "I'm going to share a little song I wrote about this." Over time groups have dubbed her the "Singing Psychologist" and Dr. Hibbert continues to share her music whenever she speaks.
 Check here often for links to hear Dr. Hibbert's latest songs , click "Follow Me" and then "YouTube" icons (right) to subscribe to Dr. Hibbert's YouTube channel. Or SUBSCRIBE to our newsletter for updates on new music from Dr. Hibbert (complete form on right bar).
Song Of Love
Click here to watch Dr. Hibbert & daughter singing "Song of Love" on YouTube!
"I wrote this song with and for my daughter. I hope it makes other mothers and daughters smile like it makes me smile:)!"