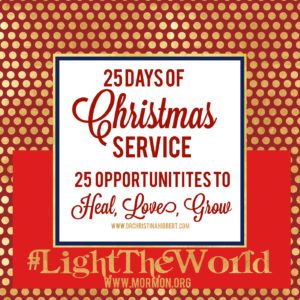 It's Christmas time again, and that means decorations, lights, gifts, parties, and for most of us, stress. But is this what Christmas is really about? How often do we fail to remember the true meaning of Christmas–the loving–simply because we're caught up in the doing?
Starting today, December 1st, join me and millions of others as we "Light the World" with 25 days and ways of Christlike service. Each day in December, select one way to love others–to do as Jesus Christ has always done and listen, share, be there, hug, heal, inspire, uplift, love. It doesn't have to be a huge event; it doesn't even need to add to your already busy schedule. All it takes is an open heart and eyes to see the needs around you. Then, a willingness to reach out in love.
Watch this 2-minute video to for inspiration and to learn more…
The Power of Service = The Power of Love
If there's one thing I have learned through all of my personal trials and setbacks, stresses and burdens, it's that serving others is one of the very best ways to heal ourselves and to grow. As we offer love, we can't help but feel it in return; and we could all use a little more love in today's world.
The Power to Heal
Whether you're facing grief, loss, heartache, depression, anxiety, parenting stress, marital strain, relationship issues, health
concerns, etc., as you turn your mind to how you can love someone else, you will find your pain, sorrow, despair, burden lift and lighten. This is the gift of service and the gift of love–it heals, not only those we serve, but even more so, it heals us.
The Power to Grow
Love also grows us. It is through loving that we begin to comprehend our true worth, to see our strengths and abilities, and then we can choose to amplify them in the world.
One thing I know for sure is that each of us has a divine purpose and mission in life and this purpose is always about loving, in some form. Perhaps we love through teaching, or perhaps through learning; we may love through listening or through speaking; we may love by laboring with our hands or laboring with our minds and hearts.
Whatever we do, we do it because of love, and as we tap into that love and use it to serve those around us–our friends and family, yes, but also those we don't yet know at all, we grow.
Light the World! In 25 Ways, over 25 Days
Will you join me? 25 days and 25 ways to serve and love others. In return, you'll receive 25 days and at least 25 ways to experience love, healing and growth. Isn't it worth your time and energy? I believe it absolutely is.
You can get started by visiting this post, with a free advent calendar you can download and post in your home. For each day in December, this calendar first lists how Jesus helped others and then offers suggestions for how you may do the same. It is a simple way to focus more on Christ this Christmas and to serve all month long and become more like Him.
Get your kids involved. Make it a family effort. Each person can select one item off the calendar each day for their service. And you'll notice these aren't difficult things to do: "point out a virtue in someone they don't see in themselves," "ask your children what they think you should pray about as a family," "watch an online tutorial to learn a new skill that can benefit others."
Watch this 30-second video to get started…
50 Ways to Offer Christlike Love & Service this Christmas & Holiday Season!
You may also opt to create your own "calendar" of service. Here are 50 suggestions to get you inspired!
Use your mobile device or computer calendar and set a reminder for each day–to look for someone in need and serve them.
Make an effort to smile at everyone you meet, even if you are having a bad day.
Reply to an email from someone in need. I have several I've received through my website from those who are grieving and haven't gotten to yet. My goal for today is to spend 30 minutes replying, to offer support, encouragement, and love.
Listen to your child as s/he tells you about his/her day. Show them how much they matter.
Hug a friend when you see them, just because.
Gather unused clothing items and donate them to a charity, shelter, or family in need.
Call a friend or family member you haven't spoken to in a while. Tell them how much you miss them.
Read to children, at home or as a volunteer in a library, hospital, or school.
Create something beautiful and give it away.
Write a note to someone you love. Tell them how much they mean to you.
Pay for the person behind you's groceries or food in the drive-through.
Help someone shovel snow or rake leaves/pine needles.
As a family, gather gently used toys and household items and donate them to a shelter.
Make a treat for someone who's having a rough day and drop them by with a note that says, "Thinking of you."
Focus on how you serve your family. Notice the tasks, large and small that you're already doing for them and infuse each one with just a little more love.
Forgive someone.
Write a letter of gratitude to someone who's made a difference in your life. Show up on their doorstep and read it to them. Dr. Martin Seligman has found this one activity significantly increases happiness in both the giver and the receiver.
Read a book that teaches you about loving, serving, or helping others. A parenting book, self-help book, or a book on a virtue you're hoping to develop and share.
Visit a Facebook support group or other online support group you're a part of and offer virtual love and support to someone in need.
If you see someone who looks down while you're out, smile, ask how they're doing, and offer a word of encouragement. I

always do this with new moms. Simply telling them, "It's so hard, but it's so worth it," or "You're doing a great job!" to a mom who's struggling with a baby or young children in a store can make a huge difference.

Look up ways you can help refugees in your area. Lifting Hands International is an incredible organization started by a friend of mine that offers many ways you can get involved. (Listen to my interview about this on "Motherhood," here.) You can also visit this wishlist on Amazon and purchase items to help refugees.
Teach your children a story from the life of Jesus Christ. Help them understand how to offer Christlike love to others.
Pray as a family to know who needs your help each day.
Watch others when you're out doing your work or errands. Notice their struggles and offer a hand. Hold a door open, unload groceries for someone, pick up something they drop. Anything to show you see them and care.
Share a message of hope, love, and encouragement on social media.
Look for opportunities to donate to worthy causes and do so according to your family's means.
As a family, gather items that might be useful for a homeless person, like toothbrush/paste, warm socks/gloves, water, snacks, etc. Put together bags of these items and carry them in your car. When you see someone in need, offer them a care bag.
For 24 hours, refrain from criticising anyone or anything. If you mess up, start over. Give the gift of a positive attitude to yourself and all around you! (P.S. It's harder than you might think!)
Learn more about a cause that stands out to you. Search for ways you can get involved.
Volunteer for a warmline or hotline. Postpartum Support International is always looking for warmline volunteers, and here in AZ, our Postpartum Support Chapter is as well. (Email me (above right) if you're interested and I'll get you hooked up with the right people.)
Sing to a child, to calm them or inspire them.
If you play a musical instrument, volunteer to play at a retirement, assisted-living, or hospice home, or to play for someone who is elderly or ill. My son did this for a friend who is very sick with cancer the other week, and it was a joy for our entire family to see how happy it made her.
Ask a meaningful question on Facebook or Instagram and then offer support. Something like, "What are your biggest struggles today?" or "How are you doing, in 3 words or less?" can open the door to seeing others' needs and offering your love.
Skype or Facetime with someone you haven't seen in a while. Or, let your kids do so. My youngest's best friend moved away a couple years ago, but we help them have "playdates" on Facetime often, to keep their friendship alive!
Write a poem and send it to someone you love, admire, or just want to show you care.
Turn off your phone and spend some time meditating today. Here's a video to show you how. Focus on how grateful you are for all you've been given. Think of Jesus and how he lived. Commit to remember Him more often and strive to be more like Him.
Start thinking about a quality, virtue, or trait you'd like to develop. Make a commitment to work on it for an entire year,

starting this January. I do this every year and call it my Yearly Theme. It's helped me develop and improve myself and become who I truly desire to be.

Help someone who's in a wheelchair, on crutches, or has a hard time standing or walking to walk.
Call your mom or dad every week this month and tell them you love them.
Make a video that teaches something valuable, to help those in need. Post it to YouTube and share on social media. I love doing this and have many such videos, all of them free, on my YouTube channel.
When hugging your child, spouse, partner, or loved one, hold on extra long. Be the last to let go.
Say, "I love you," to at least 1 person every single day. The more often, the better!
Adopt a family for Christmas. Get their wishlist and purchase gifts, wrap them, and deliver them as a family. We have done this so many years, and it's our very favorite part of the holidays every time!
Start a "Christmas Jar." We do this every year, and it's our best tradition. Set out a jar. Every family member puts their loose change, extra cash, and any other money they'd like to donate, into the jar. On Christmas Eve, wrap up the jar. Drive around until you find someone who looks down on their luck. We say a prayer before we go, to help us find the right person, and every single year, we know we've found the one who needed it most. Have the kids, or you, hop out of the car and hand them the Christmas Jar, saying, "Merry Christmas!" You can make such a difference doing this one activity.
Think of someone you've had a hard time loving. Pray for ways to break through. Offer one loving gesture to them.
Set up a family service swap! We love doing this one, too. During December, each of our family members must do one service for every other family member. It could be doing their chores for a night, hanging out with them for a special movie night, or letting them borrow something they've been wanting to use (for my teens, this is a biggie!). What a great way to inspire Christlike service in our own homes.
Go caroling with family and friends. Visit the lonely, afflicted, and downtrodden and brighten their day.
Let someone cry on your shoulder. Don't try to fix things. Just say, "I'm so sorry" and "I am here."
When you see something good in someone else, tell them. Everybody loves a compliment.
Commit to daily prayer, to express your gratitude and inspire you in the best ways to serve and love others.
Watch this video of my daughter and I singing "The Song of Love" we wrote together! 

What are you waiting for?
Now, get out there and do something. Anything. Start with a desire to try and a hopeful attitude, and even that is a great service you can begin giving today.
Join my "This is How We Grow" 30-Day Personal Growth Plan!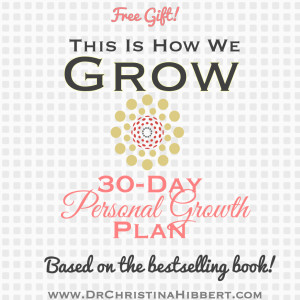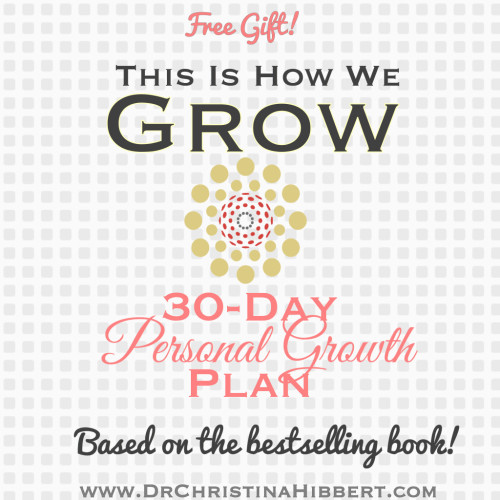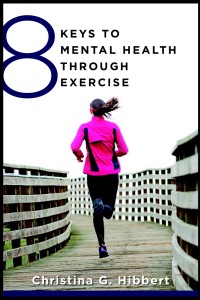 "…Enlightening and empowering…" ~Publisher's Weekly

"Choose to grow" with my bestselling, award-winning memoir, This is How We Grow!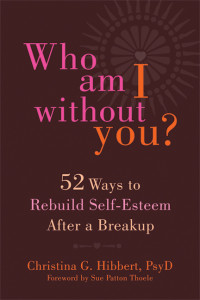 Build true self-worth, confidence, and love with "Who Am I Without You."
Available now at
Watch my "Postpartum Couples" DVD FREE, online!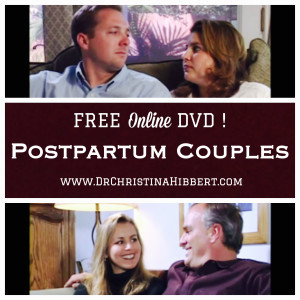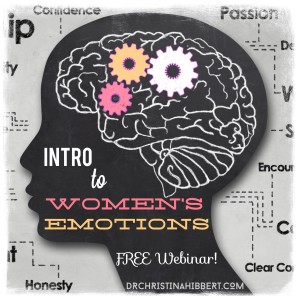 Watch my FREE 4-Part Webinar Series on the Power of Essential Oils for Emotional Health, Family Sleep, Hormones, & Pregnancy/Postpartum Wellness!
Click below to register for instant access!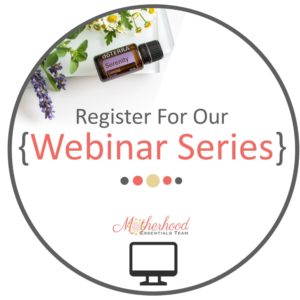 Let's Connect! 
SUBSCRIBE, above, "Like" me on Facebook Dr. Christina Hibbert; This Is How We Grow, & follow me on Twitter, Pinterest, & Instagram
Related Posts/Articles:
Meditation for Mental Health, Personal & Spiritual Growth: The Spirit Meditation