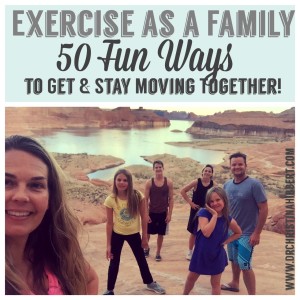 In my last post, I shared some of the incredible benefits of exercising as a family–including boosting family members' physical and mental health and strengthening family relationships! Hopefully, learning about all those incredible benefits convinced you that family exercise is key if we want happy, healthy families.
Now, the question is "How?" How can you get your family moving? And how can you keep them moving, for life? Find out in the following excerpts from my new book, 8 Keys to Mental Health Through Exercise!
Exercise As a Family: Before you get started…
When it comes to starting a habit of family exercise, there are a few things it's important to know and to do:
1) " Focus on being active, not on 'exercise.'  You don't have to ever use the word 'exercise' if you don't want to. Just encourage your family to move—as much and as often as possible.'
2) "Focus on health—mental and physical—not on weight loss. Your goal is to increase your family's activity in order to increase their mental, physical, emotional, social, and spiritual health, not encourage your family members to lose weight.'
3) "Prioritize physical activity for your own mental health and be the example. If you get moving, your kids and family are more likely to follow.' (8 Keys to Mental Health Through Exercise can show you how.)
4) "Make it fun! There are dozens of great ideas for how to do this, below."
Family Exercise: 50 Fun Ways to Get (& Keep) Your Family Moving!
"Play ultimate Frisbee. (This is a family favorite around our house.)
"Play family soccer, football, or baseball.
"Explore your neighborhood, looking for animals, flowers, plants, trees, and people that peak your interest.
"Play monkey-in-the-middle.
"Play tag or hide and seek.
"Play catch or toss a football around.
"Play basketball games like HORSE, "Knock-Out," or see who can shoot

the most baskets in one minute.
"Climb a hill, mountain, or tree.
"Do family relay or wheelbarrow races, or play tug of war.
"Have a family wrestling or arm-wrestling match. (Just don't get too competitive!)
"Play Twister or Charades together.
"Go rollerblading, ice skating, skiing, or snowboarding.
"Take a family bike ride.
"Roll down a hill and then run back up.
"Go swimming, splash, and see who can swim the farthest underwater or tread water the longest.
"Have a water balloon fight or an egg toss contest with family teams.
"Play racquet sports like tennis, pickleball, Smashball, or racquetball together.
"Create an obstacle course, have a Hula-Hoop competition, or try double-dutch jump rope."
"Invite children of all ages to join you in your personal exercise. Let your toddler stretch while you do yoga, put young kids in the stroller or let them ride a bike while you go for a jog. Invite teenagers to lift weights with you at the gym or at home.
"Encourage your child to participate in and learn new sports, games, and activities. Teach them the skills they'll need for these activities, to boost their confidence and sense of competency.
"Facilitate a safe walk to and from school a few times a week.
Exploring the caves and coast of Curacau with our two oldest!

"Take the stairs instead of the elevator.
"Walk around the block after a meal.
"Make a new house rule: no sitting still during television commercials.
"Find time to spend together doing a fun activity: family park, swim, or bike day.
"Volunteer to help with after school physical activity programs or sports teams.
"Go golfing, horseback riding, or snowshoeing together."
"Go hiking, rock-climbing, or try an indoor climbing gym or rock wall.
"Dance! Sing, twirl, jump, spin, move, and groove together. Make up a dance routine or just turn on the music and let yourself go!
"Try family yoga, Tai Chi, or Pilates.
"Do an exercise video together. Challenge each other to push harder and do better.
"In the winter, shovel snow from the driveway and build a snowman, have a snowball fight, go sledding together, or make snow angels.
"Clean the house to music, or make it a race to see who can pick up the

most things in each room.
"Practice doing cartwheels, summersaults, or other gymnastics together.
"Play an active video game together like Wii Fit or a dancing game.
"On rainy days, try skating in socks on a wood floor.
"Make a goal to play at every park in your town."
"Whenever possible, encourage your family to take the stairs. If you have stairs at home, make it a goal to go up and down at least 10 times a day.
"Train as a family for a charity walk, climb, or run.
"Celebrate special occasions—like birthdays or anniversaries—with something active, such as a hike, a volleyball or soccer game, or playing Frisbee at the park.
"Walk instead of driving whenever you can. If you have to drive, find a spot at the far end of the parking lot and walk to where you're going. Race back to the car, being sure to look out for traffic.
"Turn yard work into fun (jump in the raked pile of leaves, or shoveled

snow or turn on the music and sing as you work).

"Plan active family gatherings (hiking, rafting, tag, relay races, dance party, skating, family sports activity, sledding, skiing, and so on). When my husband's family gets together, we have pickleball, basketball, whiffle ball, or trampoline trick competitions. It can get pretty intense.
"Make a game of chores. We like to move room-to-room as a family and set the timer for two minutes in each room. Then, we see who can pick up the most items as we get the whole house done in no time flat.
"Sneak activity into other activities, like shopping at the mall (take the stairs and walk quickly between stores).
"Turn TV commercials into fitness breaks. March, do jumping jacks, twist, or dance together until the show starts again.
"Have a weekly family sports night. Invite friends or neighbors to participate once in a while, too.
"Use pedometers to keep track of family members' daily steps. Issue a challenge to see who can take the most steps each day/week."
"Pick up kids on your bike after school, or on the weekends walk to the city bus stop, take a trip downtown, and explore (don't forget to stop for a treat). "
Whew!
If this list doesn't inspire you to get up and out with your family, then I don't know what will! And it's only the beginning. Use your creativity, ask your kids what they would love to do together, and for more tips, strategies, and ideas for family exercise, check out Key 3 of8 Keys to Mental Health Through Exercise. Then, get out and get moving as a family, today!
~The above quoted excerpts are from my newest book, 8 Keys to Mental Health Through Exercise. Available online or at your local bookseller (see links below)!
In case you missed it, check out Exercise as a Family to Strengthen Relationships, Mental & Physical Health! (Key 3) 

"Overcome, become, & flourish" with me by subscribing!
You may manage your subscription options from your profile, here, or above, right.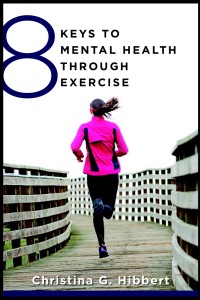 "…Enlightening and empowering…" ~Publisher's Weekly

"Choose to grow" with my bestselling, award-winning memoir, This is How We Grow!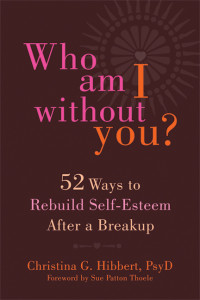 Build true self-worth, confidence, and love with "Who Am I Without You."
Available now at
Join my "This is How We Grow" 30-Day Personal Growth Plan!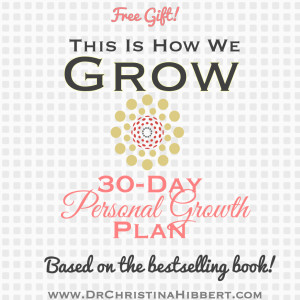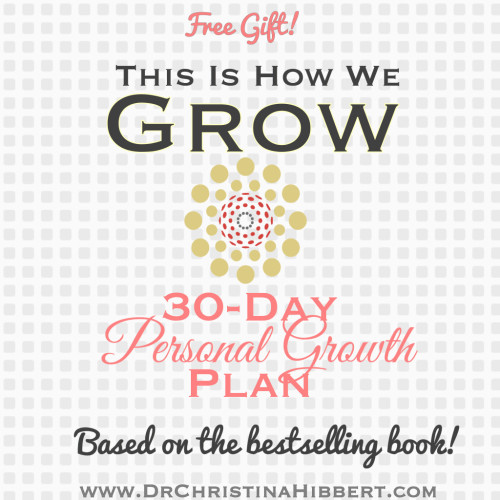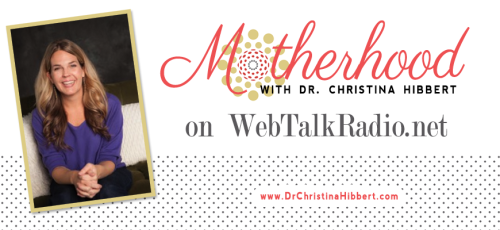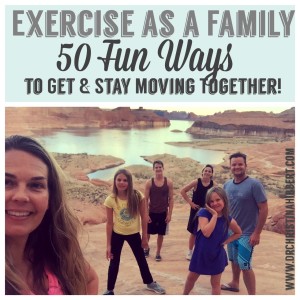 Let's Connect! 
SUBSCRIBE, above, "Like" me on Facebook Dr. Christina Hibbert; This Is How We Grow, & follow me on Twitter, Pinterest, & Instagram
Related Posts/Articles:
Exercise as a Family to Strengthen Relationships, Mental & Physical Health! (Key 3) 
Exercise for Mental Health: Key 1, Make it fun! (My "8 Keys" Book Launch at Zion Ponderosa Women's Adventure Retreat!)
Improve your Self-Esteem with Exercise–Key 2!
How to Get (& Stay) Motivated: (Sneak Peak Excerpt from my new book, "8 Keys to Mental Health Through Exercise")
Mom Mental Health Through Exercise: Pregnancy, Postpartum & Beyond!
40 Physical and Mental Health Benefits of Exercise
Essential Oils 101: My favorite Wellness Benefits for Moms, Kids, & Families!
New Year, New You! Top 6 Strategies for Personal Growth & Change
"This is How We Grow" 30-Day Personal Growth Plan–My New Year's Gift to You!
New Year's Goal-Setting: 5 Steps for Personal Growth Success
Becoming the Butterfly: The Power of Personal Transformation
Beyond Resolutions: Discover your New Year's Vision
What I've Learned about Personal Growth from a Decade of New Year's Themes
Get Mentally & Physically FITT: How to create an exercise program that Works!