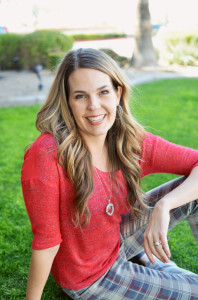 Dr. Christina Hibbert is the author of the Amazon Bestseller, This Is How We Grow. A Clinical Psychologist and expert on Women's Mental Health, Grief & Loss, Motherhood, Parenting, Perinatal Mental Health, Self-Esteem, & Personal Growth, she received her BA from Brigham Young University and her MA and Psy.D. from California School of Professional Psychology in Los Angeles.
Dr. Hibbert is the Founder of the Arizona Postpartum Wellness Coalition, a 501(c)3 non-profit that educates women, families and providers on perinatal mental health, and is the producer of the internationally-sold DVD, Postpartum Couples. Dr. Hibbert is a dynamic and engaging speaker, providing insights and education on topics such as Personal Growth, Self-Esteem & Self-Worth, Grief, Loss & the Family, Pregnancy & Postpartum Wellness, Women's Emotional Health Across the Lifespan, and Protecting Families in the Digital Age. Look for Dr. Hibbert's next book on the topic of Self-Esteem after a Breakup, with New Harbinger Publications, to be released March 2015.
Mostly, though, "Christi" is a happily married mother, trying to keep up with 6 energetic children! The lessons and insights she shares come not only from her experiences as a psychologist but from her varied experiences in life, her motto being, "Learn. Then teach." Called "The Singing Psychologist," Christi is a singer-songwriter in her free time and often shares a song or two in her speaking engagements. She keeps her private practice, her family, and her heart in Flagstaff, AZ.
To Learn more about Dr. Christina Hibbert,
check out the following…
Book:
This is How We Grow: A psychologist's memoir of loss, motherhood, and discovering self-worth and joy, one season at a time.
Dr. Christina Hibbert's Amazon Author Central Page
Dr. Christina Hibbert's Goodreads Author Page
Interviews:
Clinicians on the Couch: 10 Questions with Psychologist Christina Hibbert, Psych Central
What One Clinician Learned About Coping with Loss, Psych Central
Interview & Book Review–Dr. Christina Hibbert, BirthTouch
Interview with Dr. Christina Hibbert, Author of This is How We Grow, Ivy's PPD Blog
30 Second Mom of the Week: Dr. Christina Hibbert, on "Mom Mental Health, from Pregnancy to Empty Nest!"
Birthtouch: Spotlight, Christina G. Hibbert, Psy.D.
Interview With Dr. Christina Hibbert by Jennifer Moyer, Mental Health Advocate
14 Ways to Get Through Tough Times, Psych Central
Healthy Ways to Navigate Grief, Psych Central
Pregnancy & Postpartum Loss, Grief, & Family Healing, Postpartum Progress
How to Cope with and Treat Perinatal Loss & Grief, Postpartum Progress
Sharing Office Space with Your Spouse, Part 1 Psych Central
Sharing Office Space with Your Spouse, Part 2: Video Tour of Dr. Hibbert's Dental/Mental Therapy Office, Psych Central
Men's Postpartum Depression Interview: ABC15 Television Interview
Blog Posts:
"This is How We Grow Blog Hop": 10 Ways I Choose to Grow Each Day
What I've Learned about Personal Growth from a  Decade of Yearly Themes
Parenting Teens: Am I Doing a Good Enough Job?
5 Things I Know for Sure About Love
These are My Strengths, & This is My "Lame-O List!": How to Embrace Strengths & Weaknessesh
Siblings & Grief: 10 Things Everyone Should Know
Mommy Fails & Mother's Day: 3 Messages Every Mom Needs to Hear
Let's Get Real: 10 Confessions from 'The Psychologist, The Mom, & Me
10 Major Mistakes I've Made This Month (& Why It's OK)
 Why I Feel Like a Loser Mom & How I Know I'm Really Not
In Memory of My Sister, on the 5th Anniversary of Her Death
17 Secrets for Making Marriage Work (in Honor of our 17th Wedding Anniversary)
 Join my "This is How We Grow" Summer Book Club!
Follow Dr. Hibbert:
SUBSCRIBE, below, and "Don't miss a thing!" 
Please "like" us on Facebook: 
Dr. Christina Hibbert
; 
This Is How We Grow
Follow Dr. Hibbert on Twitter,Pinterest, & Instagram!
Speaking:
To view Dr. Hibbert's event schedule or to book a speaking or book club engagement with Dr. Hibbert, click here.

Be sure to check out Dr. Hibbert's inspirational, bestselling memoir,
Don't "grow" it alone. Join Dr. Hibbert's "This is How We Grow" Personal Growth Group!
FREE. Online. Growth. What more could you ask for?